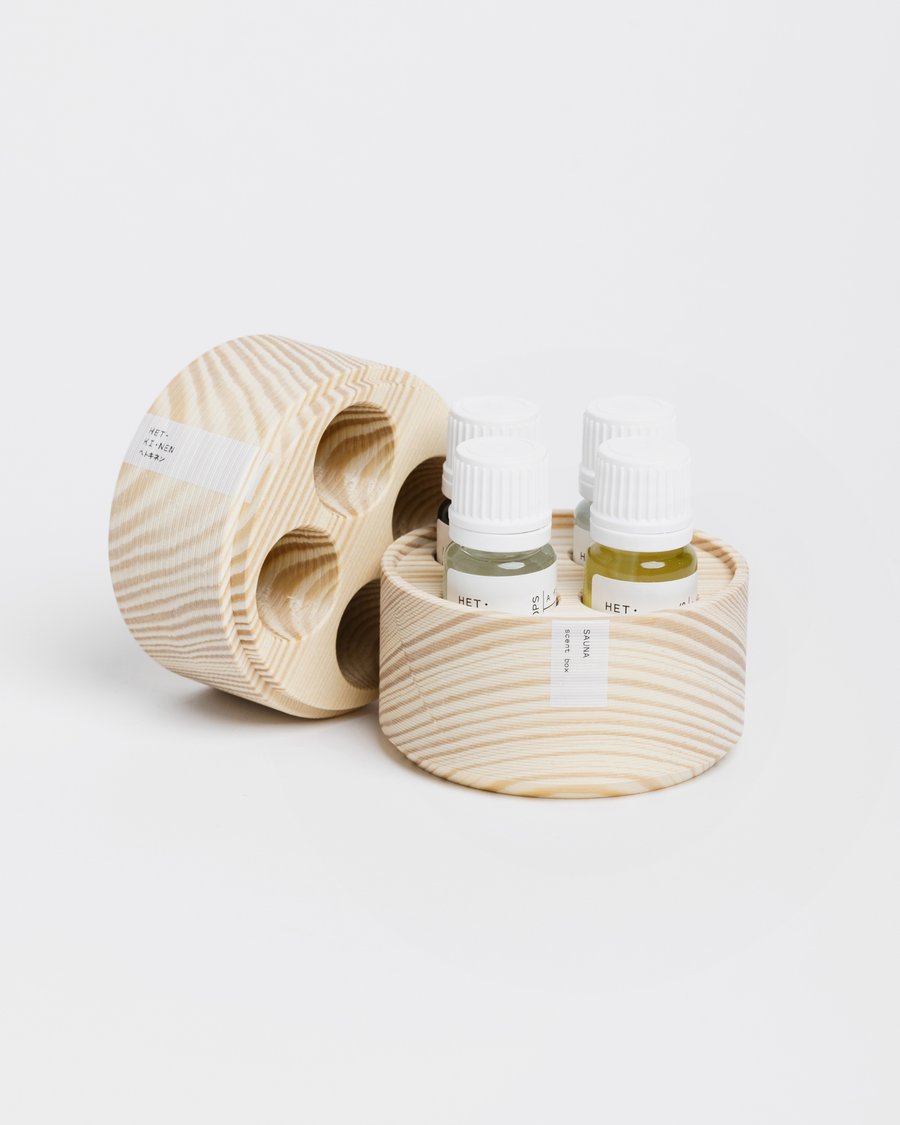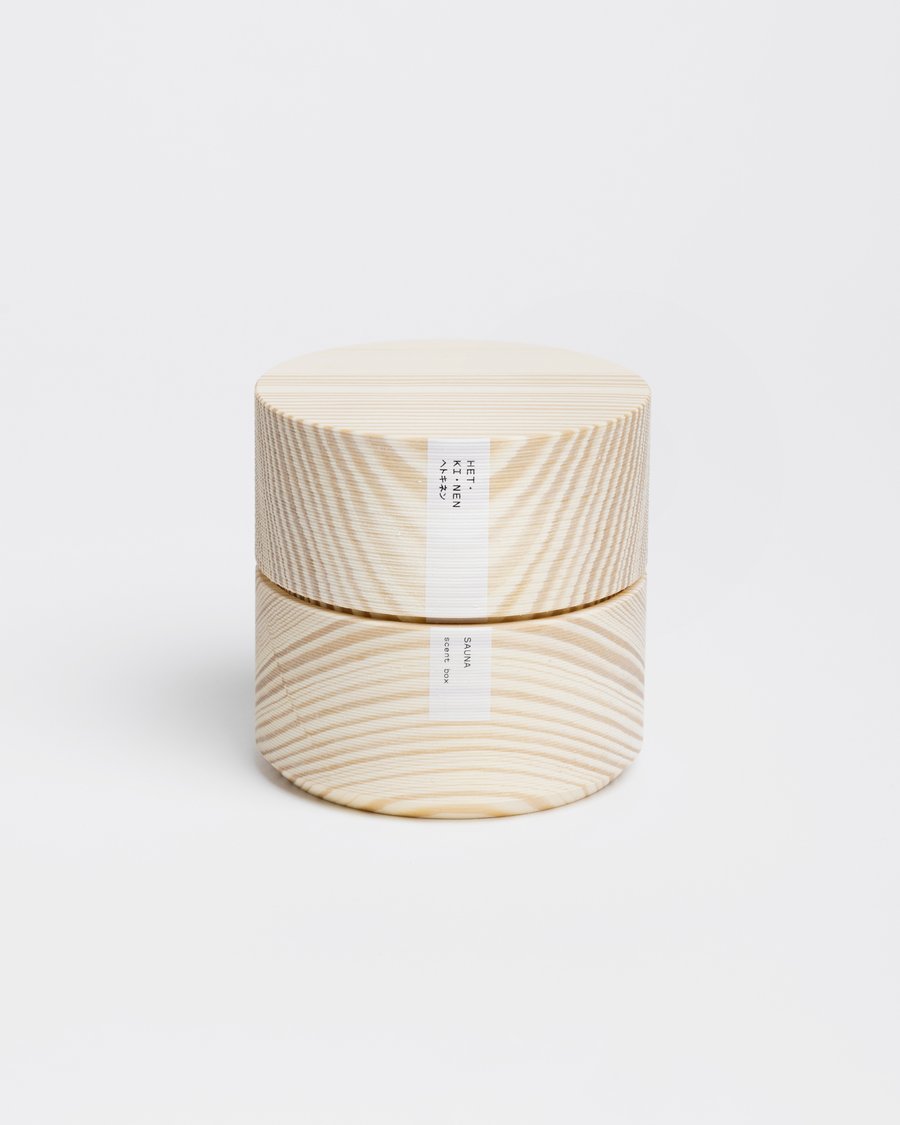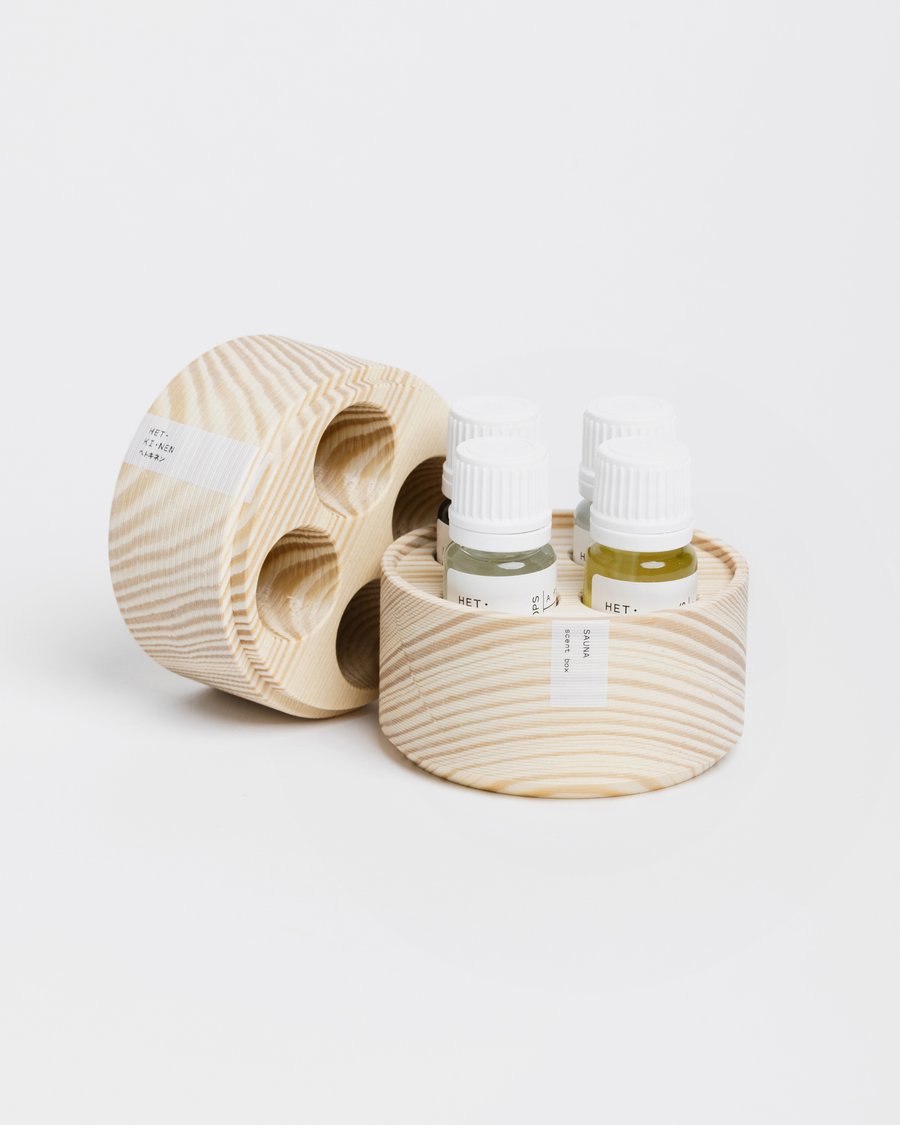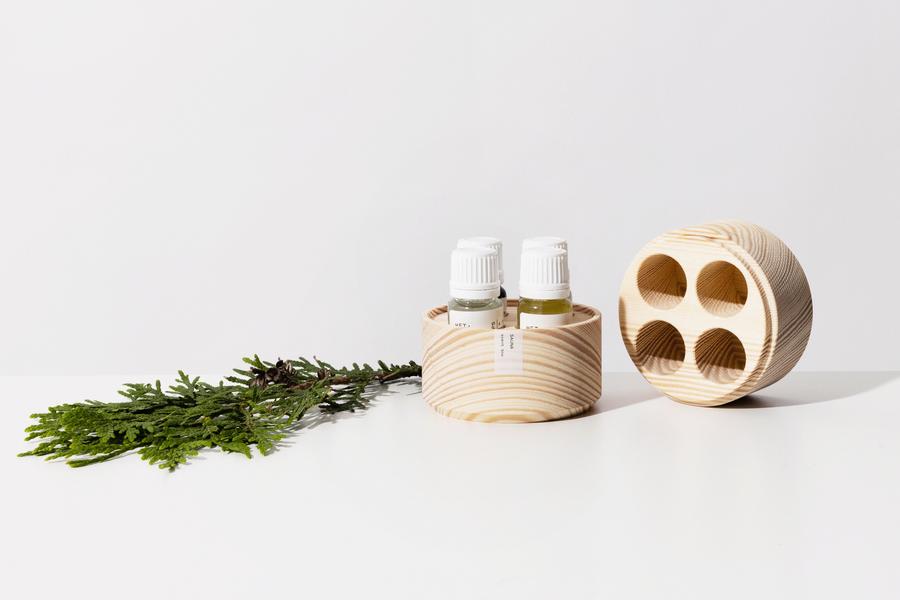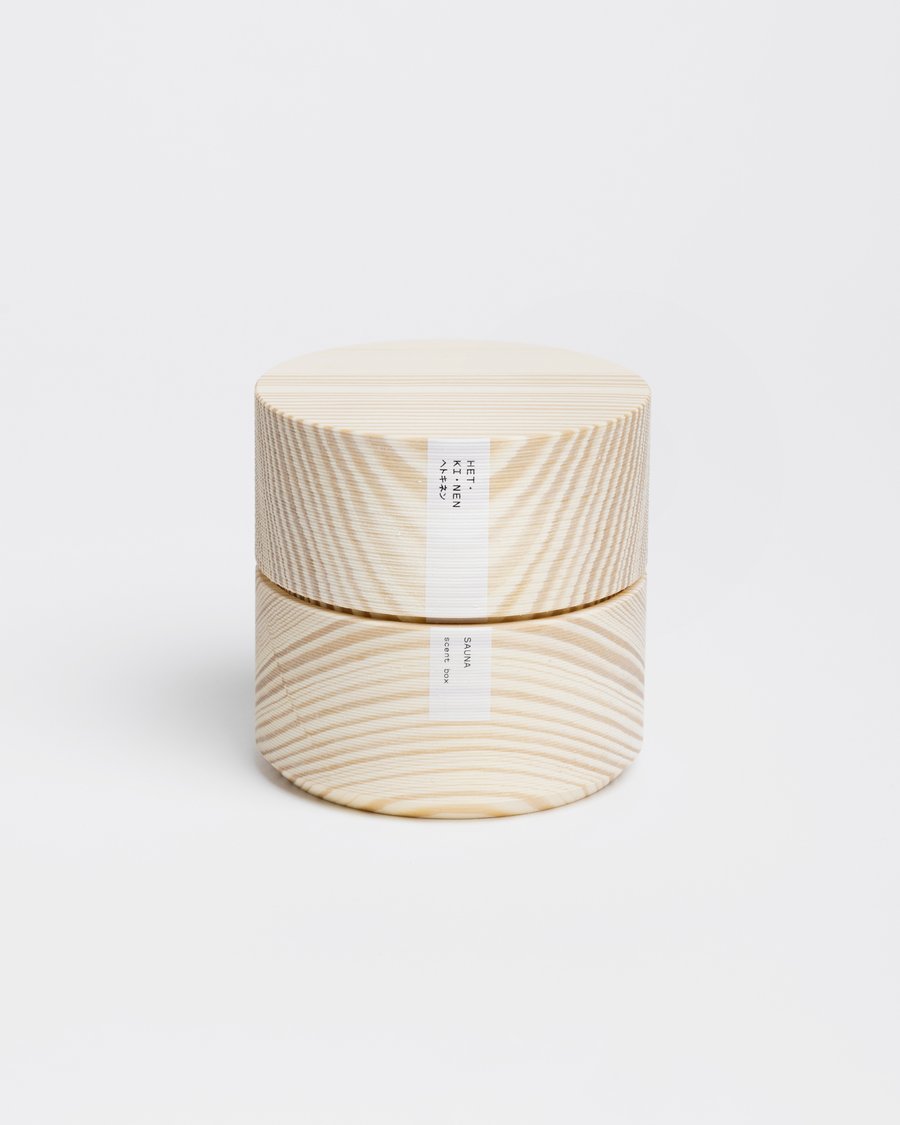 Sauna Scent Gift Box (4 Scents, Story & Wood Box)
Package size : 4 X 10ml
Country of origin : Finland


Woody, smoky, herbal and bloom natural sauna scents in pine jar.
This ready-made sauna gift set includes four sauna scents in an elegant wooden jar made of pine. When you open the lid, the vision surprises you. Each sauna drop bottle has its own beautiful place. This is a guaranteed and desirable saun gift for all sauna lovers. More steam, aromatic steam!
Sauna has a special place in the hearts of Finns. It is part of the Finnish identity and way of life. After the sauna, you always feel good, and no wonder. The warmth of the sauna relaxes and increases general well-being.
An important part of the sauna tradition is the atmosphere and scents that you sense while relaxing in the sauna. Sauna experience created with natural Hetkinen scent drops is a unique experience that improves overall well-being.
We, the happiest people in the world, want to share these sauna traditions and secrets with everyone. Sauna gift set is a perfect way spread the joy of sauna.
Add a sauna drop of your choosing to the water bucket and enjoy the aromatic and luxurious sauna experience.
Ingredients :
Woody: 3-methoxy-3-methyl-1-butanol, cedrus atlantica oil, pinus sylvestris oil, abies alba oil, picea exelsa, picea mariana oil, (potential allergens): limonene, linalool Smoky: 3-methoxy-3-methyl-1-butanol, pyroleum pini, eucalyptus radiata oil, picea exelsa, picea mariana oil, (potential allergens): limonene, linalool Herbal: 3-methoxy-3-methyl-1-butanol, rosmarinus officinales, salvia scalea, thymus vulgaris,(potential allergens): limonene, linalool, geraniol, citral Bloom: 3-methoxy-3-methyl-1-butanol, pelargonia graveolents oil, lavandula angustifolia oil,(potential allergens): limonene, linalool, geraniol, citral

How to & usage
Usage : sauna water bucket
How to :  For an aromatic sauna experience, add 10-15 drops of sauna scent to a sauna bucket filled with water. Close your eyes. Immerse yourself in the heat and the fragrance spreading across your sauna.
Do not use direct to your skin.


YES : natural, organic, vegan, cruelty free, sustainable, fresh, gentle and skilled artisan process
NO : preservative, synthetics, water, colour
Sauna Scent Gift Box (4 Scents, Story & Wood Box)
Orders & Shipping
Free Local Delivery Over HKD400
Your order will be processed within 5 working days of being placed and payment being received. If there are any longer delays due to stock or shipping problems you will be contacted and notified of such.  
We ship via PICKUPP to offer you the most economical shipping method. The delivery time is about 2-7 business days. The website will automatically calculate the shipping cost for each order.Please note extra delivery charge at remote area.
If you wish to place a large order or arrange international shipment, please contact us for a shipping quote.
Returns & Replacements 
Your satisfaction is important to us, if you have a concern about the quality of your product please use the Contact Us page to email us with the batch number, expiry date and product name from the barcode label and the reason you are dissatisfied.  
Any returns due to quality issues must be contact us within 2 weeks of receiving your order.  
Unfortunately we do not accept product returns if you have changed your mind or don't like the scent.  
We may request you to return unused product before processing a refund or replacement. (Please note, if you made your purchase from a retail stockist, you will need to return it to that stockist - and their store policies apply in terms of refund or replacement.)