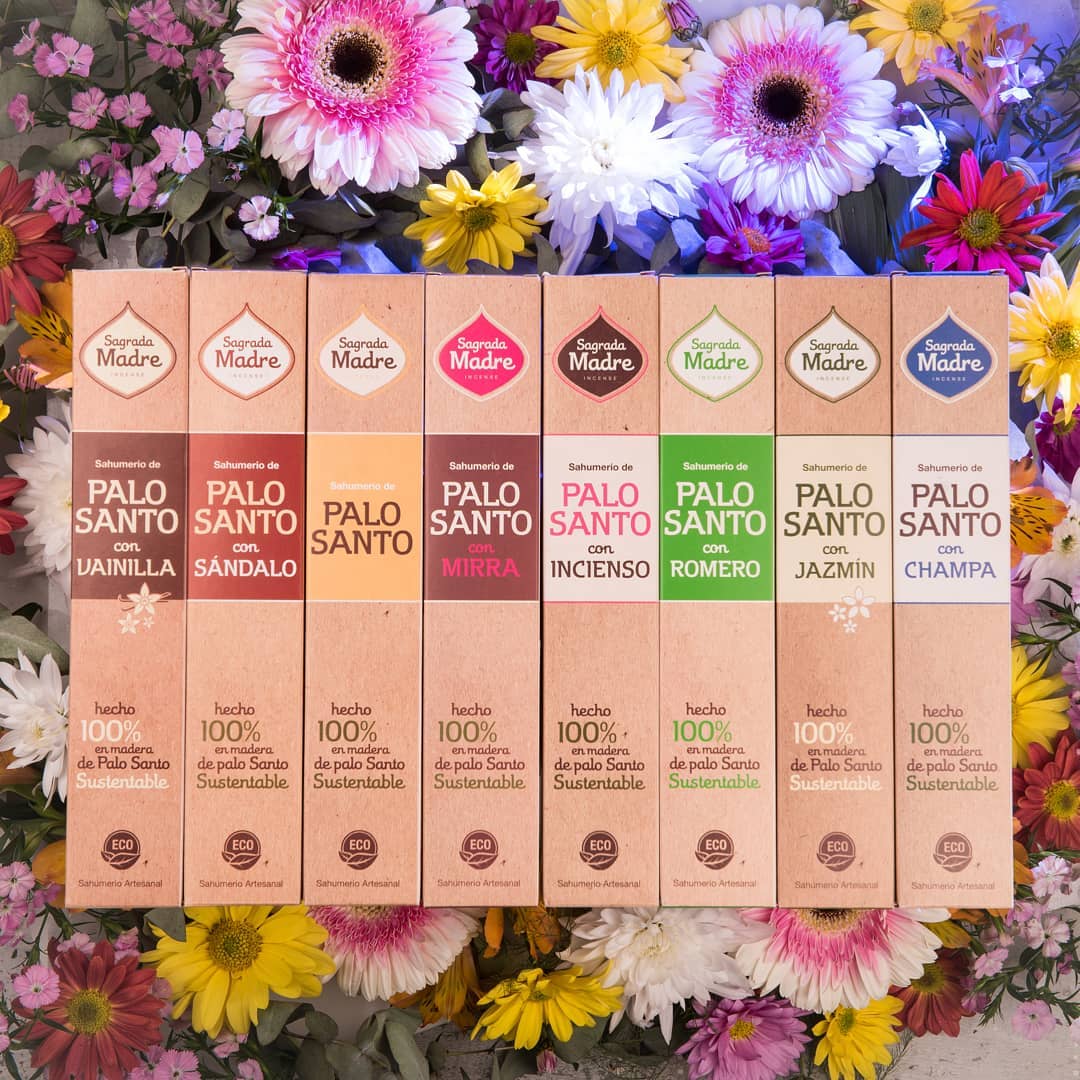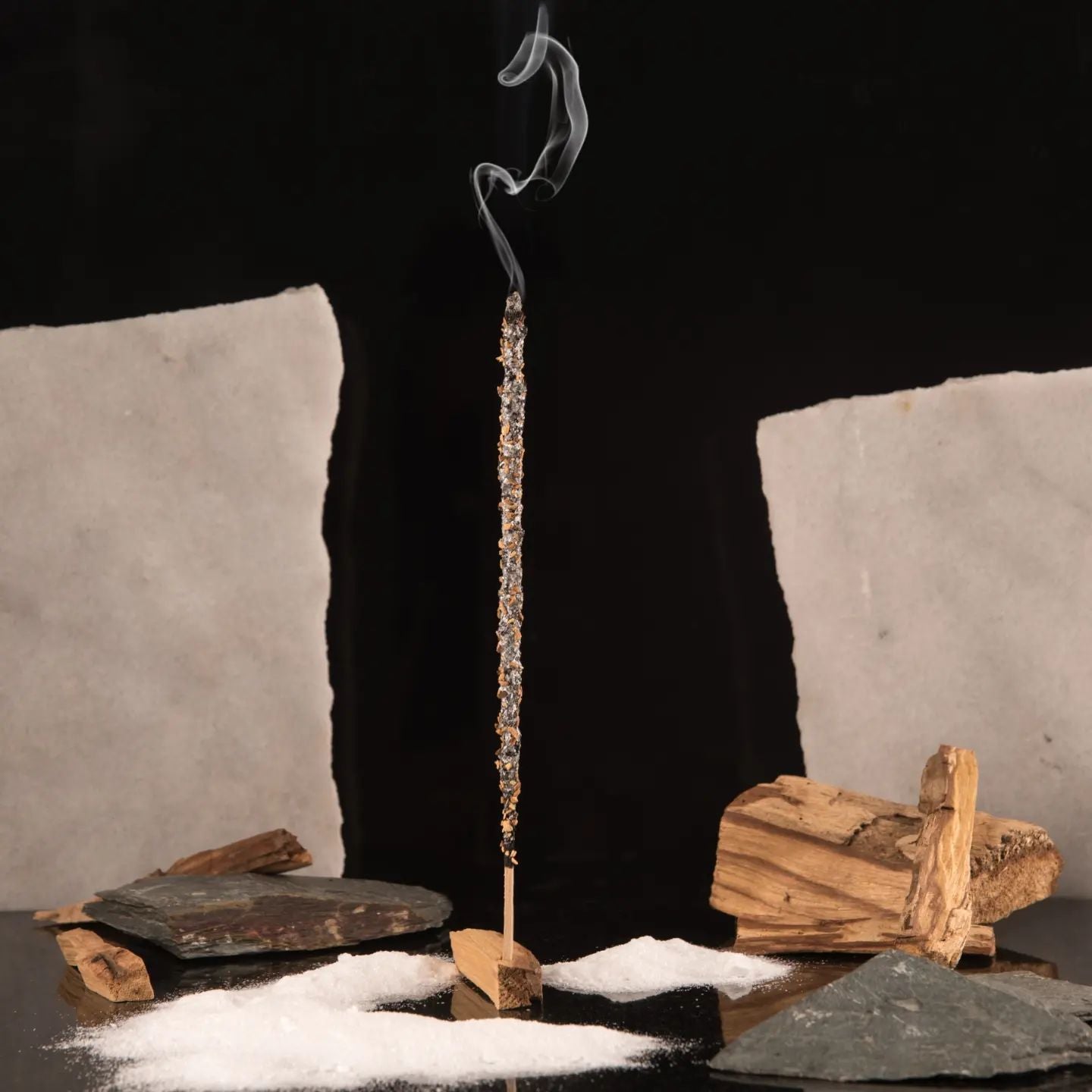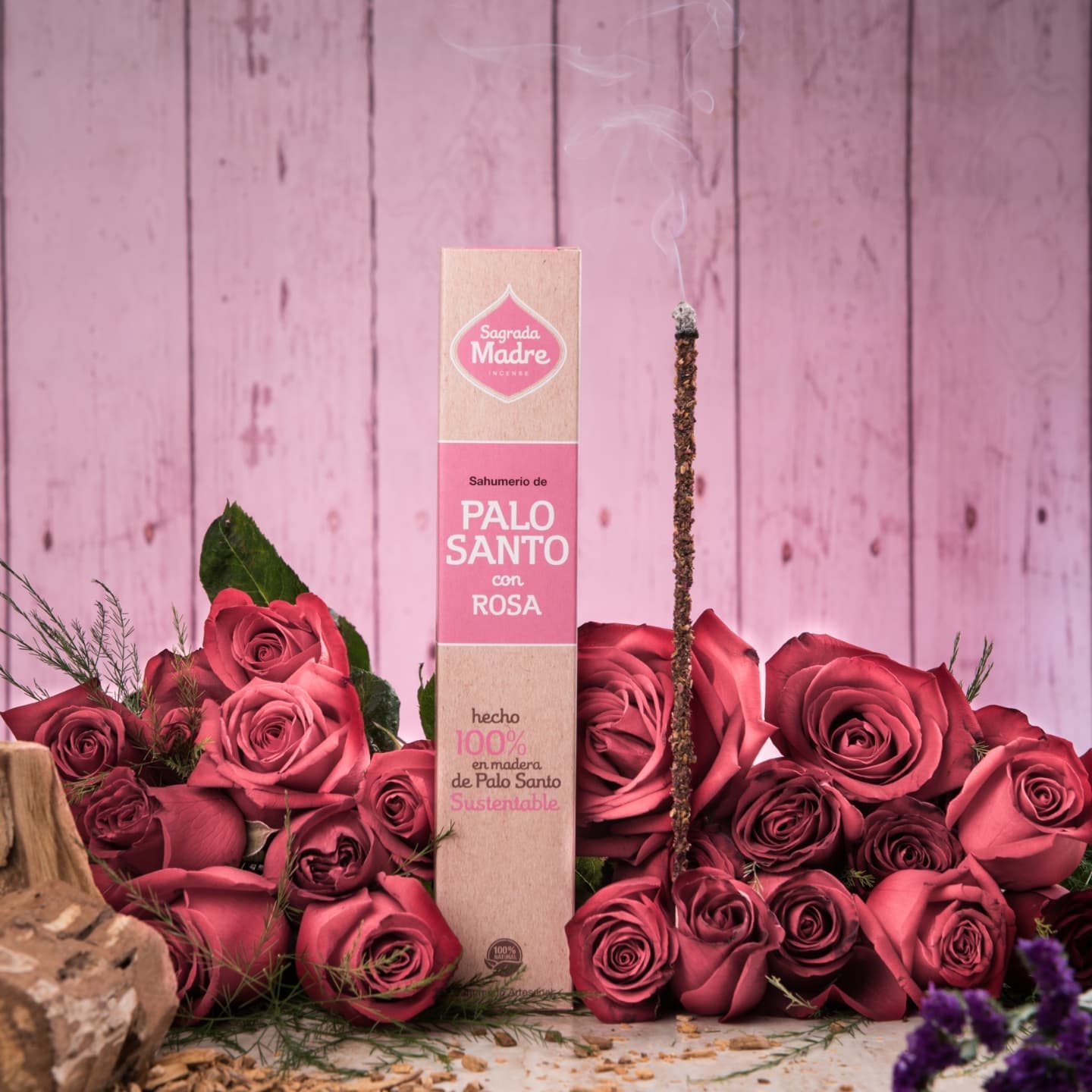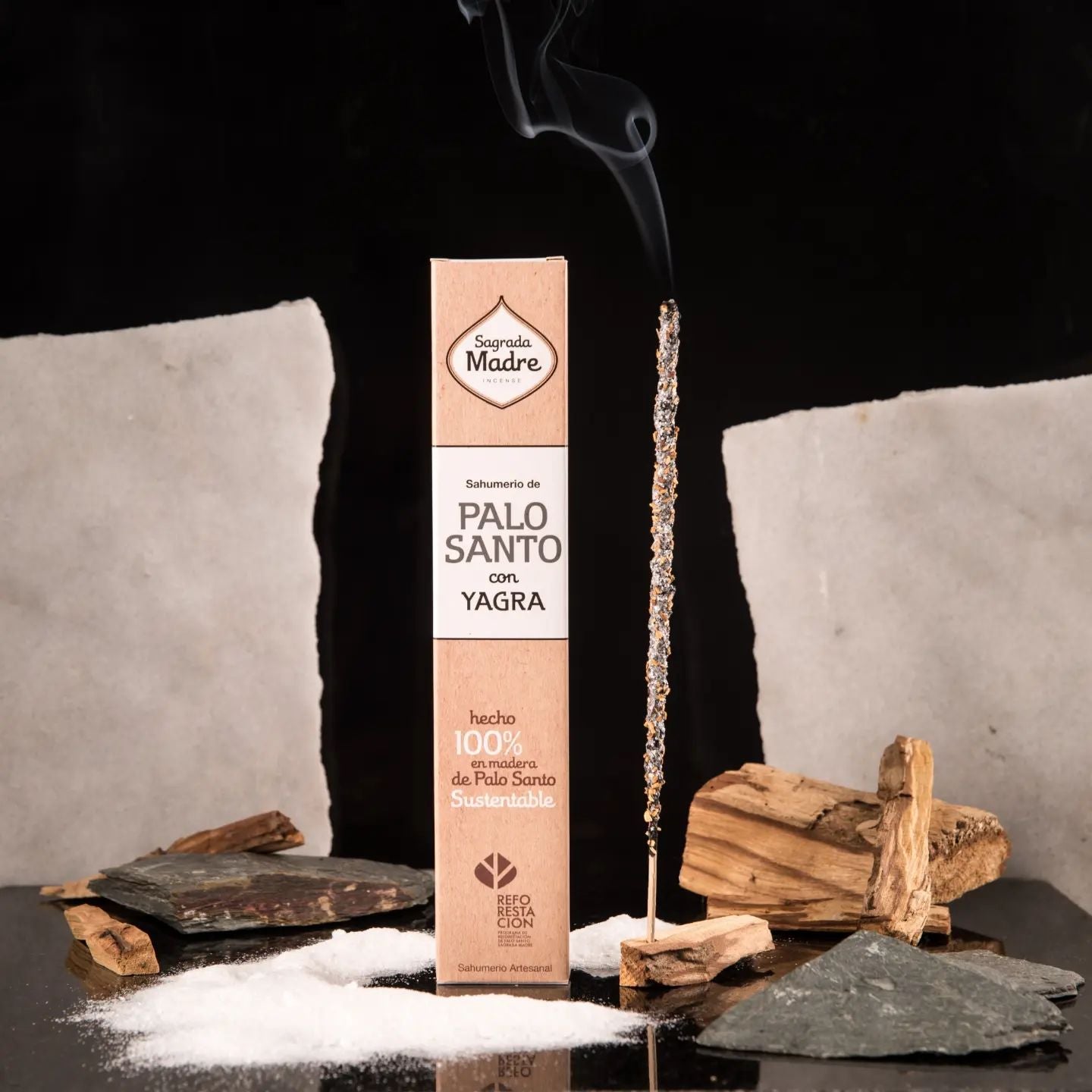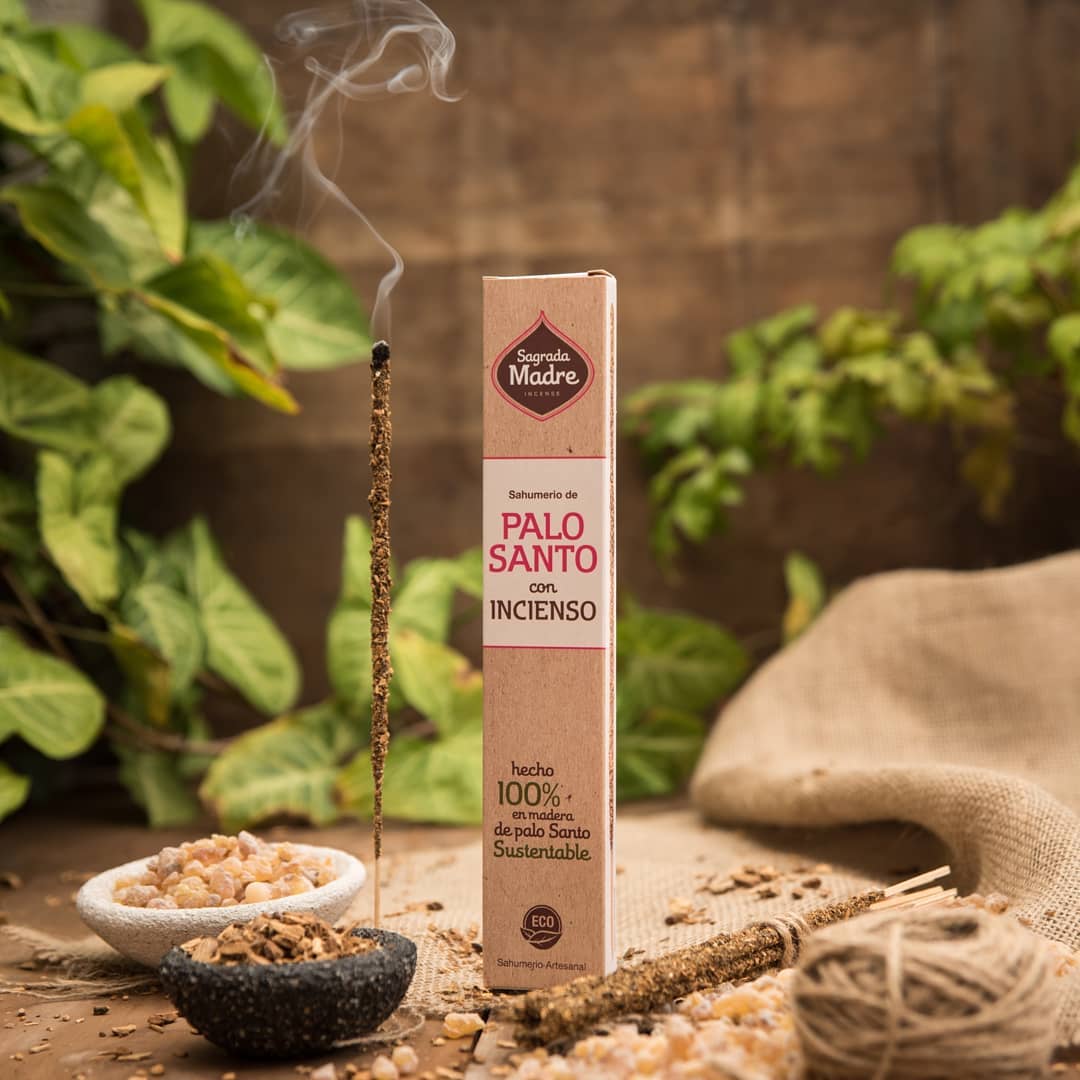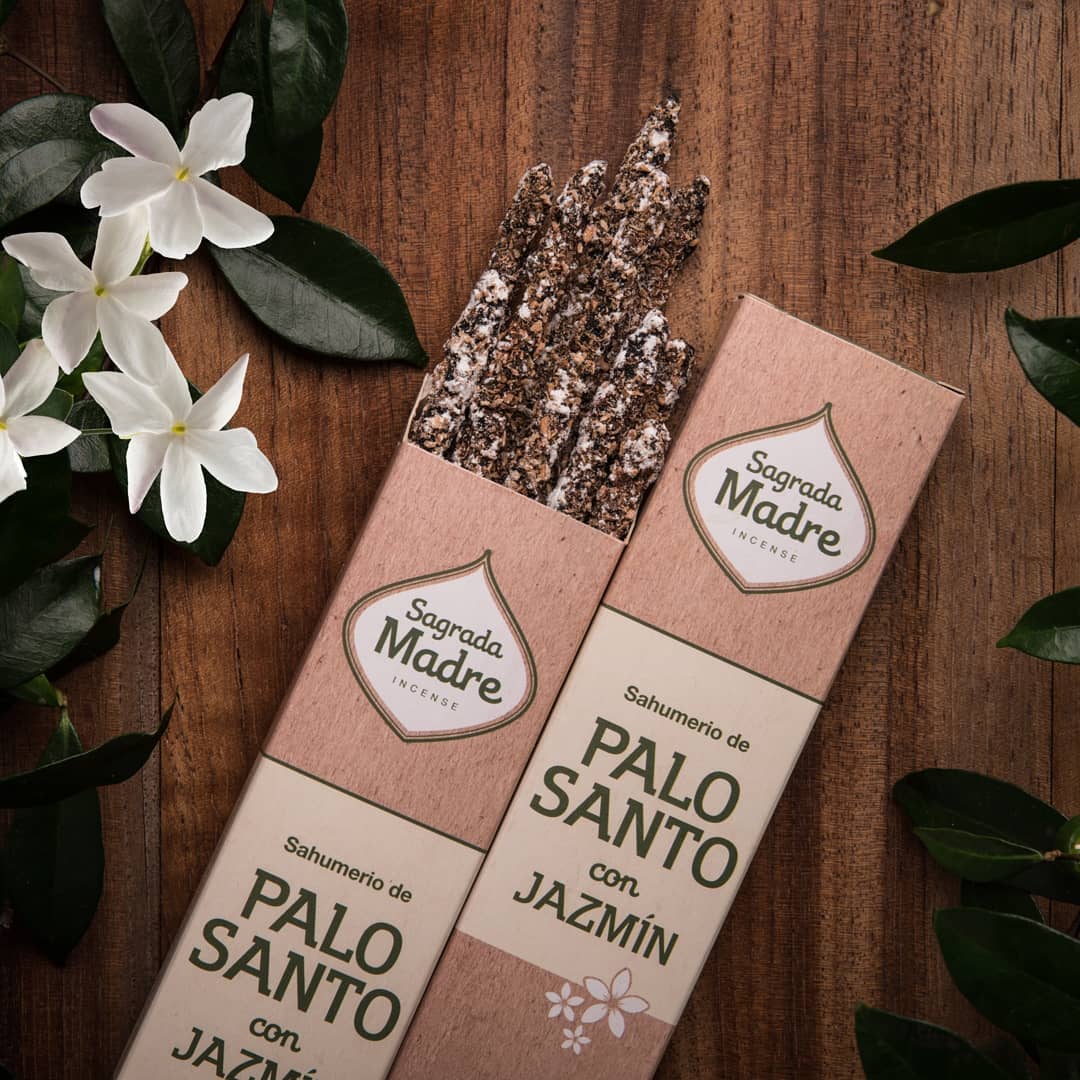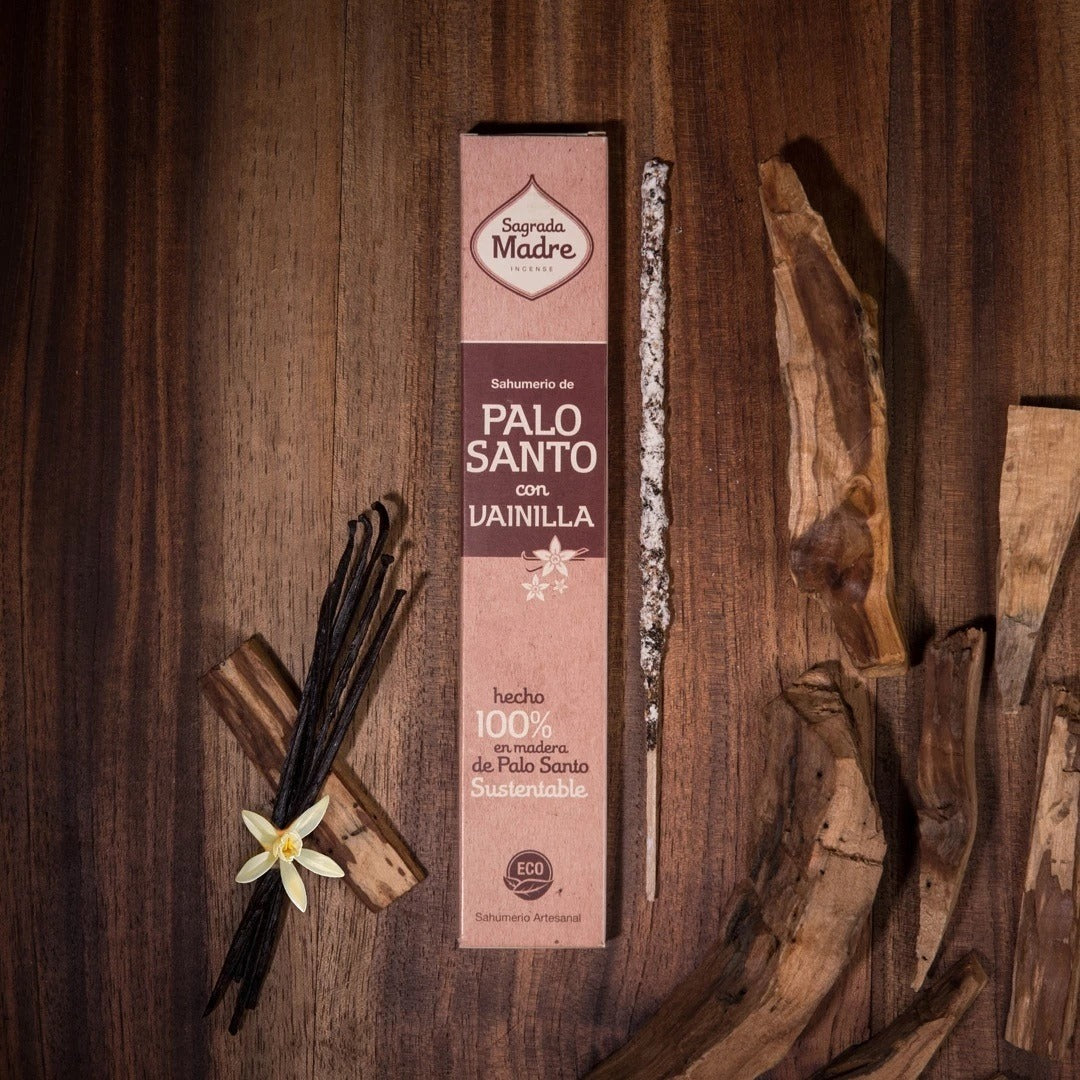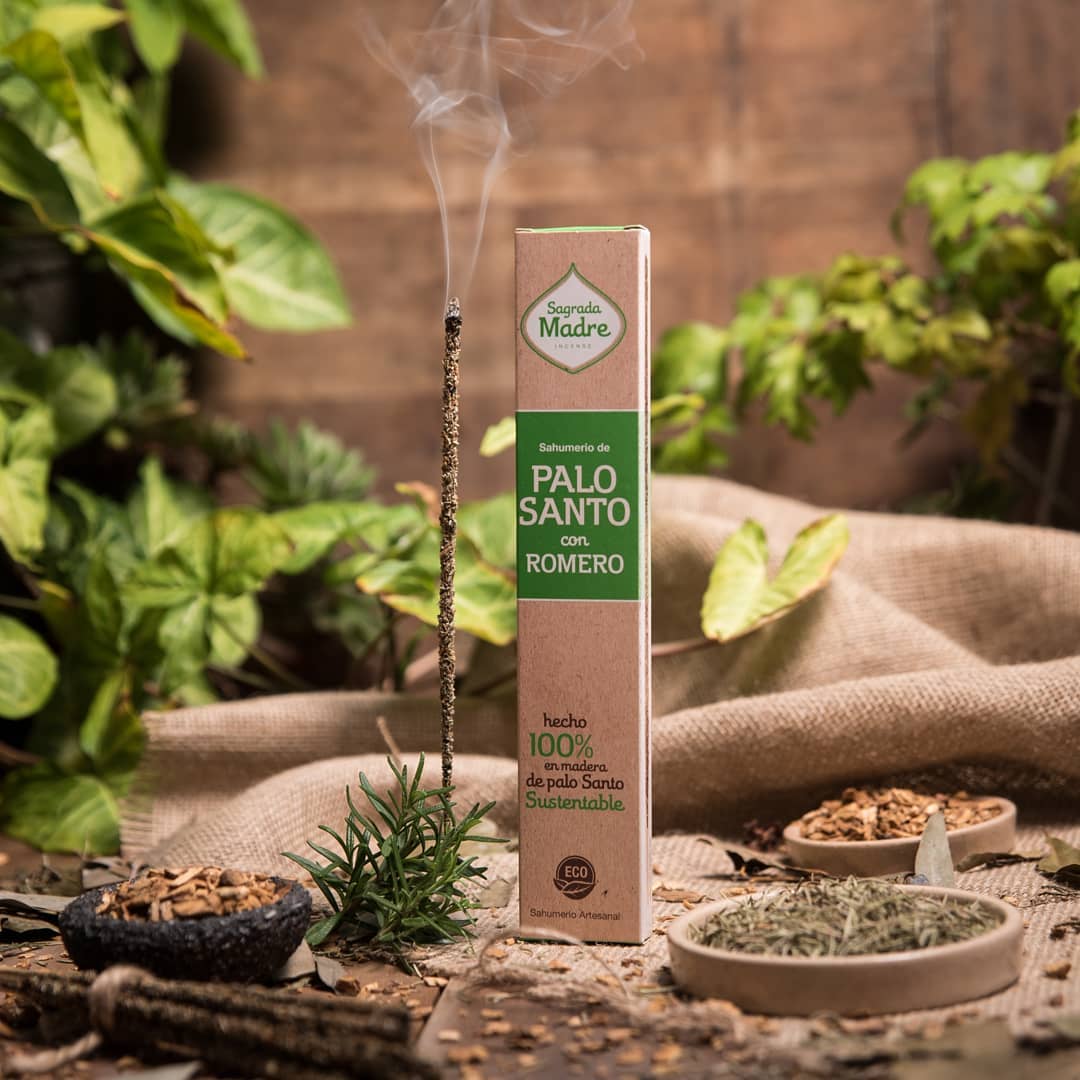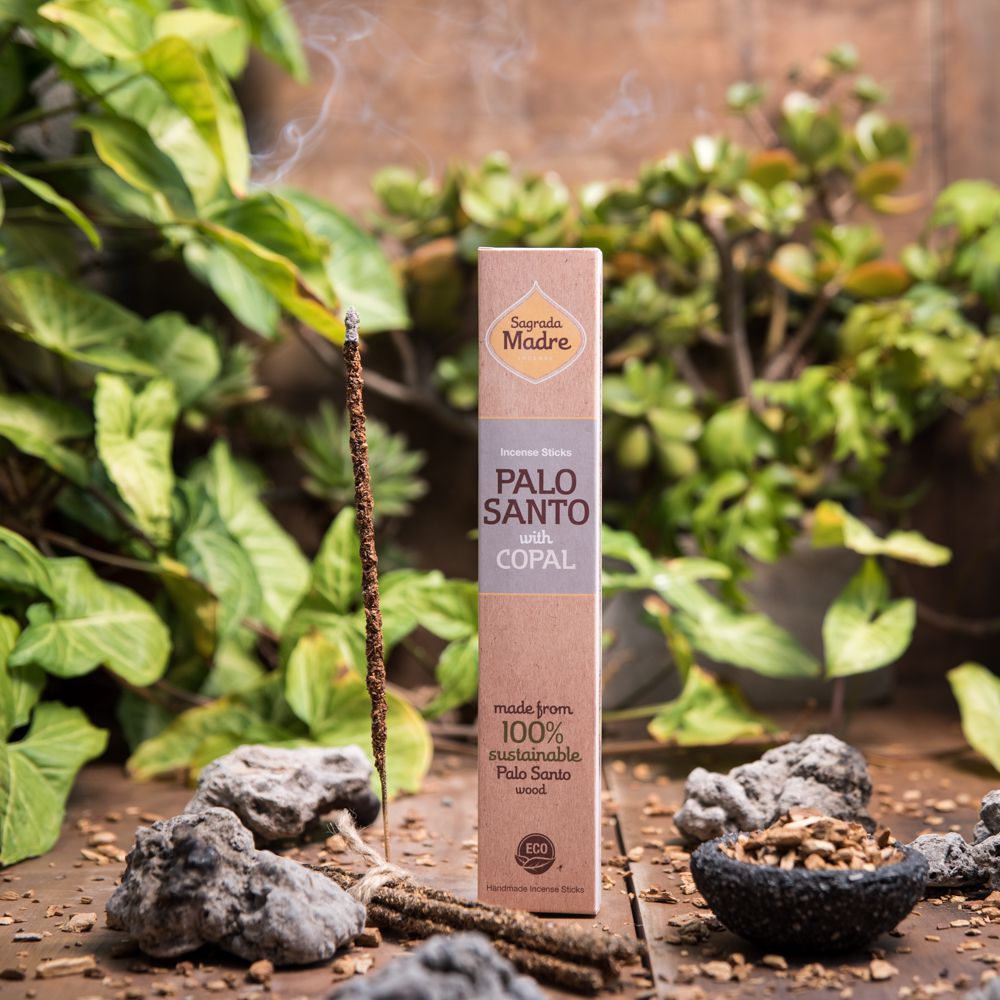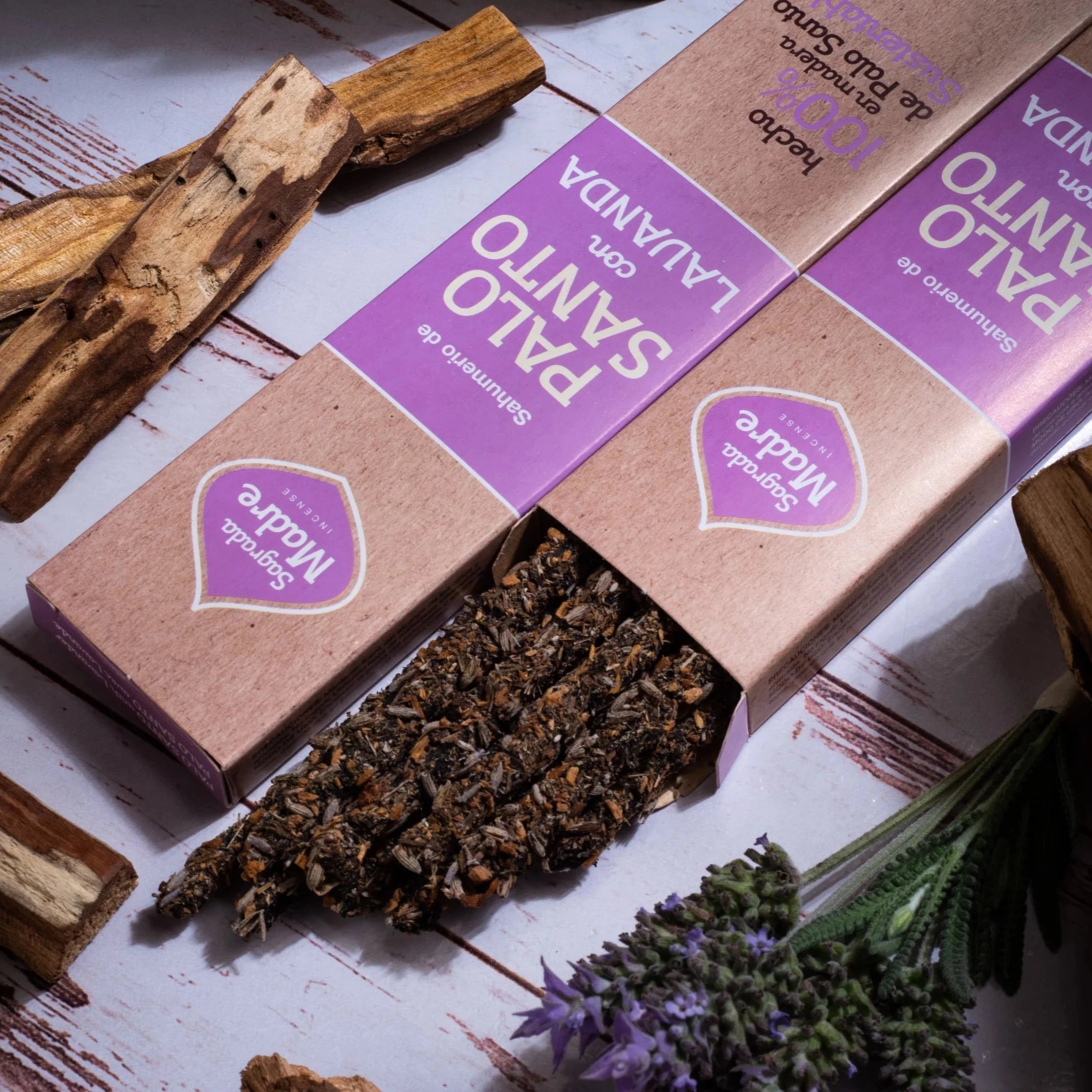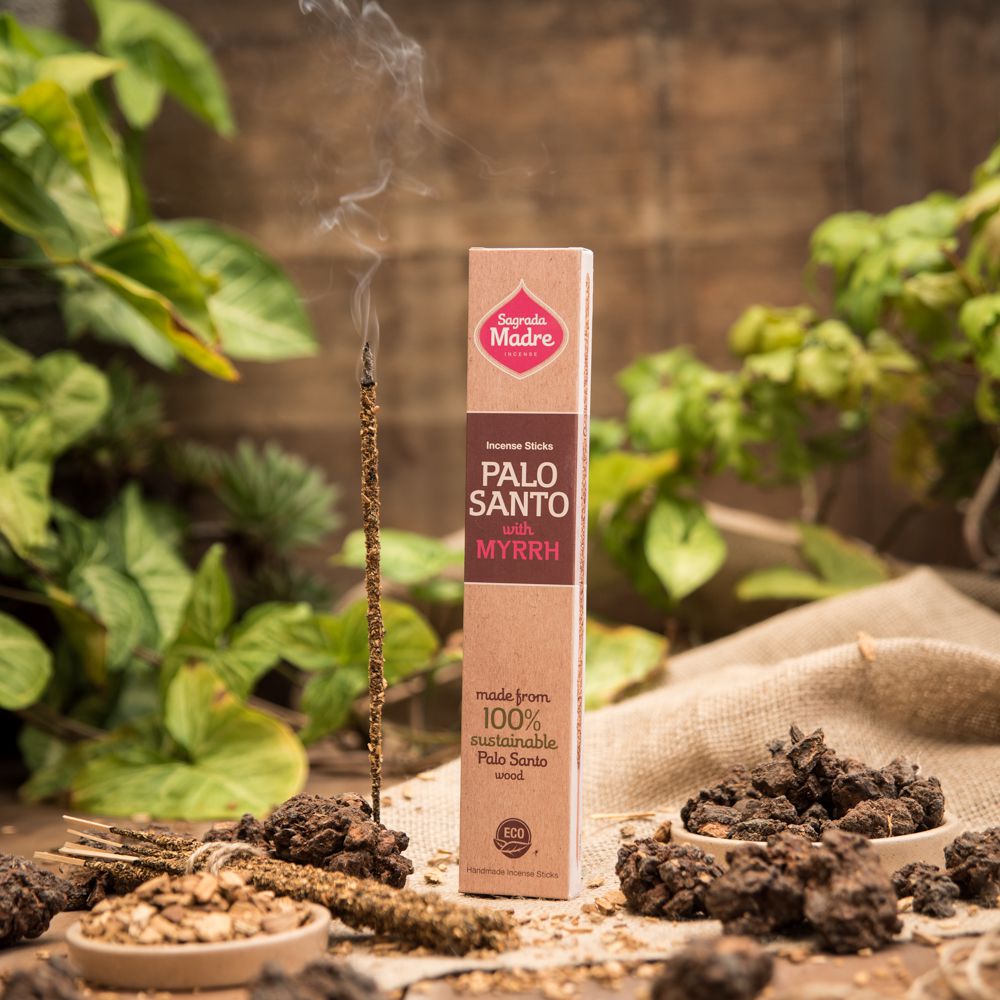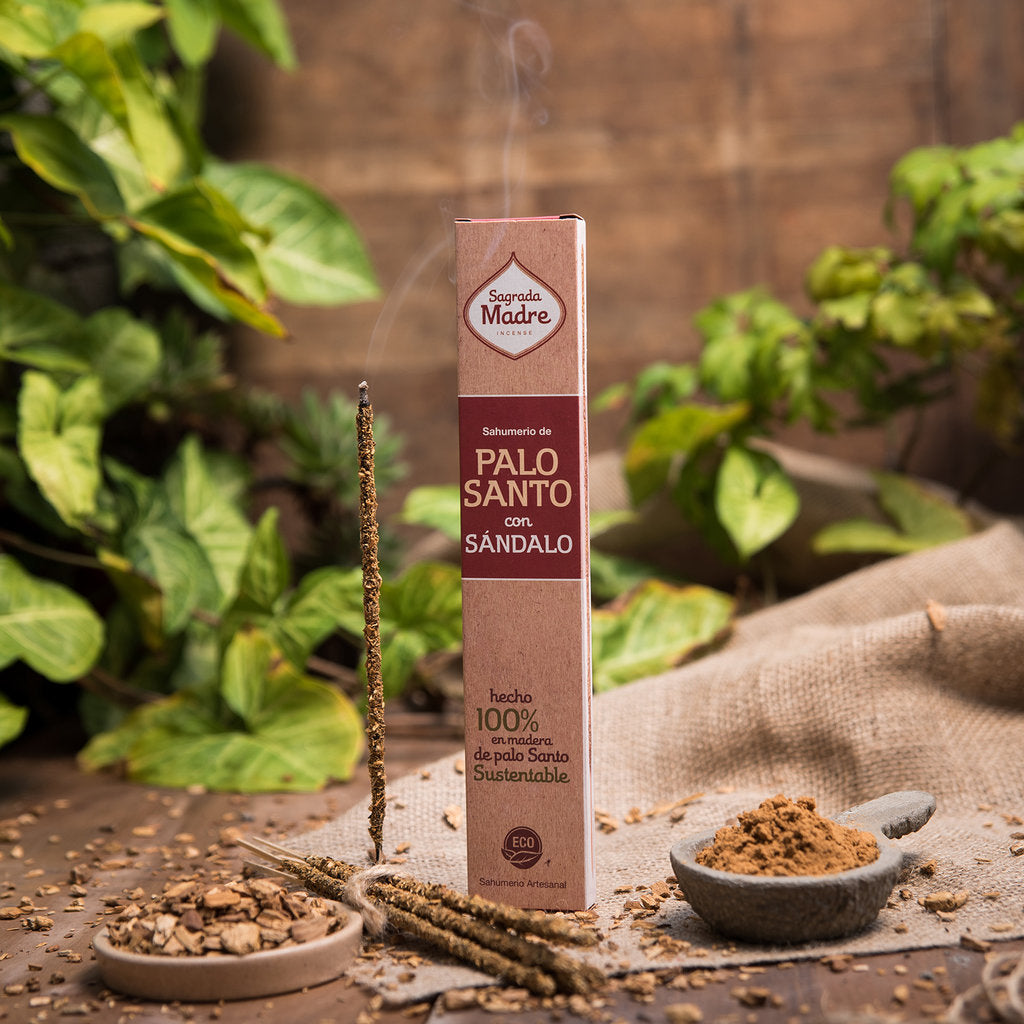 Handmade Incense Palo Santo Line.
Made from 100% Pure Palo Santo chips and powder with plant based binder.

Content: Each box contains 8 sticks that are 9" long
Duration: Each stick burns for 1 hour.


Palo Santo
Lighting a palo santo ( holy wood ) incense stick is a sacred and purifying act. Palo Santo has been used by many ancient cultures for millennium to increase the feeling of calm and well-being, and attract positive, healing and harmonious energies to spaces and people who come in contact with its aroma.

Palo Santo & Copal
In this incense stick we unite Palo Santo with Copal, a resin from trees of the Amazon and Mexico, wich forms a purifying and healing ritual smoke. Also believed to be a magnet for the attraction of good fortune, material and spiritual, due to its connection with the divine.

Palo Santo & Myrrh
Smuging of Myrrh and Palo Santo together is used to attract positive new energies. Myrrh adds to the harmonious properties of Palo Santo its power of renewal and protection, generating calm, tranquility and prosperity believed to benifit all who bask in its fragrance.
Palo Santo & Frankincense(/Olibanum)
The gorgeous combination of frankincense and Palo Santo is believed to transform any atmosphere into a pure and harmonious environment, bringing peace, prosperity and healing energy to all who come in contact with its fragrance.

Palo Santo & Rosa
Love, an inner energy that awakens the soul, ignites the fire of our heart, overflowing light of compassion to all beings, attracting peace and harmony to our existence.

Palo Santo &   Rosemary

Palo Santo & Sandalwood
This powerful union, Palo Santo (holy wood) and Sandalwood, materialized in this incense stick, combines two sacred ancient smudging woods together, balances the energies from the Andes and Himalayas by bringing All to center. Some of the benefits of burning these two sacred woods are believed to be as follow: mental clarity, natural relaxant, strengthens memory, natural aphrodisiac, reduces stress, purifies the soul and neutralizes the negative by generating harmony.
Palo Santo & VanillaThe fragrance of Vanilla affects emotions, experiences and memories, giving warmth, softness and care to our being, thus creating endless possibilities for a prosperous life. Combining Vanilla with Palo Santo is believed to create an atmosphere of peace, purification and healing in our environment. 
Palo Santo & Lavander
A soft and pleasant fragrance of fresh lavender flowers and mild woody notes of Palo Santo.
Palo Santo & Jasmin
The sweetness of jasmine brings the purity, simplicity, strength, sensuality and beauty of nature. Combined with the natural energy of palo santo, it creates and generates an atmosphere of peace, love and prosperity.

Palo Santo & Champa
The combination of Palo Santo with the flower Champa, united for the first time on an incense stick, is used to purify and prepare spaces for meditation and relaxation with its sweet woody aroma. Love, peace, tranquility, well-being, light, happiness, balance and harmony are some of the believed benefits of using this sacred incense.
Orders & Shipping
Free Local Delivery Over HKD400
Your order will be processed within 5 working days of being placed and payment being received. If there are any longer delays due to stock or shipping problems you will be contacted and notified of such.  
We ship via PICKUPP to offer you the most economical shipping method. The delivery time is about 2-7 business days. The website will automatically calculate the shipping cost for each order.Please note extra delivery charge at remote area.
If you wish to place a large order or arrange international shipment, please contact us for a shipping quote.
Returns & Replacements 
Your satisfaction is important to us, if you have a concern about the quality of your product please use the Contact Us page to email us with the batch number, expiry date and product name from the barcode label and the reason you are dissatisfied.  
Any returns due to quality issues must be contact us within 2 weeks of receiving your order.  
Unfortunately we do not accept product returns if you have changed your mind or don't like the scent.  
We may request you to return unused product before processing a refund or replacement. (Please note, if you made your purchase from a retail stockist, you will need to return it to that stockist - and their store policies apply in terms of refund or replacement.)