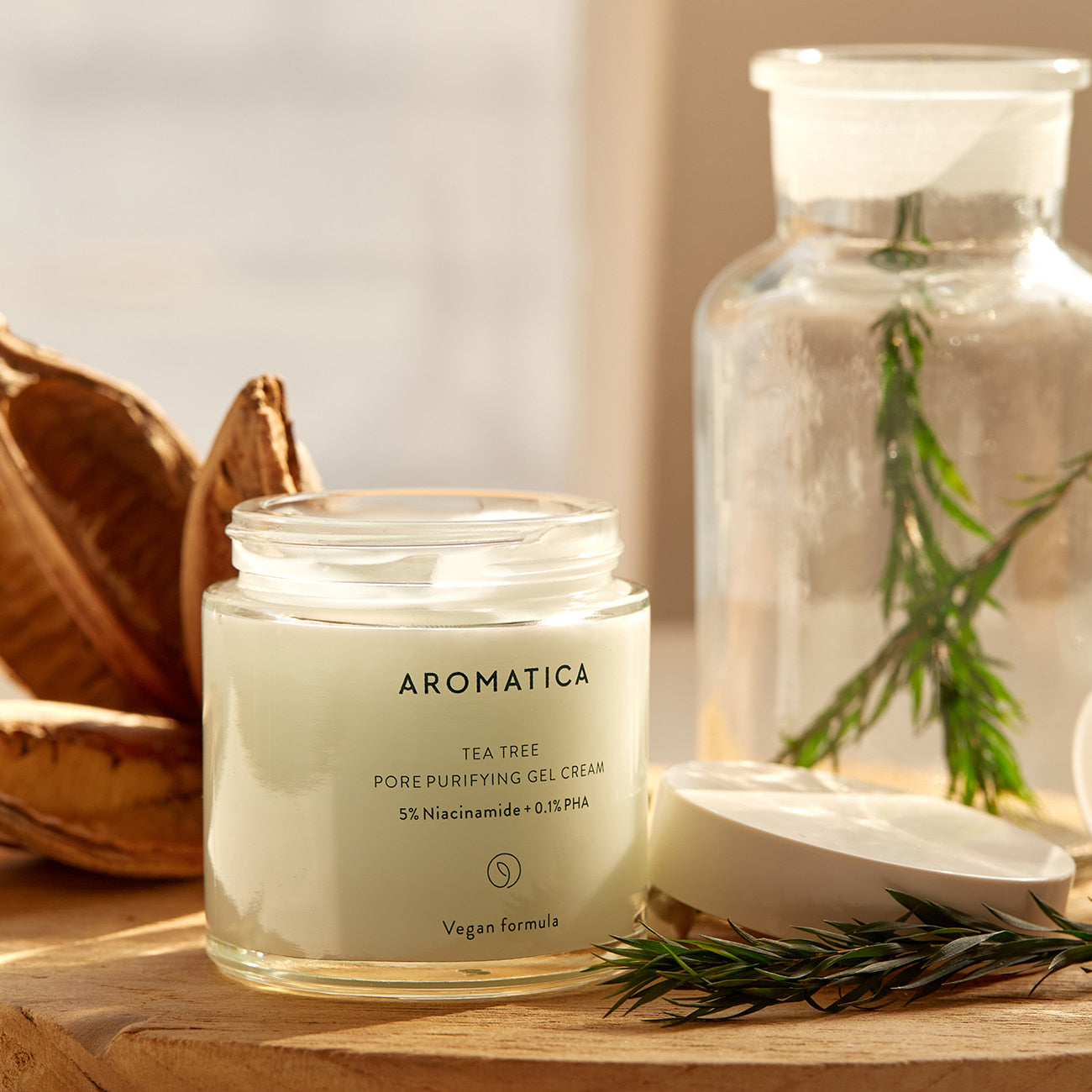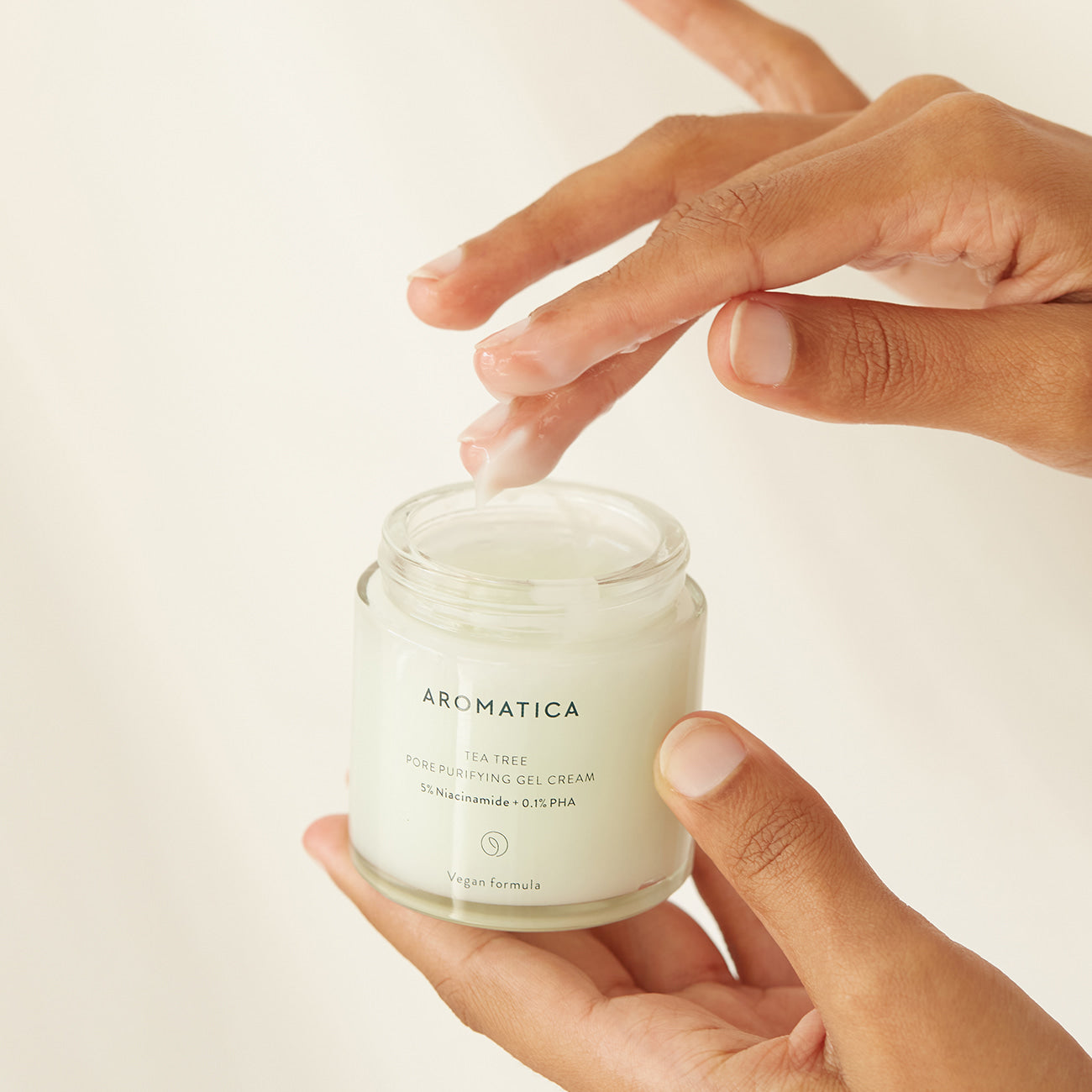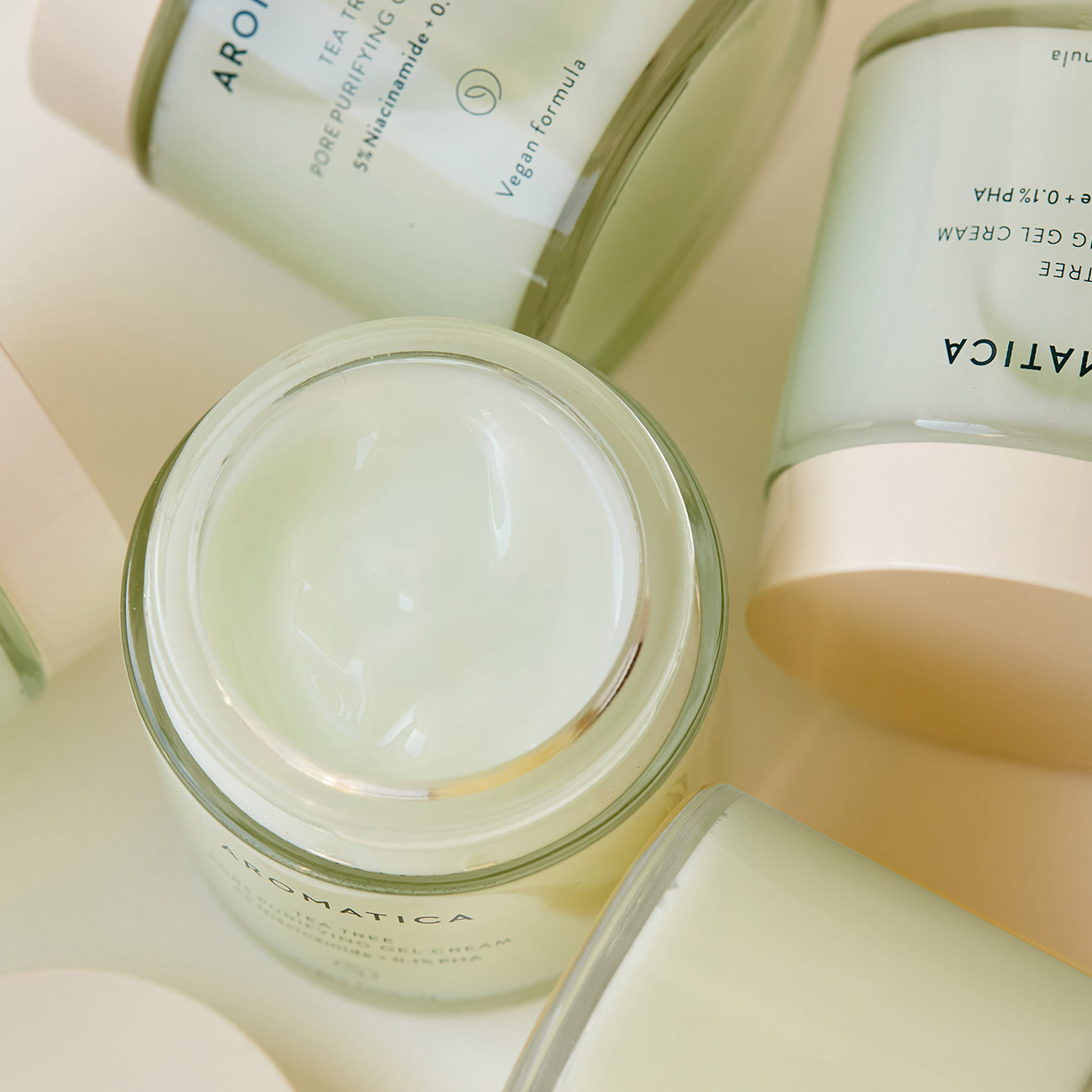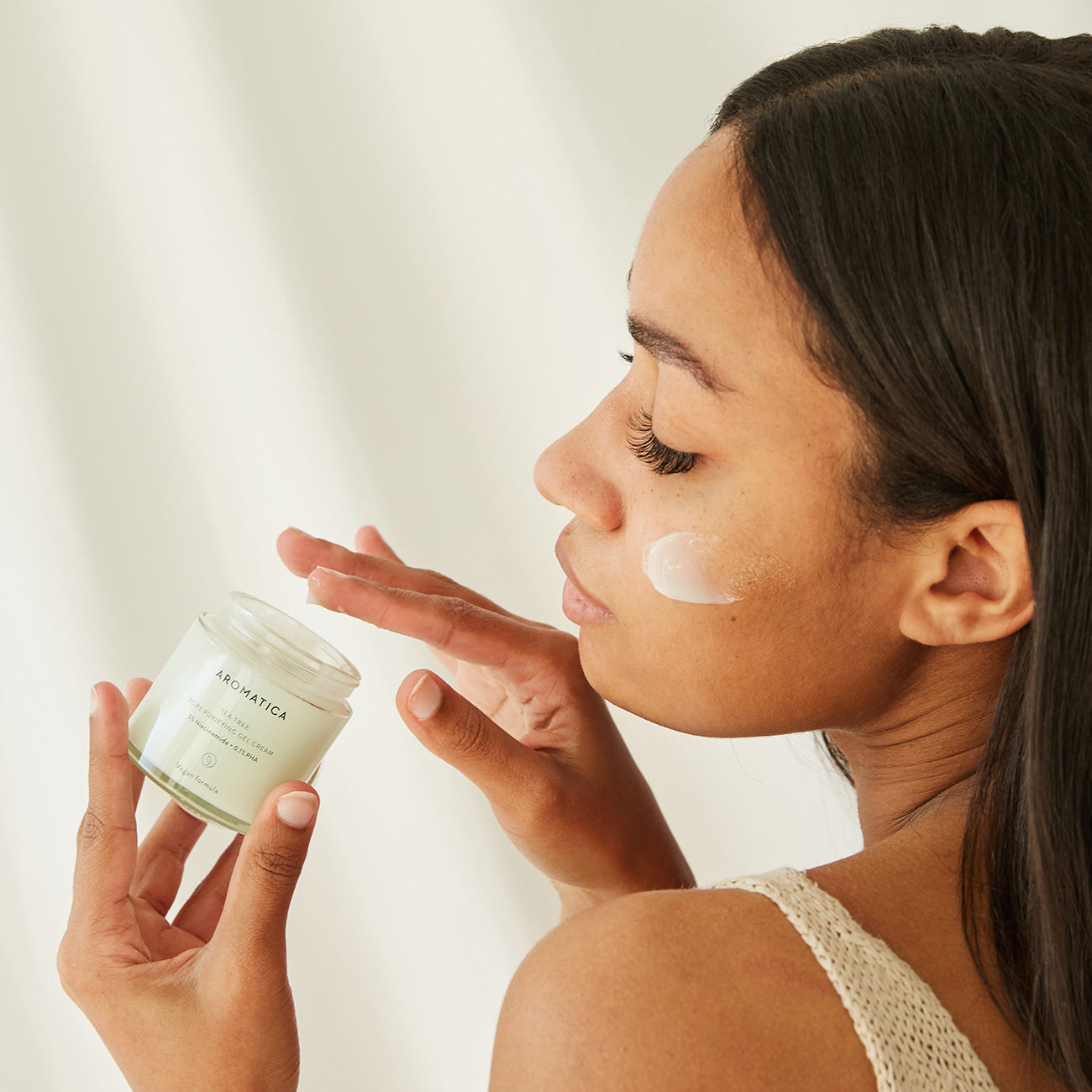 Tea Tree Pore Purifying Gel Cream 5% Niacinamide + 0.1% PHA
Vegan | Cruelty free
Are you concerned about your skin covered by the mask that you wear all day?
Air doesn't circulate well inside the sealed mask, increasing the temperature and humidity of your skin. This causes the sebum and bacteria in the mouth to increase, resulting in skin trouble.

Take care of skin troubles with the gel cream that creates harmonious blending between Australian tea tree, niacinamide, and PHA.

Key solution to your skin concerns!
Only tea tree extract (75%), which is richly extracted with glycerin as solvent, is used instead of purified water. It will help soothe problem skin in a fresh, comfortable way. *Niacinamide (5%), which helps control excessive oil and sebum production, also helps keep the oiliness on your face under control and makes your skin clear and glowing.

Intensive saggy pore control focused on excessive sebum and oil.
* The combination of PHA and LHA, a hypoallergenic exfoliator, soothes cakey dead cells and those on dilated pores for smooth skin texture and minimized pores. Tamarind seed polysaccharide, a plant-derived moisturizing ingredient, supplies water to enlarged pores, and panthenol helps strengthen skin barrier, leaving skin fresh and soft without oiliness.

Skin balancing gel cream for those who want to save time.
This is for those who have dry yet oily skin; this translucent gel cream for moisturizing skin, minimizing pores, and controlling sebum applies smoothly even on sensitive skin and makes skin fresh on the outside and moisturized on the inside with its tight adherence and non-sticky absorption.

TIP
- Home Care/Sleeping Pack: On unusual days when your skin feels sensitive and dry, take twice the usual amount and use as sleeping pack! Your sensitive skin will be soothed surprisingly quickly.
-Cool Soothing Pack: Keep it refrigerated and use to cool down reddened skin. Cool down elevated skin temperature caused by face mask and keep your skin healthy and well.

*Tea Tree: This ingredient, used by Indigenous Australians centuries ago as a skin solution, contains the effective ingredient terpinene-4-ol for outstanding soothing effect on problem skin.
*Niacinamide: It is excellent not only for moisturizing but also for controlling sebum, helping make problem skin healthy and well.
*PHA: PHA, which has a large molecular size, acts slowly and smoothly on skin, so it can be used on fragile skin. Even better, it is made of water-soluble ingredients, attracting moist counterparts to leave your skin hydrated.


Extraction method
Solvent extraction : This is an extraction method designed to extract efficiently the effective ingredients from expensive and delicate raw substances. The high-quality extracts obtained by recycling energy from our internal facilities and using the safest moisturizer to skin such as glycerin as solvent is the reason the inherent fragrance of tea tree's raw substances is kept intact.
Ingredients
Melaleuca Alternifolia Leaf Extract, Melaleuca Alternifolia Leaf Oil, Niacinamide, PHA(=Gluconolactone), LHA(=Capryloyl Salicylic Acid), Tamarindus Indica Seed Polysaccharide, Panthenol
HOW TO USE
STEP 1. Sufficiently soak a cotton pad with an appropriate amount of Tea Tree Pore Purifying Cleansing Water and gently wipe skin starting from the inside and working outward. Lightly press and hold it on strong makeup points for about 5 to 10 seconds to melt the makeup and wipe it off. There is no need for additional water-washing, but you may wash lightly with water if desired.
STEP 2. Dispense an appropriate amount of Tea Tree Balancing Toner onto your palm or a cotton pad and wipe along skin texture, or gently spread all over the face to soothe irritated skin.
STEP 3. If you want intensive care on excessive oil, take an appropriate amount of Tea Tree Pore Purifying Serum with the included dropping pipette, apply, and lightly pat to promote absorption.
STEP 4. If you want refreshing moisturization, take an appropriate amount of Tea Tree Balancing Emulsion, gently spread on the face and neck area, and lightly pat to promote absorption. It will help balance oil and moisture in your skin.
STEP 5. If enlarged pores annoy you, take an appropriate amount of Tea Tree Pore Purifying Cream at the last step of your skincare routine, apply, and pat to promote absorption. It helps keep your pores tight and your skin smooth.




Recycle it !
STEP1. Separate the cap, inner lid, and jar.
STEP2. Please dispose of each material separately.
Cap: ABS
Inner lid: PS
Jar: Glass
Tea Tree Pore Purifying Gel Cream 5% Niacinamide + 0.1% PHA
Orders & Shipping
Free Local Delivery Over HKD400
Your order will be processed within 5 working days of being placed and payment being received. If there are any longer delays due to stock or shipping problems you will be contacted and notified of such.  
We ship via PICKUPP to offer you the most economical shipping method. The delivery time is about 2-7 business days. The website will automatically calculate the shipping cost for each order.Please note extra delivery charge at remote area.
If you wish to place a large order or arrange international shipment, please contact us for a shipping quote.
Returns & Replacements 
Your satisfaction is important to us, if you have a concern about the quality of your product please use the Contact Us page to email us with the batch number, expiry date and product name from the barcode label and the reason you are dissatisfied.  
Any returns due to quality issues must be contact us within 2 weeks of receiving your order.  
Unfortunately we do not accept product returns if you have changed your mind or don't like the scent.  
We may request you to return unused product before processing a refund or replacement. (Please note, if you made your purchase from a retail stockist, you will need to return it to that stockist - and their store policies apply in terms of refund or replacement.)