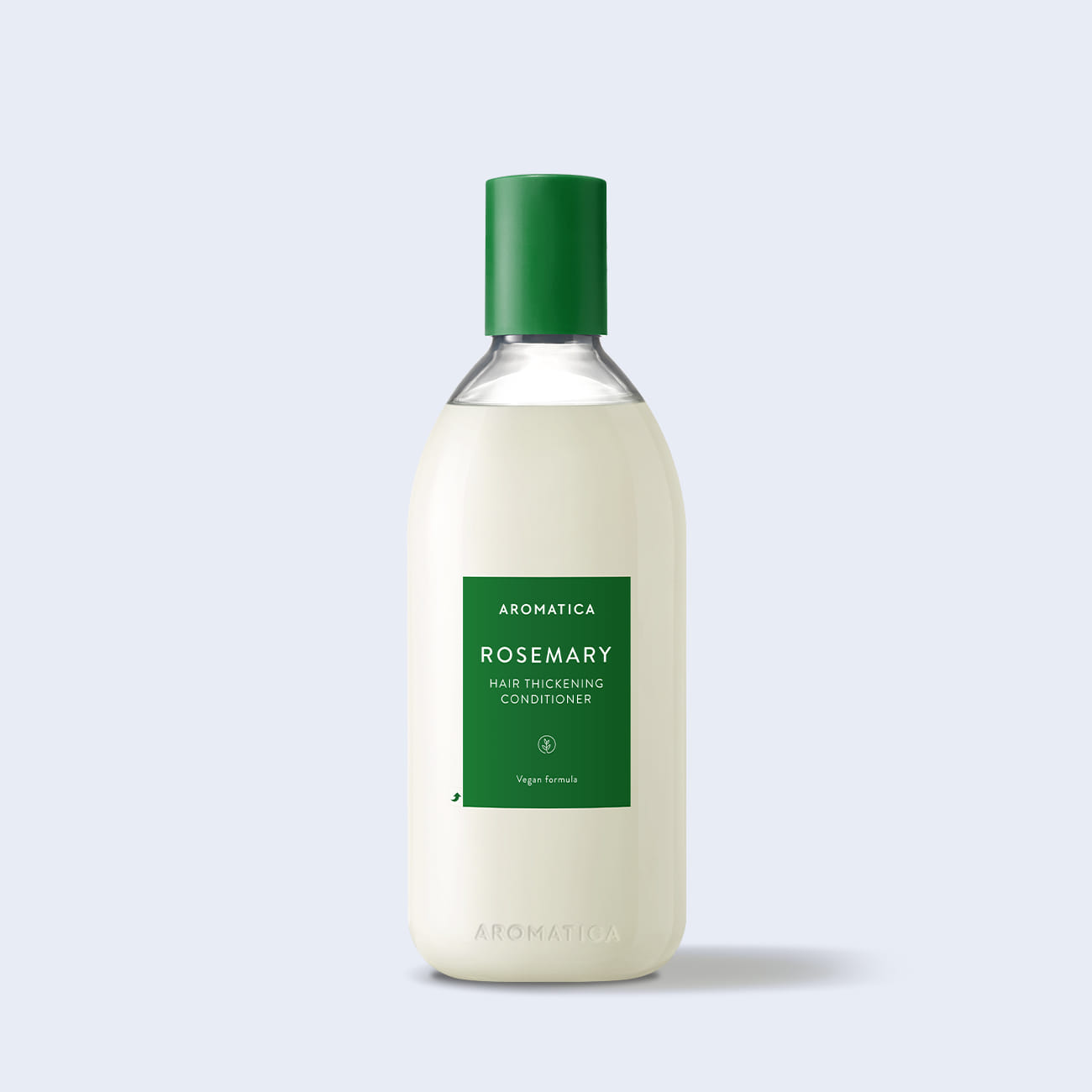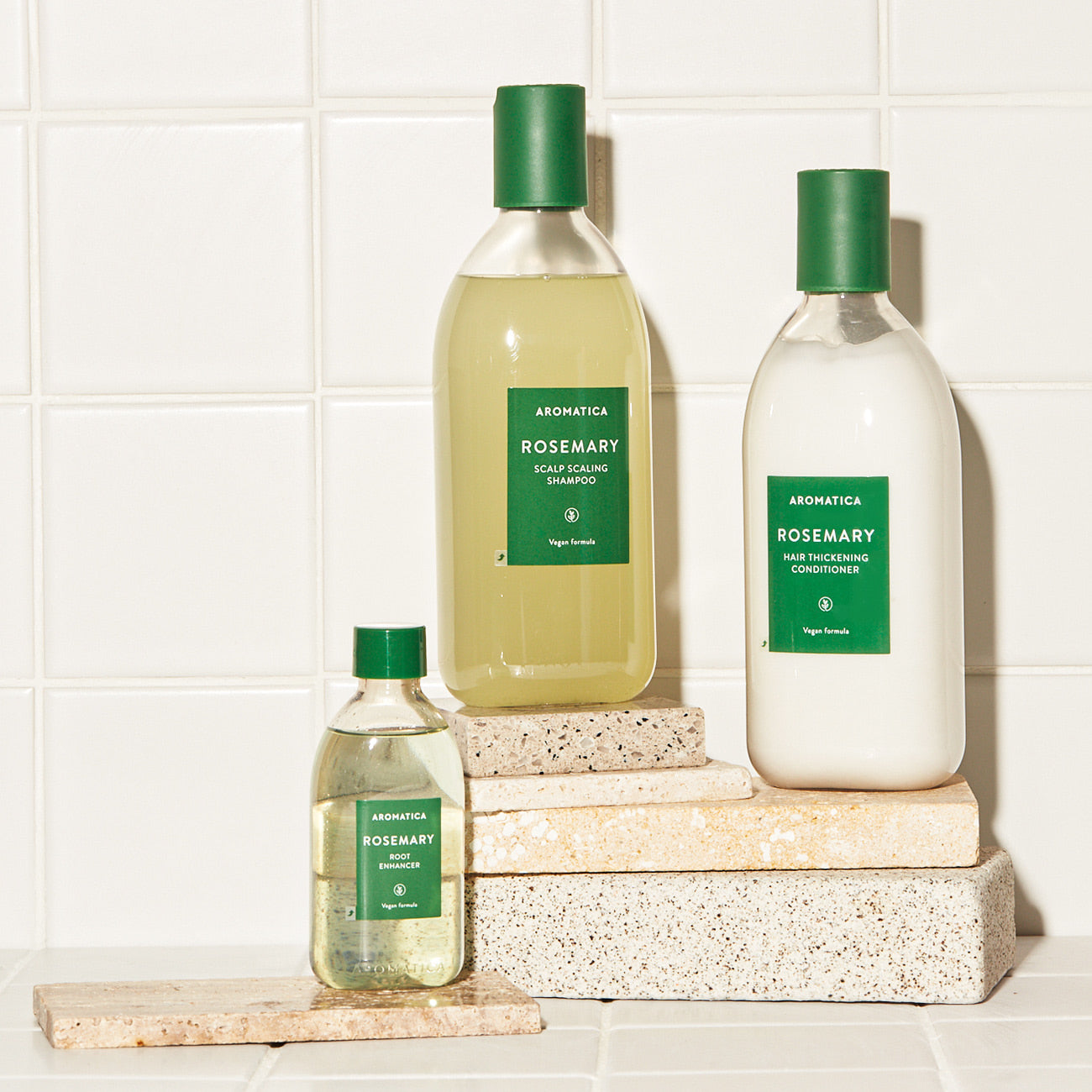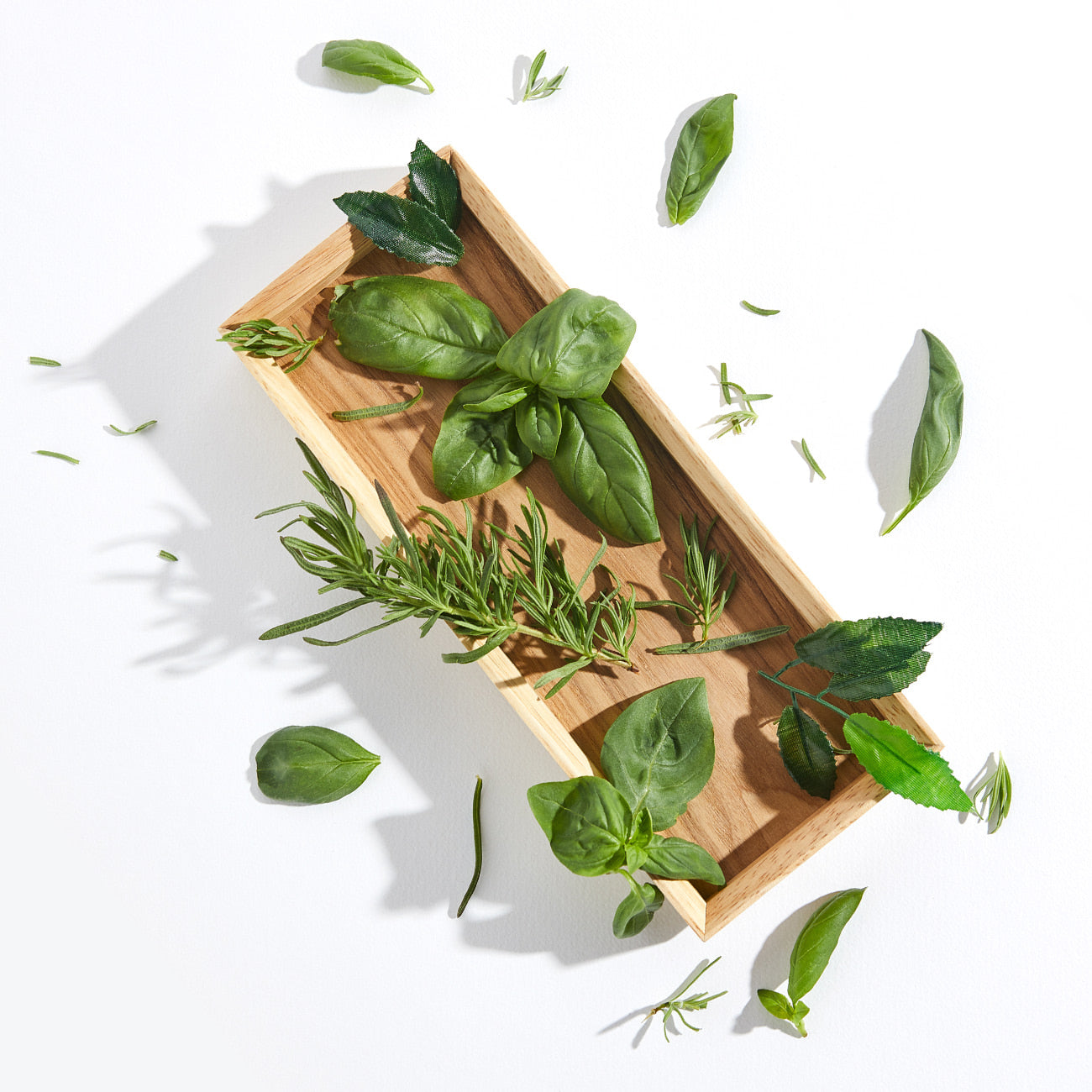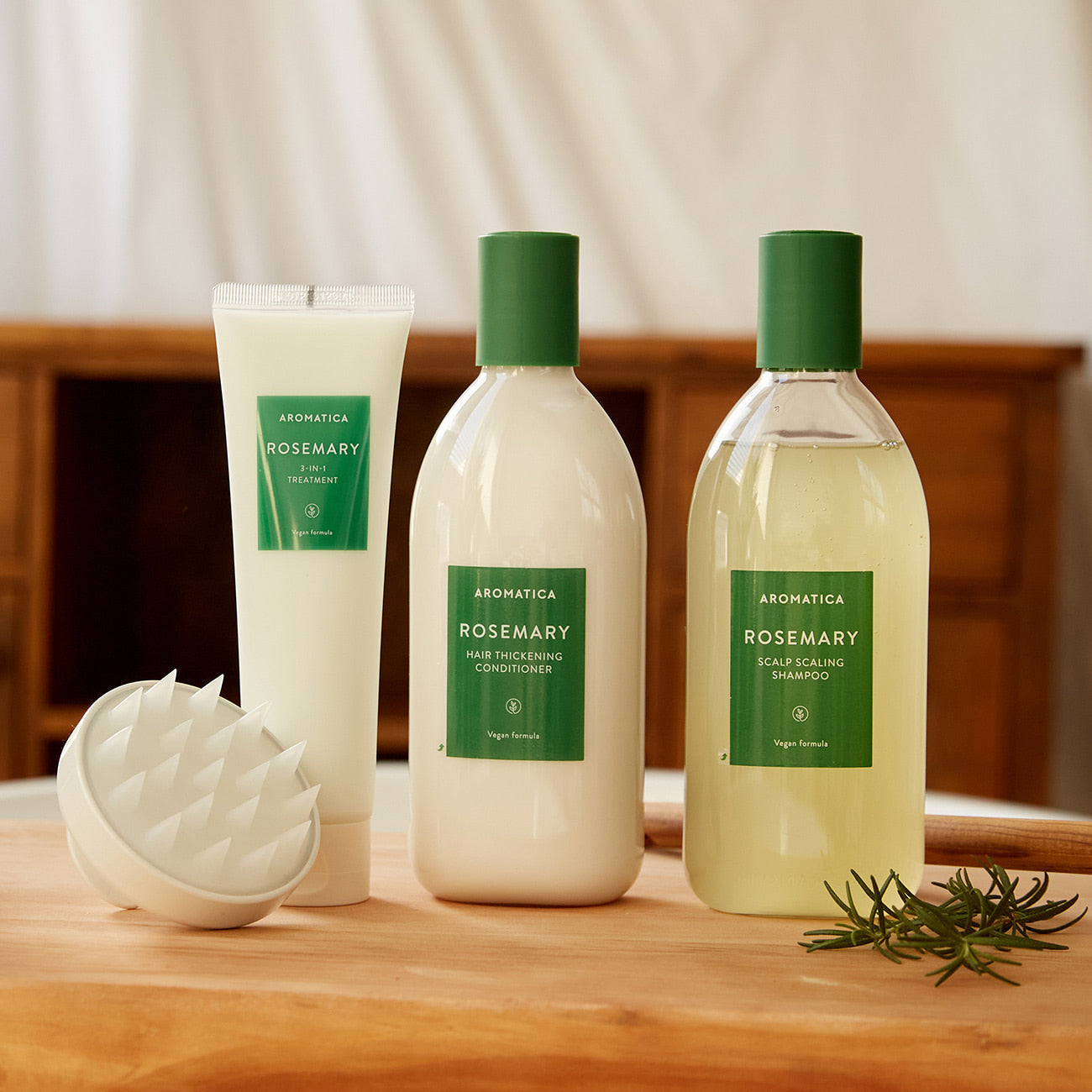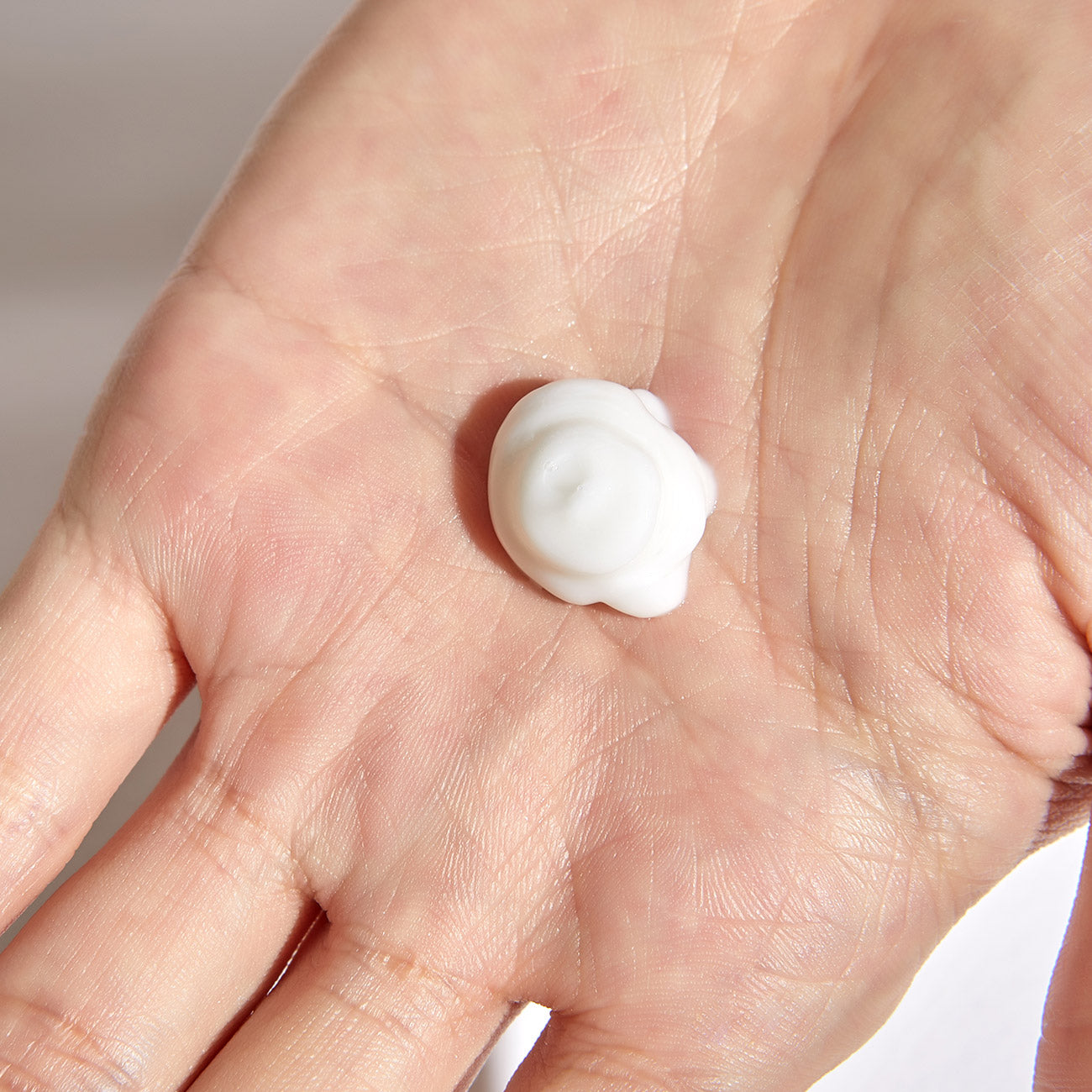 Rosemary Hair Thickening Conditioner
No more heavy coating, A 92% nature-derived silicon-free conditioner.?400ml.
Vegan | Cruelty free | Silicone free | 100% Recycled Bottle
From ingredients for the scalp to containers to protect Earth. We introduce Rosemary Hair Thickening Conditioner that has made a good transformation.

Now, Rosemary Hair Thickening Conditioner is dressed in new clothes for Earth. Instead of using a pump made of compound materials that are difficult to recycle, it uses a cap made of a single material that can be recycled easily. By using 100% recycled plastic containers, we can do upcycling to protect Earth.

Do you still use conditioner containing silicon? Silicon makes hair smooth instantly, but it can block the penetration of nourishment into hair and clog pores on scalp. This plant-based 99% silicon-free conditioner makes hair bouncy and soft. The silicon-free base provides gentle care to scalp and hair and fundamental conditioning care to hair.

Organic Babasu oil and Moringa Oil rich in fatty acids form a natural shiny coating film over dry, frizzy hair, and Vegetable Glycerin and sugar cane-derived betaine moisturize dry hair. Extracts of rosemary, pine needles, basil, and oregano using a decoction method make hair healthy with nourishment care, and ingredients of Biotin (Vitamin B7) and Panthenol (Pro-Vitamin B5) restore hair to its elastic, soft state by strengthening thin hair.

Experience holistic aromatherapy by dispensing conditioner onto your palm and breathing in the scent.  \-Pinene and verbernone ingredients from rosemary promote blood circulation on scalp, and sesquiterpene-based ]- hamazulene substance from cedarwood helps cleanse scalp and awaken its dormant vitality.
*The description above is limited to the ingredients.
Extraction method
Aromatheapeutic Solution: Tea Tree oil & Peppermint oil & Eucalyptus oil

Decoction: Tea Tree leaf, Mint, Hyssop, Fenugreek, Berdock
*Decoction method : A method of extraction by boiling herbs or medicinal plants in water over low heat for a long time to extract active ingredients. It is a physical method that has a long history and extracts active ingredients effectively from natural materials.

Tincture: Ginger
*Tincture method : A method of extraction by dissolving herbs or medicinal plants in ethyl alcohol for a certain amount of time without external heat to extract beneficial active ingredients. It can extract both water-soluble and fat-soluble ingredients with ethyl alcohol. Active and effective substances with low molecular weight quickly permeate into the skin.
Ingredients
Rosemary, Plant-derived Glycerin, Organic Orbignya Oleifera Seed Oil, Organic Moringa seed extract, Paraprobiotics, Biotin, Panthenol, Caffeine
99% Natural-derived ingredients:?Rosmarinus Officinalis Leaf Extract(53.6%), Pinus Densiflora Leaf Extract,?Glycerin(Plant-derived moisturizer), Caprylic/Capric Triglyceride(Plant-derived emollient), Cetyl Alcohol(Emulsion stabilizer), Behentrimonium Methosulfate(Hair emollient), Stearyl Alcohol(Emulsion stabilizer), Cetearyl Alcohol(Plant-derived emollient), 2)Rosmarinus Officinalis Leaf Oil(1,852mg), Ocimum Basilicum Leaf Extract, Origanum Vulgare Leaf Extract, Zingiber Officinale Root Extract,?1)Orbignya Oleifera Seed Oil(1,200mg), 1)Moringa Oleifera Seed Oil(Moringa seed extract, 2mg), Betaine(Sugar beet-derived moisturizer), Bifida Ferment Lysate(Fermented moisturizer), Lactobacillus Ferment Lysate(Fermented moisturizer), Biotin(Vitamin B7), Panthenol(Vitamin B5), Caffeine(Antioxidant), Chamaecyparis Obtusa Leaf Extract, Rosa Rugosa Leaf Extract, Polyquaternium-10(Emollient), 2)Styrax Benzoin Gum(Benzoin oil), Melissa Officinalis Leaf Extract,?2)Cedrus Atlantica Bark Oil(Cedarwood oil), 2)Cupressus Sempervirens Oil(Cypress oil), Guar Hydroxypropyltrimonium Chloride(Guar-derived hair emollient), 2)Abies Sibirica Oil(Pine oil), Aqua, 2)Limonene(Ingredient in Rosmarinus Officinalis Leaf Oil), 1,2-Hexanediol(Emollient)
1) Organic raw material(s) 2) Naturally found in essential oil(s)
HOW TO USE
After shampooing, apply evenly throughout hair length. Leave in 2~3 minutes and rinse thoroughly.
Recycle it!
Separate the cap, bottle, label and cleanse them well. Please dispose of each material separately.
Cap : Plastic (PP), Bottle : Plastic (PCR PET), Label : Vinyl (PP) Our 100% Post-Consumer
Recycled PET container received "Excellent Recyclability? in Korea.
Rosemary Hair Thickening Conditioner
Orders & Shipping
Free Local Delivery Over HKD400
Your order will be processed within 5 working days of being placed and payment being received. If there are any longer delays due to stock or shipping problems you will be contacted and notified of such.  
We ship via PICKUPP to offer you the most economical shipping method. The delivery time is about 2-7 business days. The website will automatically calculate the shipping cost for each order.Please note extra delivery charge at remote area.
If you wish to place a large order or arrange international shipment, please contact us for a shipping quote.
Returns & Replacements 
Your satisfaction is important to us, if you have a concern about the quality of your product please use the Contact Us page to email us with the batch number, expiry date and product name from the barcode label and the reason you are dissatisfied.  
Any returns due to quality issues must be contact us within 2 weeks of receiving your order.  
Unfortunately we do not accept product returns if you have changed your mind or don't like the scent.  
We may request you to return unused product before processing a refund or replacement. (Please note, if you made your purchase from a retail stockist, you will need to return it to that stockist - and their store policies apply in terms of refund or replacement.)