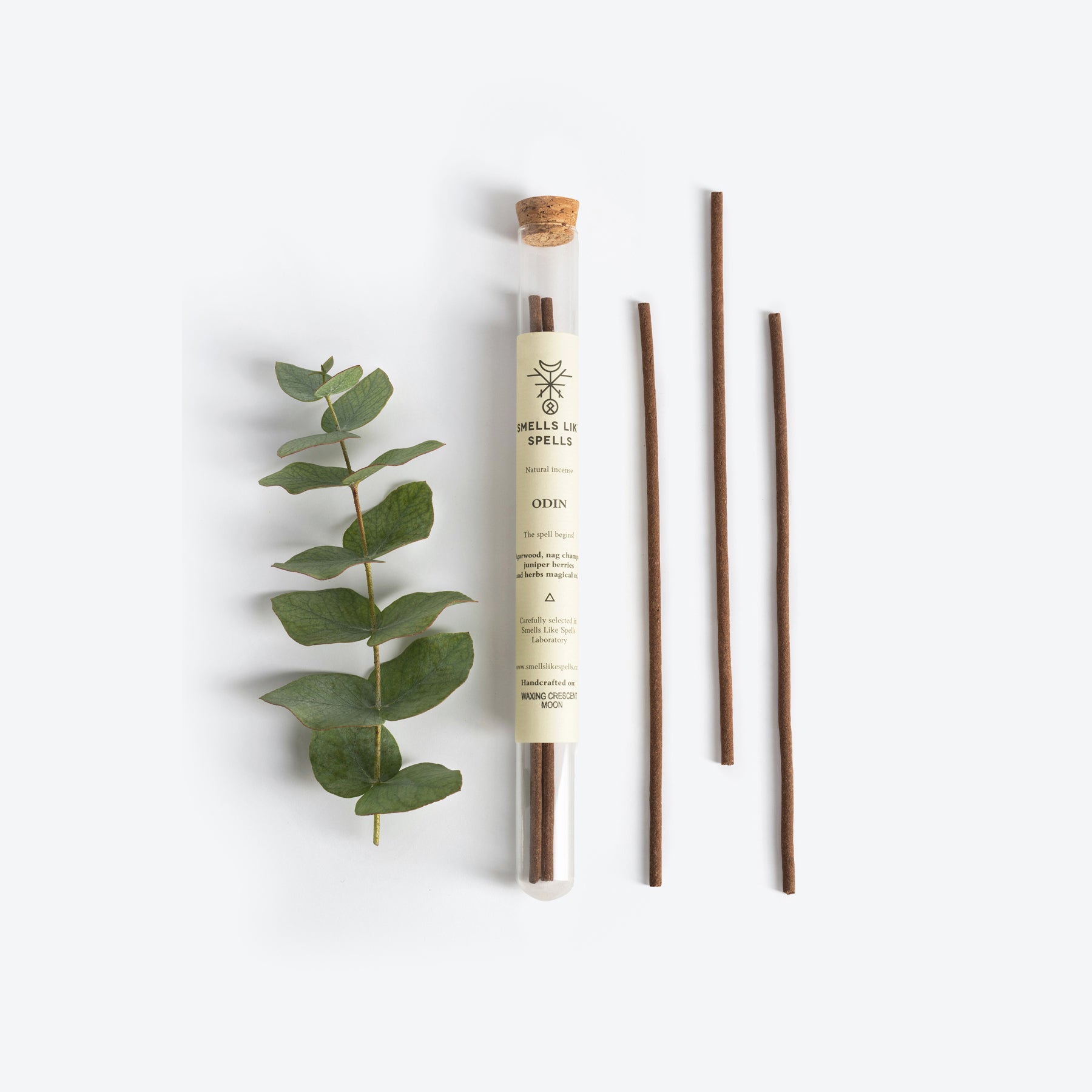 We devote this natural hand-made agarwood, nag champa, juniper berries and wild herbs incense to Odin – the Norse god of war and wisdom. We believe that the magical fragrance of this incense and a simple meditation/affirmation ritual (its description is included with the incense) and Odin's assistance might help to:
• Gain confidence in your strengths;
• Gain physical and spiritual powers;
• Overcome difficulties, obstacles and challenges;
• Awaken and battle everyday misfortunes and problems, and overcome them.
In Norse mythology Odin is the chief god, the god of war and wisdom. Odin dwells in the gods' world Asgard, where from his throne Hliðskjálf he looks over the whole world. Odin is said to have given life to the first humans Ask and Embla
The magic fragrance of this natural incense is based on old customs, traditions and the belief that every plant or aroma has its own magical purpose. It is like a witch recipe, where each plant and its aroma have a very important aromatherapic and magic function.
Juniper: since ancient times juniper has been used to protect from and ward off evil spirits. The energy of the burning plant helps to develop the personality's consistence and perseverance, the ability to distinguish lies and fight them easily. It protects the aura form aggression, helps to quickly find a proper way from any difficult situation. It also helps to avoid self-projected destructive irritation, gain the deserved authority, and develops such qualities as nobleness, grace, etc.
Nag Champa: this authentic incense is produced from the blossoms of a holy tree. In India it is called "nagakesara", "nag champa" or the tree of "cobra's saffron". In Ayurvedic medicine extracts from this plant's blossoms, seeds, leaves and bark have been used since ancient times. Nagakesara or nag champa trees grow in many locations from southern Himalaya slopes to Sri Lanka and Andaman Islands. Mesua or the ironwood is an average-sized tree with exceptionally hard wood and fragrant blossoms. The most subtle incense is made from the blossoms of the nag champa tree, which symbolize sexuality, fertility, passion and love.
Agarwood: used in incense and perfume since ancient times, mentioned in numerous ancient written sources – Sanskrit Vedas, the Old Testament, and Islamic scriptures. Aquilaria trees are also called god-trees. Agarwood was considered to be so powerful that it could cleanse the soul and banish evil spirits. Traditional Chinese medicine views agarwood as a substance for releasing spasms and other stagnant energy types (digestive disorders, bloating, asthma), and also as having warming, balancing, transforming and mind-clearing properties.
TOGETHER WITH THESE SANDALWOOD, NAG CHAMPA INCENSE STICKS YOU WILL GET:
A detailed description of the incense purpose; a description of the aromatherapic effect of the incense and its compounds (plants and herbs); a simple magical ritual, that will reveal the powers of incense and help you to gain confidence in your own strengths, give physical and spiritual power to overcome difficulties, awaken and battle everyday misfortunes and problems, and to overcome them.
Orders & Shipping
Free Local Delivery Over HKD400
Your order will be processed within 5 working days of being placed and payment being received. If there are any longer delays due to stock or shipping problems you will be contacted and notified of such.  
We ship via PICKUPP to offer you the most economical shipping method. The delivery time is about 2-7 business days. The website will automatically calculate the shipping cost for each order.Please note extra delivery charge at remote area.
If you wish to place a large order or arrange international shipment, please contact us for a shipping quote.
Returns & Replacements 
Your satisfaction is important to us, if you have a concern about the quality of your product please use the Contact Us page to email us with the batch number, expiry date and product name from the barcode label and the reason you are dissatisfied.  
Any returns due to quality issues must be contact us within 2 weeks of receiving your order.  
Unfortunately we do not accept product returns if you have changed your mind or don't like the scent.  
We may request you to return unused product before processing a refund or replacement. (Please note, if you made your purchase from a retail stockist, you will need to return it to that stockist - and their store policies apply in terms of refund or replacement.)