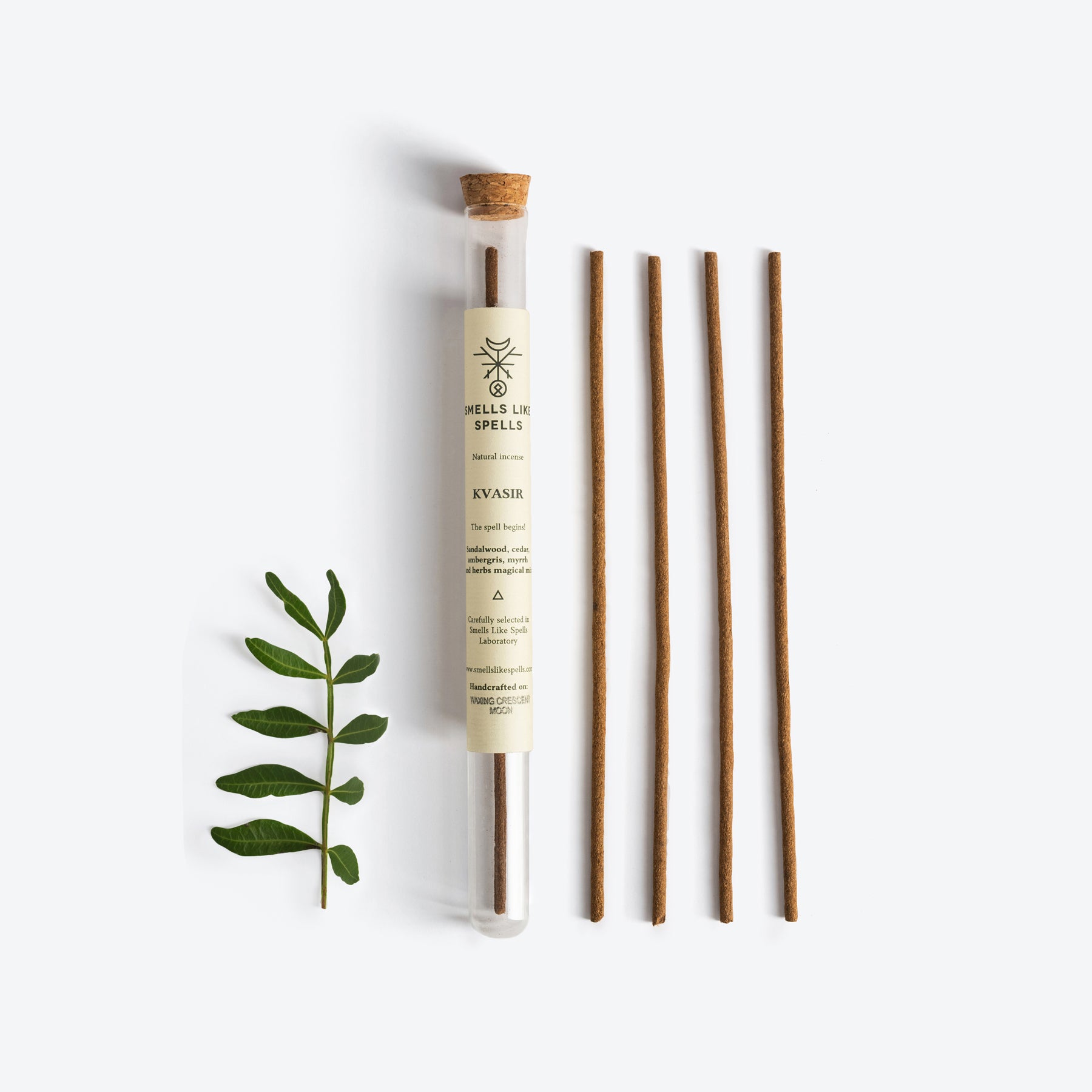 We devote this natural hand-made sandalwood, cedar, ambergris, myrrh and wild herbs incense to Kvasir – the wisest of the Norse gods. We believe that the magical fragrance of this incense and a simple meditation/affirmation ritual (its description is included with the incense) and Kvasir's assistance might help to:
• Get rid of anxiety and stress;
• Calm down and relax;
• Keep clean thoughts and mind;
• Reach harmony with yourself and the world.
In Norse mythology Kvasir was the wisest among the Vanir. He was a being born from the saliva of all the gods. After Kvasir was murdered, his blood was fermented into the Mead of Poetry that gave inspiration to poets.
The magic fragrance of this natural incense is based on old customs, traditions and the belief that every plant or aroma has its own magical purpose. It is like a witch recipe, where each plant and its aroma have a very important aromatherapic and magic function.
Nag champa: this authentic incense is produced from the blossoms of a holy tree. In India it is called "nagakesara", "nag champa" or the tree of "cobra's saffron". In Ayurvedic medicine extracts from this plant's blossoms, seeds, leaves and bark have been used since ancient times. Nagakesara or nag champa trees grow in many locations from southern Himalaya slopes to Sri Lanka and Andaman Islands. Mesua or the ironwood is an average-sized tree with exceptionally hard wood and fragrant blossoms. The most subtle incense is made from the blossoms of the nag champa tree, which symbolize sexuality, fertility, passion and love.
Cedar: it's fragrance has a soothing, invigorating and rejuvenating effect, gives a sense of comfort, therefore it is recommended for sufferers of irrational fears, aggression, hysteria, anger or other physiologically inconsistent phenomena, as well as insomnia. It symbolizes abundance and prosperity, and is often used in magical rituals for protection from negative effects.
Myrrh: the Bible tells us a story of the Three Kings, who came to honor baby Jesus and brought him myrrh as one of the presents. Myrrh was valued equally to gold, and the Greeks still consider it sacred. For about one-and-a-half thousand years myrrh was one of the most valuable commodities in the world and thus Arab traders who sold incense were amongst the wealthiest people. Myrrh is the symbol of wealth, health and prosperity. The old civilizations used the resin of myrrh-trees as perfume and incense, as well as in medicine, where wound ointment made of myrrh was valued greatly. Myrrh essential oil has antiseptic qualities, stops inflammation and speeds up healing. The fragrance of myrrh helps to sort out thoughts, prevents from indulging into non-relevant details. This scent is particularly suitable for meditation, as it helps to ward off egocentric thoughts, restores the objectivity and adequacy of one's psychological state, calms irritation, and improves sleep. It also increases sexual sensitivity.
Ambergris: solid, flammable, waxy substance, produced in the digestive system of sperm whales and often called "floating gold". Usually it is found floating in the water or washed on shore in tropical countries, and is highly valued by the perfume industry where it is used for producing expensive perfume. This waxy odorous substance is lighter than water and can float in the sea for years, where under the influence of salty water and sun it becomes hard. When kept in a hermetic container, ambergris gives off a strong scent of musk, which is highly valued by perfumers all around the world and which has been used as an aphrodisiac since ancient times. It is one of the most-highly prized ingredients of perfume. The smell of ambergris is characterized by unique invigorating evening musk aroma with oriental notes. Ambergris has been long considered a symbol of luxury.
Sandalwood: its aroma harmonizes and calms, helps to reduce stress and turmoil, is a perfect mood booster for people suffering from depression, fears, and everyday problems, helps in cases of nervous breakdown or anxiety. Eastern cultures believe that this aroma is particularly attractive to various deities, thus sandalwood incense is often used during meditation, sandalwood is used to build temples and sculptures of gods and prophets.
TOGETHER WITH THESE SANDALWOOD, NAG CHAMPA INCENSE STICKS YOU WILL GET:
A detailed description of the incense purpose; a description of the aromatherapic effect of the incense and its compounds (plants and herbs); a simple magical ritual, that will reveal the powers of incense and help you to get rid of anxiety and stress, calm down and relax, keep clean thoughts and mind, reach harmony with yourself and the world.
Orders & Shipping
Free Local Delivery Over HKD400
Your order will be processed within 5 working days of being placed and payment being received. If there are any longer delays due to stock or shipping problems you will be contacted and notified of such.  
We ship via PICKUPP to offer you the most economical shipping method. The delivery time is about 2-7 business days. The website will automatically calculate the shipping cost for each order.Please note extra delivery charge at remote area.
If you wish to place a large order or arrange international shipment, please contact us for a shipping quote.
Returns & Replacements 
Your satisfaction is important to us, if you have a concern about the quality of your product please use the Contact Us page to email us with the batch number, expiry date and product name from the barcode label and the reason you are dissatisfied.  
Any returns due to quality issues must be contact us within 2 weeks of receiving your order.  
Unfortunately we do not accept product returns if you have changed your mind or don't like the scent.  
We may request you to return unused product before processing a refund or replacement. (Please note, if you made your purchase from a retail stockist, you will need to return it to that stockist - and their store policies apply in terms of refund or replacement.)