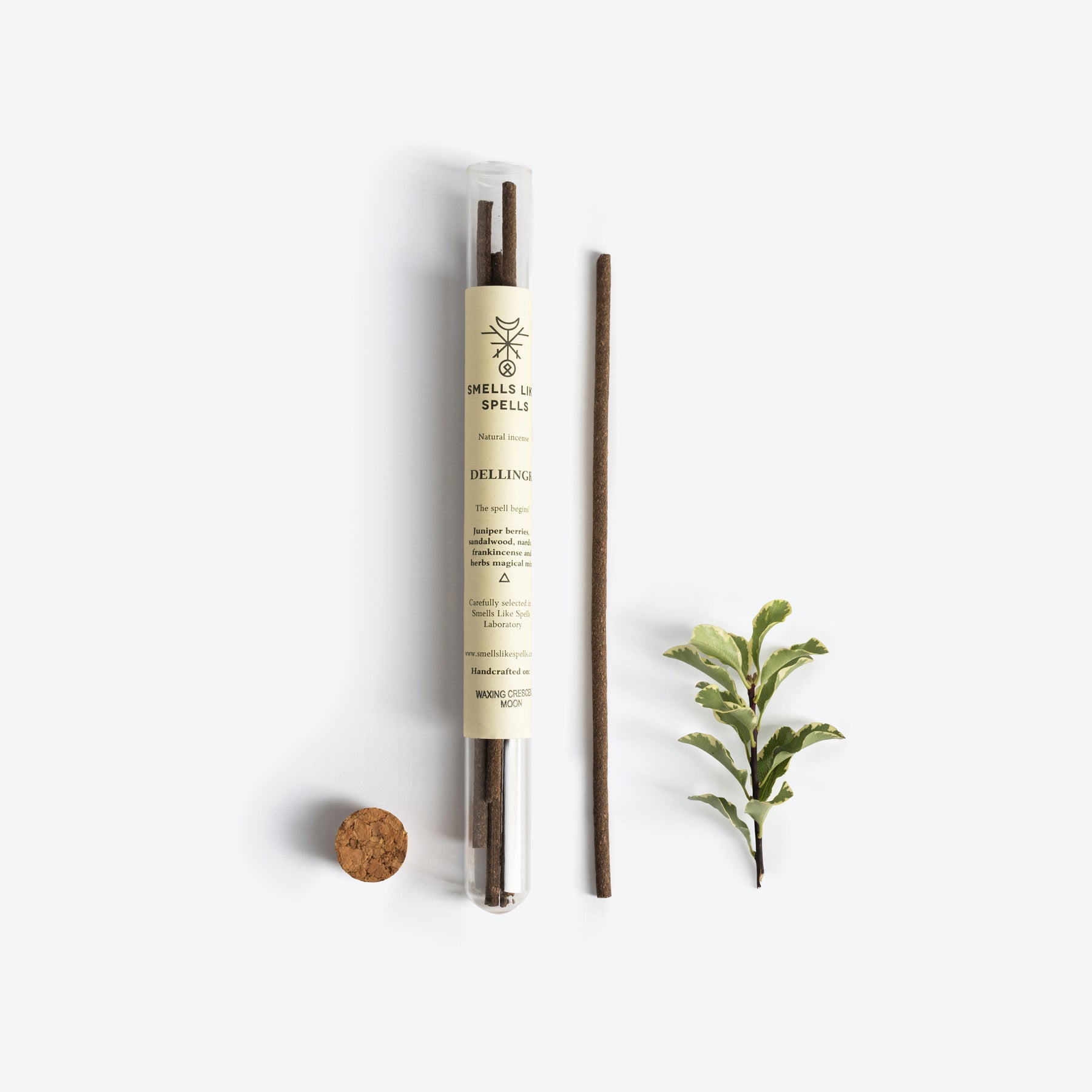 This natural hand-made juniper berries, sandalwood, nards, frankincense and wild herbs incense is devoted to the Norse god of dawn Dellingr. We believe that the magical fragrance of this incense and a simple meditation/affirmation ritual (its description is included with the incense) might help to:
• Feel more energetic and cheerful;
• Energize and stimulate the nervous system;
• Brighten the mind and thougts;
• Gain physical and spiritual powers.
In Norse mythology Dellingr was a personification of dawn. Nótt (the goddess of night) and Dellingr had a son – Dagr. Parents gave to Dagr a present of two horses, whose shining manes illuminate the whole earth, and two war chariots, which they put high up in the sky, so that Dagr could ride across the sky dome all day and all night.
The magic fragrance of this natural incense is based on old customs, traditions and the belief that every plant or aroma has its own magical purpose. It is like a witch recipe, where each plant and its aroma have a very important aromatherapic and magic function.
Frankincense: The plant was named after the French word "franc", meaning "luxurious". Frankincense has long been used for producing incense. Frankincense (Boswellia) incense was one of the presents of the Three Kings to baby Jesus. In Ancient Greece frankincense resin was burned on altars and in temples, because it slows down and deepens breathing, which helps to calm down and immerse in prayer and meditation. The smell of frankincense calms and soothes, it is used during meditations even today.
Juniper: Since ancient times juniper has been used to protect from and ward off evil spirits. The energy of the burning plant helps to develop the personality's consistence and perseverance, the ability to distinguish lies and fight them easily. It protects the aura form aggression, helps to quickly find a proper way from any difficult situation. It also helps to avoid self-projected destructive irritation, gain the deserved authority, and develops such qualities as nobleness, grace, etc. This aroma has rejuvenating qualities.
Sandalwood: its aroma harmonizes and calms, helps to reduce stress and turmoil, is a perfect mood booster for people suffering from depression, fears, and everyday problems, helps in cases of nervous breakdown or anxiety. Eastern cultures believe that this aroma is particularly attractive to various deities, thus sandalwood incense is often used during meditation, sandalwood is used to build temples and sculptures of gods and prophets.
Nards: the smell of nards is believed to help fight depression, especially when it is caused by a person's low self-esteem. To a self-loathing person nards return the proper self-perception, integrity and graciousness. For thousands of years the valuable nards were brought by caravans through Silk Routes from Nepal, Himalaya to Egypt. Egyptologists found it in Cleopatra's ointment jars, it was glorified in Solomon's "Song of Songs", described in gospels by John, Matthew and Mark. The evangelists tell a story of an unknown woman who anoints Jesus's hair with expensive nards oil from an alabaster jar before the Last Supper. That's how important and valuable is the aroma of nards. It rejuvenates and activates the body's energy centers.
TOGETHER WITH THESE FRANKINCENSE, JUNIPER, SANDALWOOD, NARDS INCENSE STICKS YOU WILL GET:
A detailed description of the incense purpose; a description of the aromatherapic effect of the incense and its compounds (plants and herbs); a simple magical ritual, that will reveal the powers of incense and help you to feel more cheerful and active, energize and stimulate the nervous system, clear up your mind and thoughts, give you physical and spiritual strength.
Orders & Shipping
Free Local Delivery Over HKD400
Your order will be processed within 5 working days of being placed and payment being received. If there are any longer delays due to stock or shipping problems you will be contacted and notified of such.  
We ship via PICKUPP to offer you the most economical shipping method. The delivery time is about 2-7 business days. The website will automatically calculate the shipping cost for each order.Please note extra delivery charge at remote area.
If you wish to place a large order or arrange international shipment, please contact us for a shipping quote.
Returns & Replacements 
Your satisfaction is important to us, if you have a concern about the quality of your product please use the Contact Us page to email us with the batch number, expiry date and product name from the barcode label and the reason you are dissatisfied.  
Any returns due to quality issues must be contact us within 2 weeks of receiving your order.  
Unfortunately we do not accept product returns if you have changed your mind or don't like the scent.  
We may request you to return unused product before processing a refund or replacement. (Please note, if you made your purchase from a retail stockist, you will need to return it to that stockist - and their store policies apply in terms of refund or replacement.)