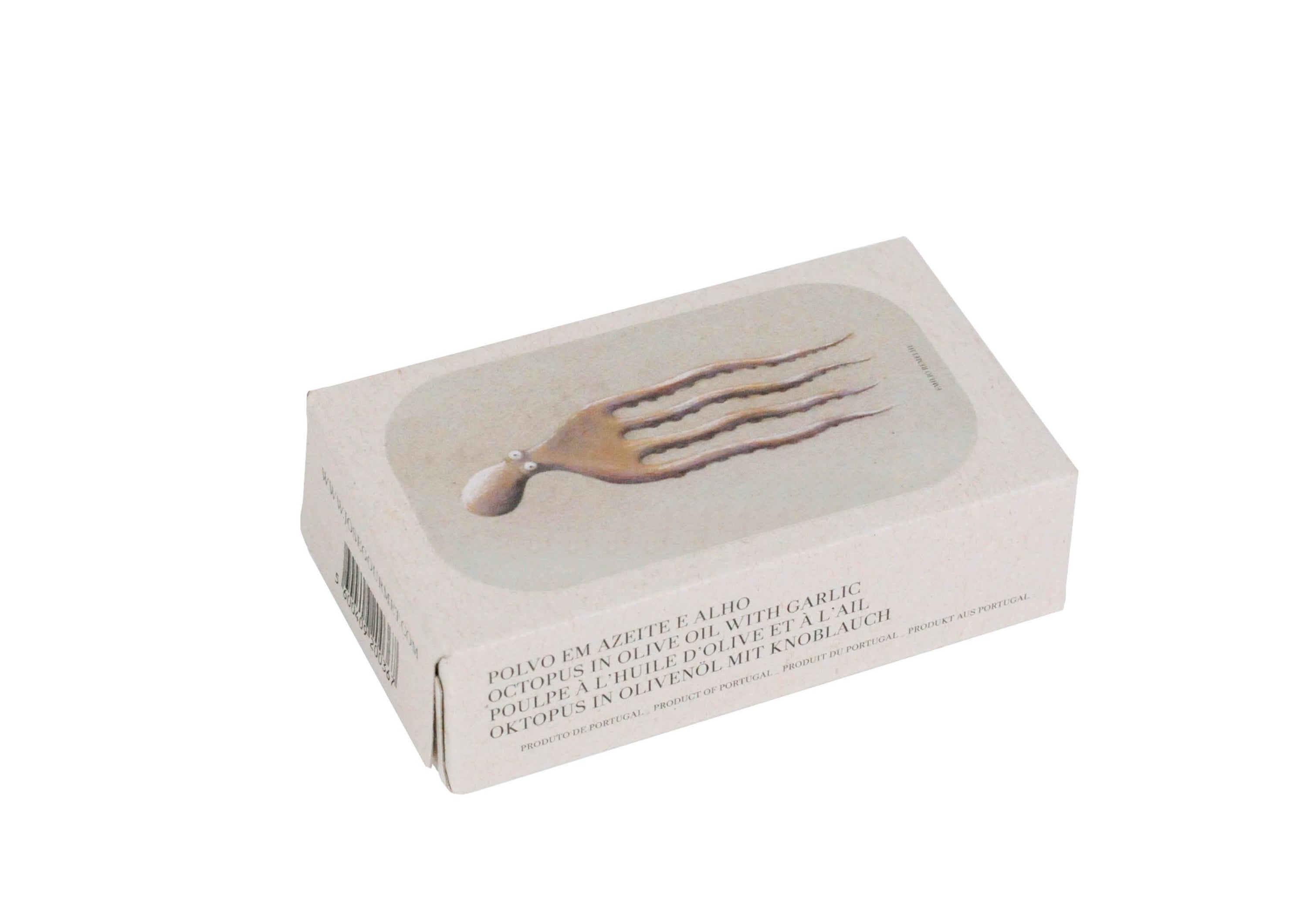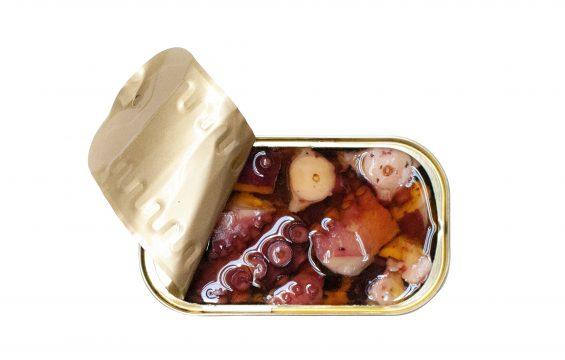 Octopus In Olive Oil With Garlic
Octopus in Olive oil with Garlic
Captured in the North East and Eastern and Central Atlantic, our octopus is mixed with two essential ingredients: olive oil and garlic, which give it a special aroma, keeping its original flavour unaltered. With low calories, the octopus is rich in vitamin B12, an active nutrient for brain function and memory performance. Do you remember when you started being so fond of octopus?
Octopuses have three hearts, but this one wanted more! Perhaps because it wanted to hear the heart beating to the sound of its favourite song. So, it swapped some of its legs for some hearts. How many? Just do the maths!
Recipes
Deep fried and breadcrumbed octopus fillets
Dip 8 octopus tentacles firstly in flour, then in 2 eggs (previously beaten) and finally with breadcrumbs. Deep fry. Serve with mashed potatoes and side salad.
Pan fried octopus with mashed potatoes

Boil 24 small potatoes. In a frying pan, pour 2 dl olive oil from the tins, 8 garlic cloves (smashed with skin), 2 bay leaves, 1 sprig of rosemary, 3 sprigs of thyme and parsley. Place the octopus in the pan, cover and let it simmer until golden brown in colour on both sides.
Octopus In Olive Oil With Garlic
Orders & Shipping
Free Local Delivery Over HKD400
Your order will be processed within 5 working days of being placed and payment being received. If there are any longer delays due to stock or shipping problems you will be contacted and notified of such.  
We ship via PICKUPP to offer you the most economical shipping method. The delivery time is about 2-7 business days. The website will automatically calculate the shipping cost for each order.Please note extra delivery charge at remote area.
If you wish to place a large order or arrange international shipment, please contact us for a shipping quote.
Returns & Replacements 
Your satisfaction is important to us, if you have a concern about the quality of your product please use the Contact Us page to email us with the batch number, expiry date and product name from the barcode label and the reason you are dissatisfied.  
Any returns due to quality issues must be contact us within 2 weeks of receiving your order.  
Unfortunately we do not accept product returns if you have changed your mind or don't like the scent.  
We may request you to return unused product before processing a refund or replacement. (Please note, if you made your purchase from a retail stockist, you will need to return it to that stockist - and their store policies apply in terms of refund or replacement.)