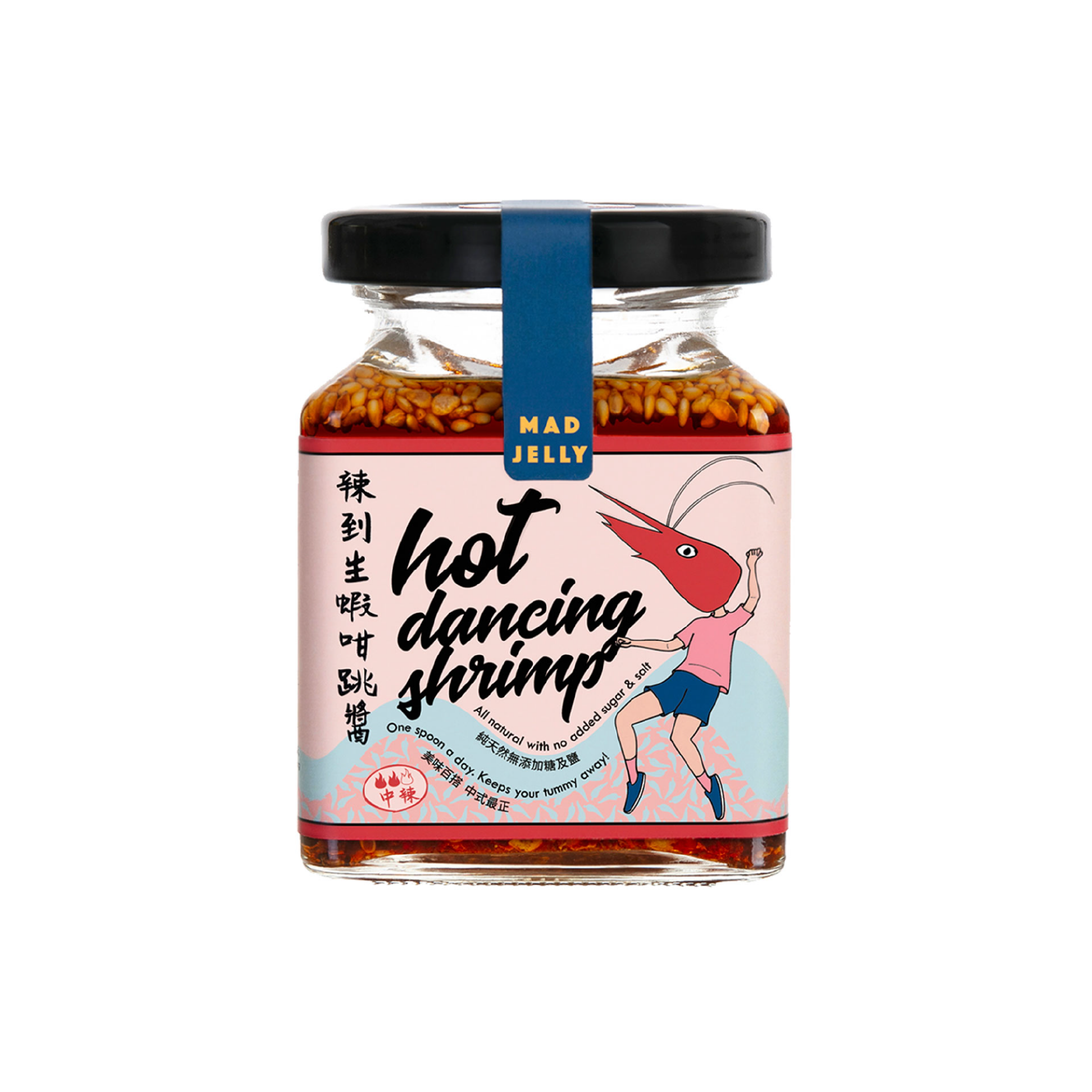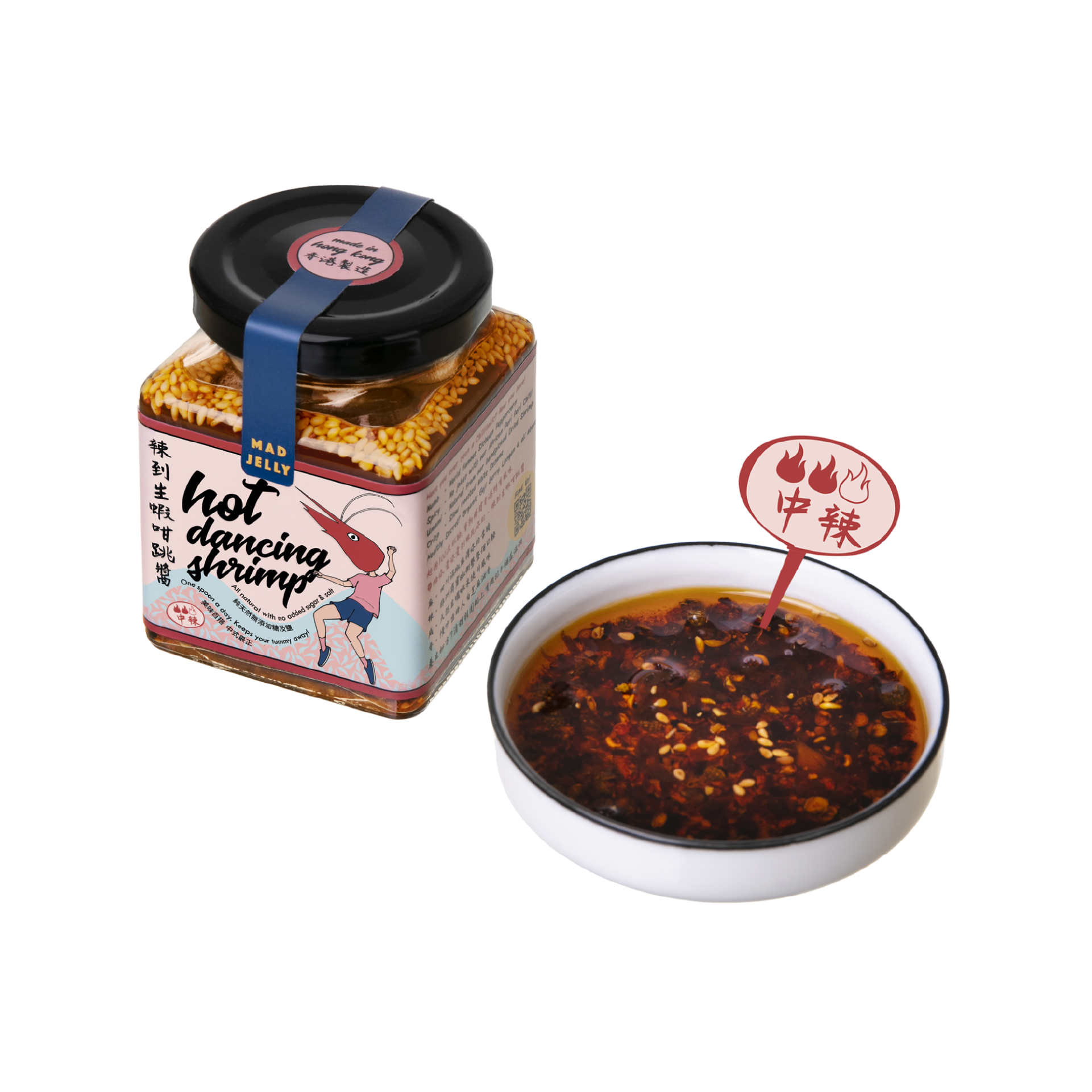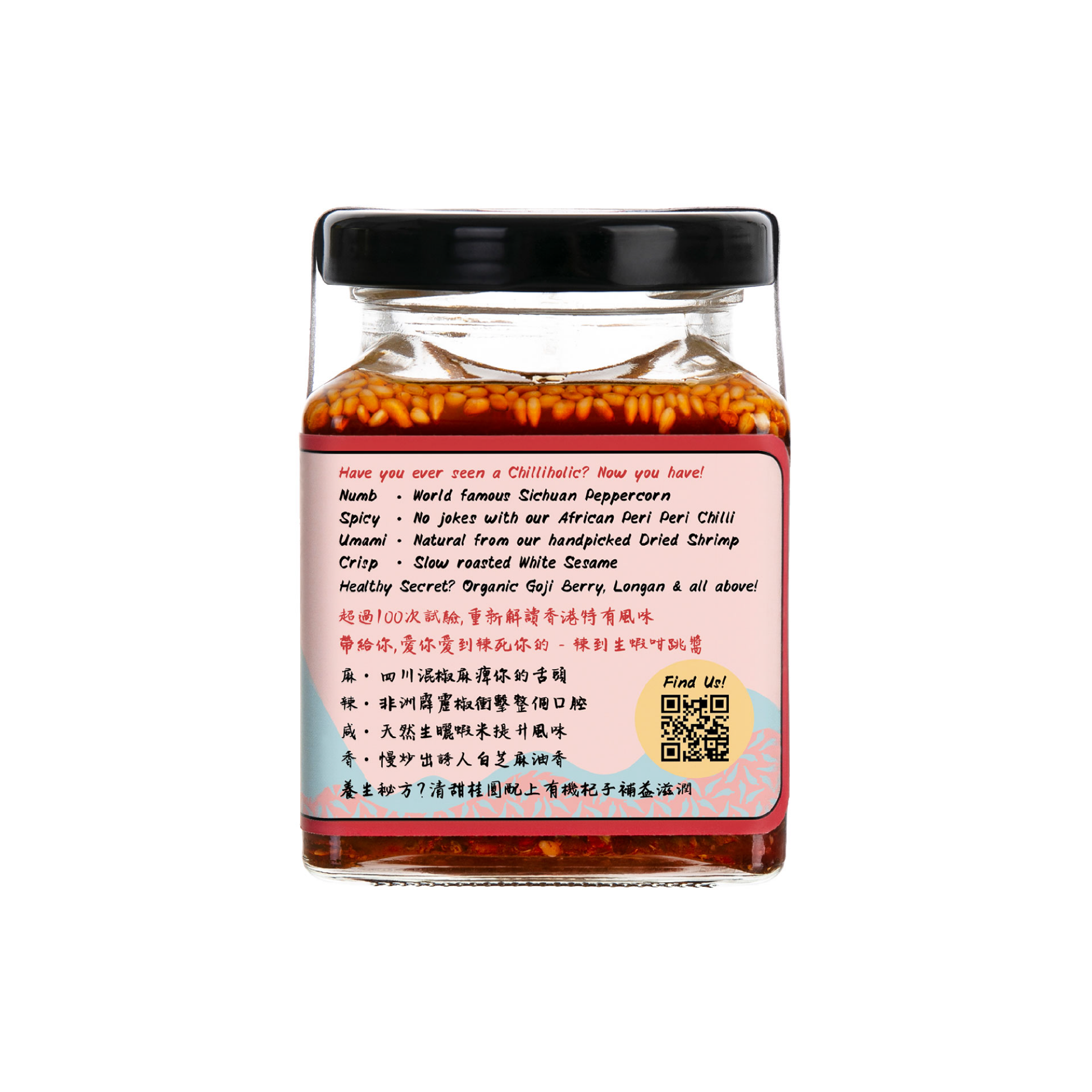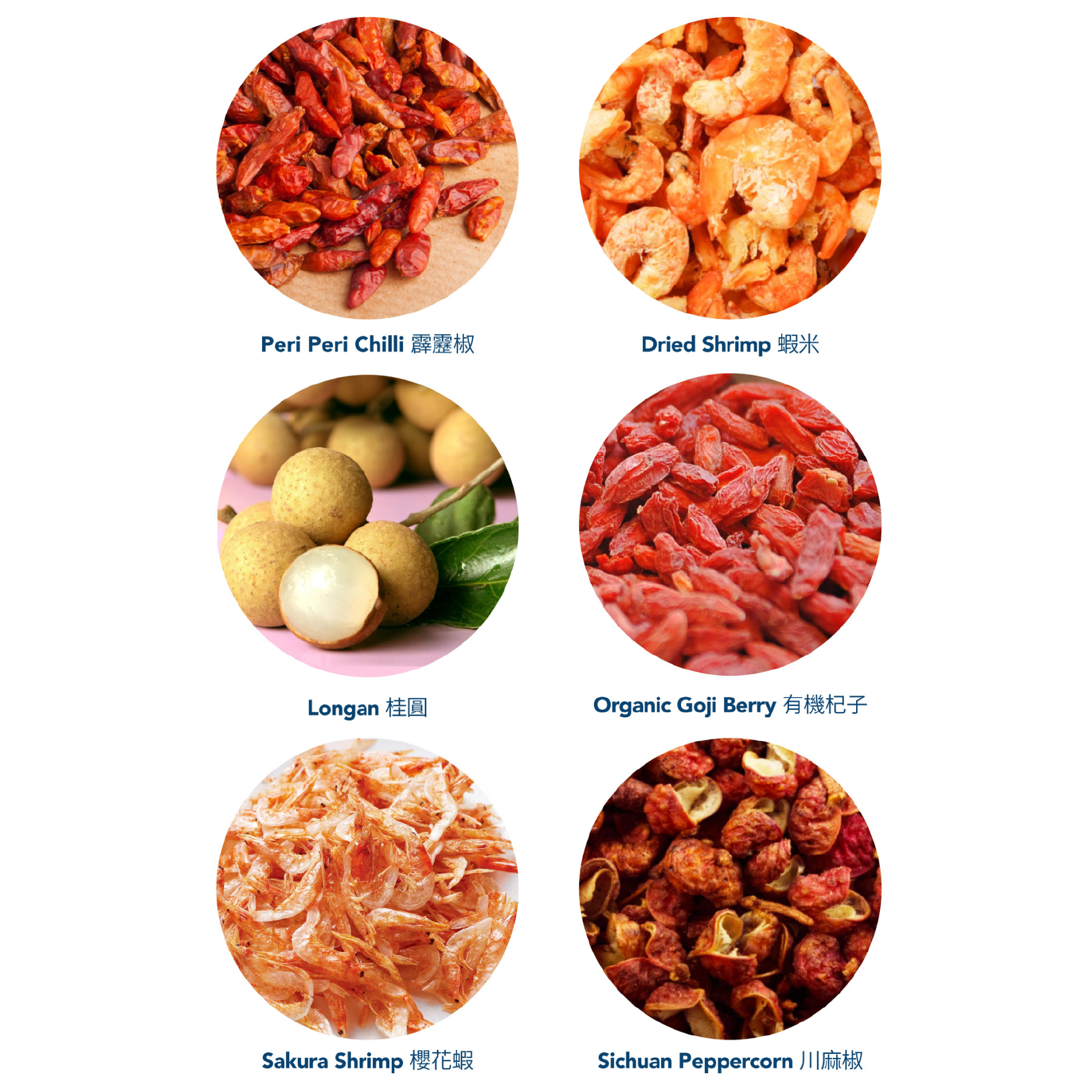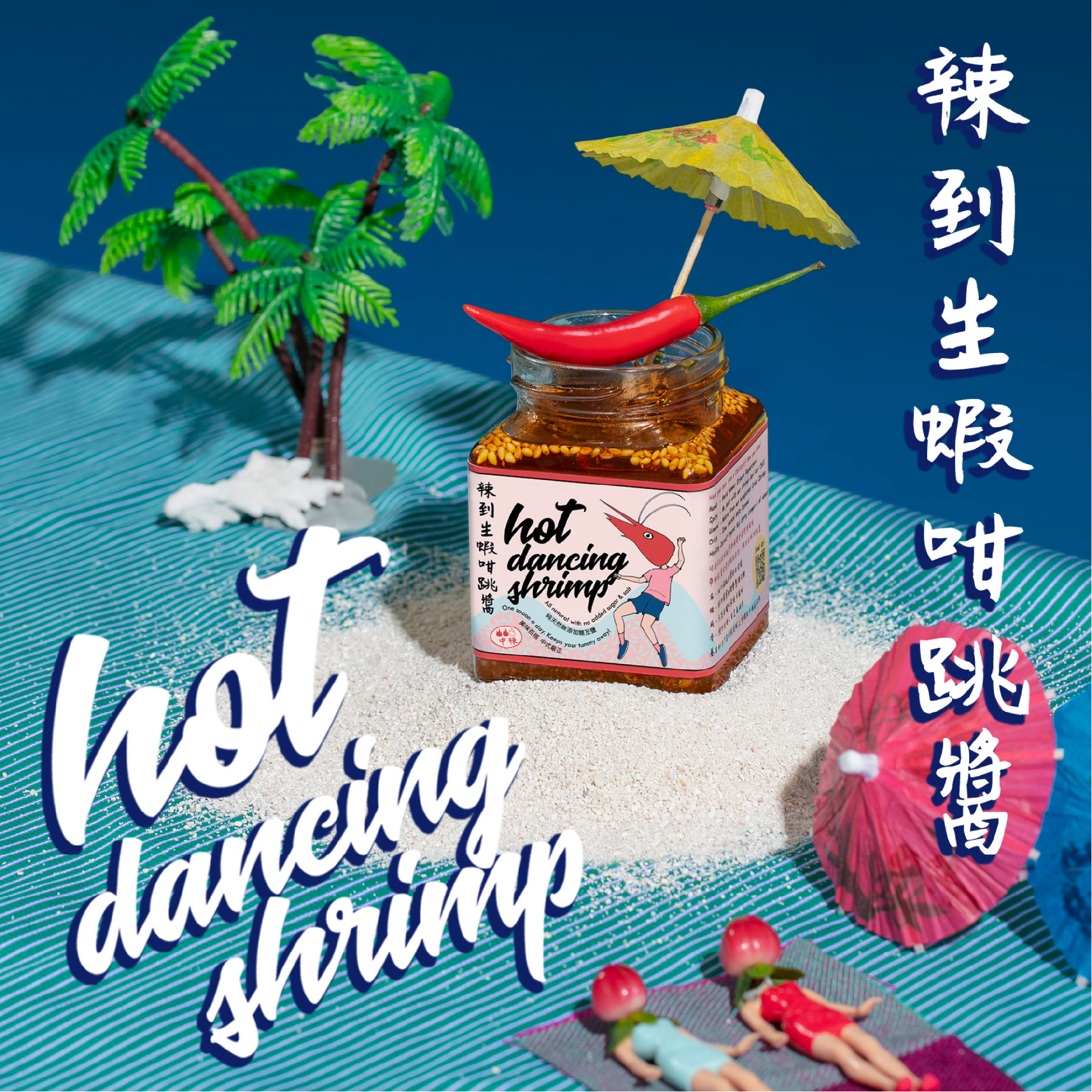 Hot Dancing Shrimp 辣到生蝦咁跳醬

| Medium Spicy 中辣 |

An Asian-inspired natural goody. Every breath is filled with natural shrimp umami. Waves of heat and numbing sensations from Peri Peri chilli and Sichuan peppercorns keep coming. With a special blend of exotic longan fruit and organic goji berries, we bring you the ultimate sensation.
| Numbing & Umami 麻辣鹹香 |

吸一口的天然生曬蝦米咸香,
咬下烘香的白芝麻,
轉眼間非洲鳥眼椒衝擊整個口腔,
被四川花椒麻痺了的舌頭,
慢慢滲出的自然風乾的桂圓和有機杞子甜。



| Our Feel Good Ingredients 精選養生食材 |
All natural & wholesome recipe, no added sugar & salt
純天然養生配方, 絕無添加糖及鹽

Ingredients 成份
" Canola Oil,  Dried Shrimp,  Sichuan Chilli, Sichuan Peppercorn, Garlic, Organic Goji Berry, Shallot, Longan,  Sakura Shrimp, Sesame, Peri Peri Chilli
芥花籽油, 蝦米, 四川辣椒, 川麻椒, 蒜, 有機杞子, 乾蔥, 桂圓, 櫻花蝦, 芝麻, 霹靂椒 "
Orders & Shipping
Free Local Delivery Over HKD400
Your order will be processed within 5 working days of being placed and payment being received. If there are any longer delays due to stock or shipping problems you will be contacted and notified of such.  
We ship via PICKUPP to offer you the most economical shipping method. The delivery time is about 2-7 business days. The website will automatically calculate the shipping cost for each order.Please note extra delivery charge at remote area.
If you wish to place a large order or arrange international shipment, please contact us for a shipping quote.
Returns & Replacements 
Your satisfaction is important to us, if you have a concern about the quality of your product please use the Contact Us page to email us with the batch number, expiry date and product name from the barcode label and the reason you are dissatisfied.  
Any returns due to quality issues must be contact us within 2 weeks of receiving your order.  
Unfortunately we do not accept product returns if you have changed your mind or don't like the scent.  
We may request you to return unused product before processing a refund or replacement. (Please note, if you made your purchase from a retail stockist, you will need to return it to that stockist - and their store policies apply in terms of refund or replacement.)