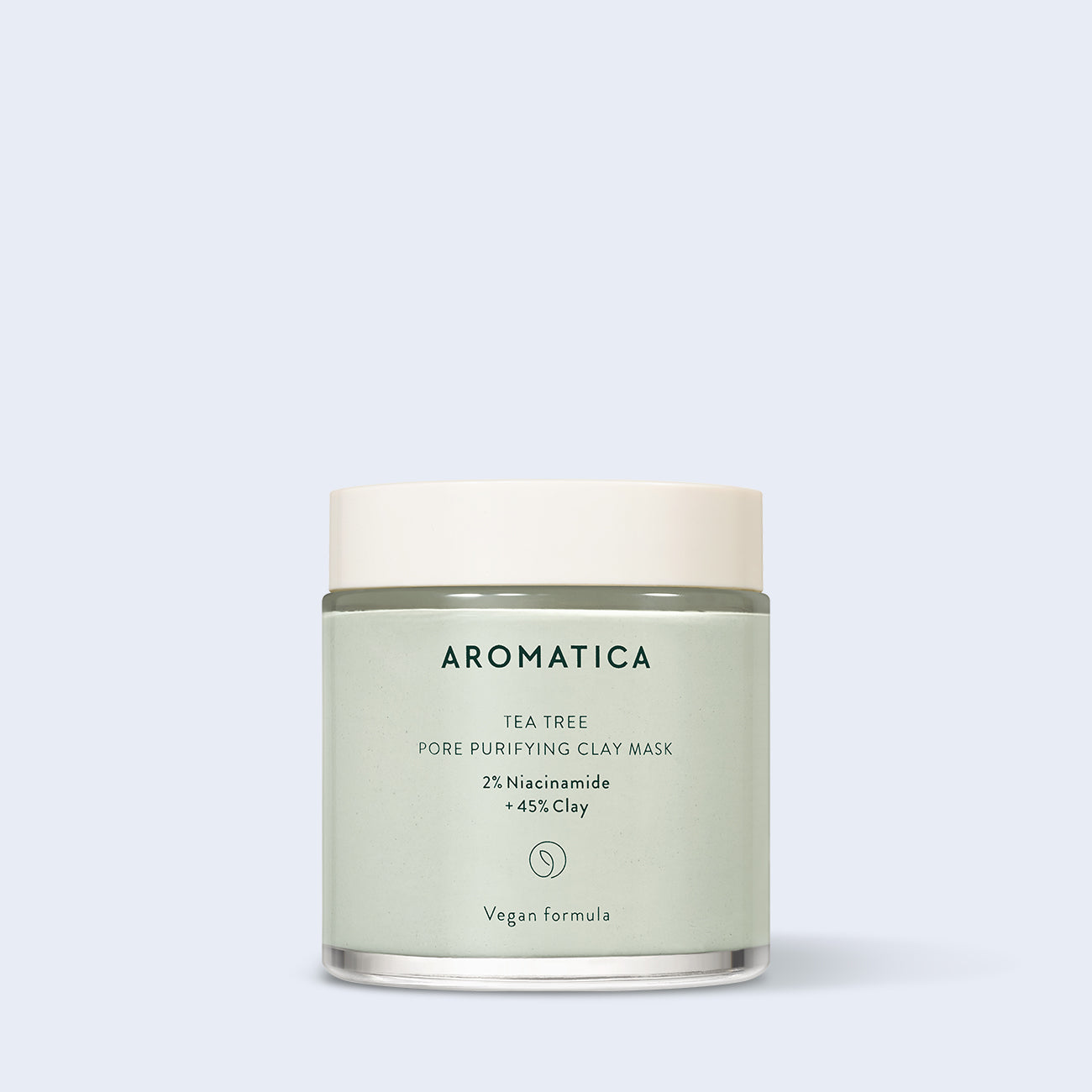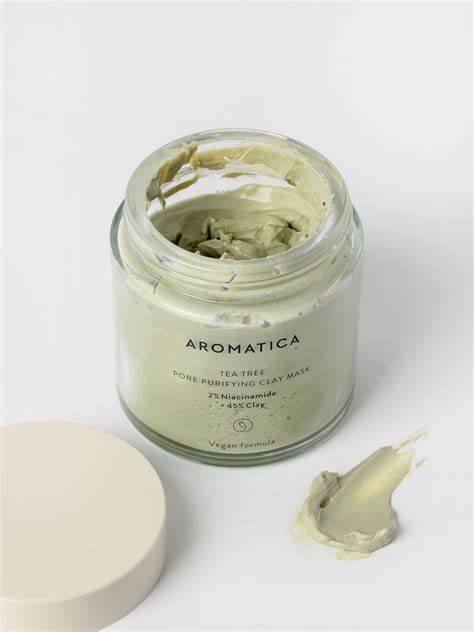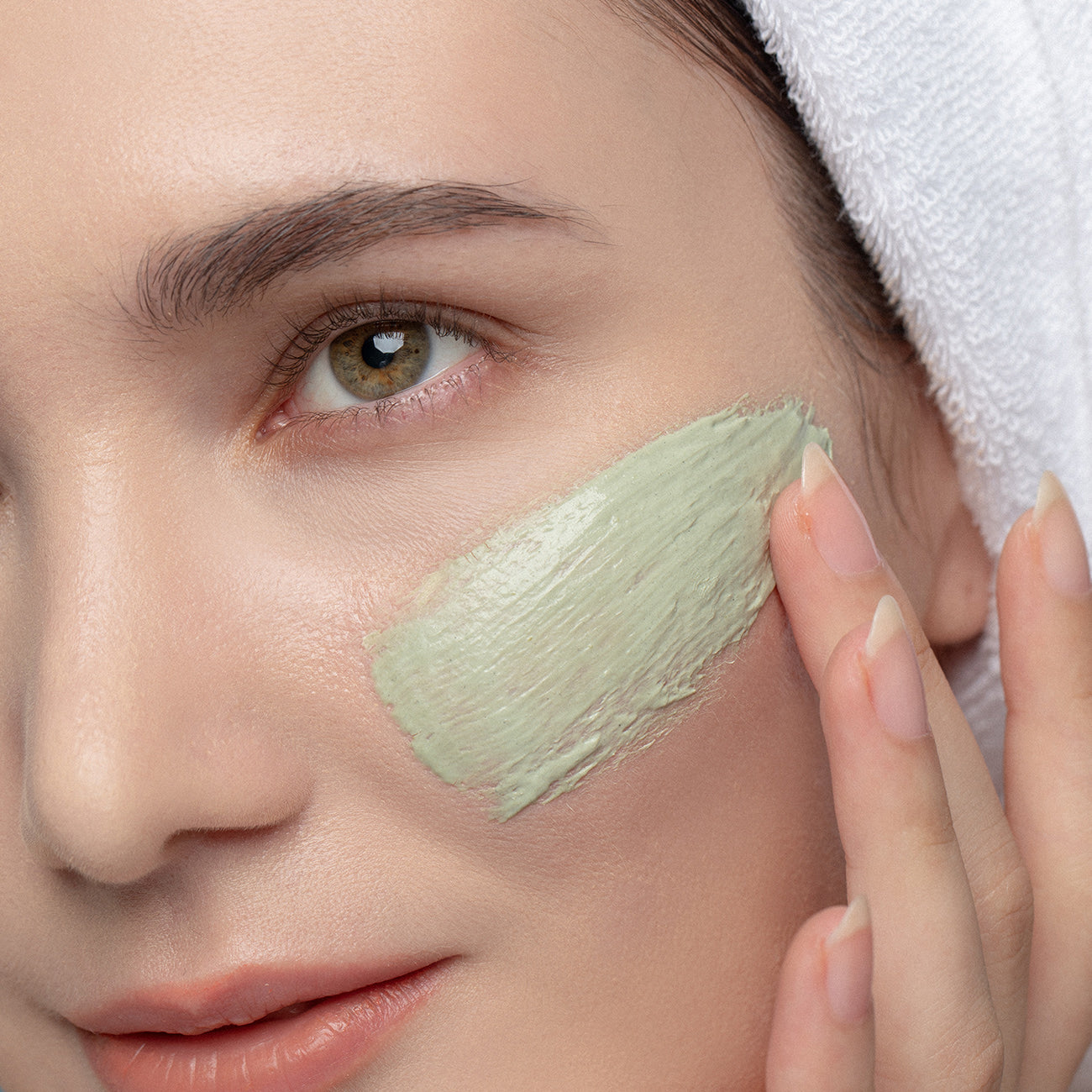 Tea tree Pore Purifying Clay Mask 2% Niacinamide + 45% Clay
Clay mask provides sebum and pore care with excellent binding power.
Tea tree is back, stronger than ever, to resolve various skin troubles such as enlarged pores, shine, noticeable dead skin cells, and dull complexion! Take care of your recurring skin trouble with a mask containing Australian tea tree, Niacinamide, and clay.
The Key solution for skin trouble!
Instead of using purified water, tea tree extract (35.6%) obtained with glycerin solvent will effectively soothe your problem skin. Niacinamide (2%), which controls excess oil and sebum secretion, makes blotchy skin look clean and radiant.
Pore cleansing with green clay.
Three types of clay in different particle sizes make skin texture smooth and purify pores by effectively tidying up excessive sebum around the nose, flaky dead skin cells around the mouth, and residue from pores. Mineral-rich clay and vitamin complex make dull skin complexion look clear and matte!
Convenient esthetic treatment at home.
Take care of excessive sebum and oil conveniently at home with a tea tree mask. A soft clay mask that feels like cream closely adheres to skin and provides convenient care through fast drying. It leaves skin feeling moisturized as it can be washed with water easily without the need to use additional cleansing foam; the refreshing fragrance of the tea tree soothes and revitalizes tired skin.
On days when you need deep cleansing of your skin, empty your pores with tea tree clay!.
TIPS:
-In the case of combination skin with shine, apply on areas with excessive sebum.
-Drying speed may vary depending on skin temperature and environment.
-If the content in the container is hardened by keeping the cap open for long hours or after long use, add a little amount of tea tree toner and mix well.
It will be reborn as a creamy clay mask when hard clay meets tea tree toner!
-A ponding phenomenon may occur due to the characteristics of clay, but this is not a quality problem. Mix well before use.
*Tea Tree: This ingredient, used by Indigenous Australians centuries ago as a skin solution, contains the effective ingredient terpinene-4-ol for a outstanding soothing effect on problem skin.
*Niacinamide: It is excellent not only for moisturizing but also for controlling sebum, helping make problem skin healthy and well.
*Clay: Abundant minerals absorb accumulated dead skin cells and residue from pores and make skin look clean.
*The description of the ingredients above is limited to the characteristics of the raw substances.
HOW TO USE:
After cleansing the face, evenly apply Tea tree pore purifying clay mask on dry face except skin around the eyes and mouth. When the mask is dried after 10 minutes, gently wash off with lukewarm water in a rolling motion. Follow up with your hydrating toner, serum and moisturizer.
It is Recommended to use this mask twice a week.
Tea tree Pore Purifying Clay Mask 2% Niacinamide + 45% Clay
Orders & Shipping
Free Local Delivery Over HKD400
Your order will be processed within 5 working days of being placed and payment being received. If there are any longer delays due to stock or shipping problems you will be contacted and notified of such.  
We ship via PICKUPP to offer you the most economical shipping method. The delivery time is about 2-7 business days. The website will automatically calculate the shipping cost for each order.Please note extra delivery charge at remote area.
If you wish to place a large order or arrange international shipment, please contact us for a shipping quote.
Returns & Replacements 
Your satisfaction is important to us, if you have a concern about the quality of your product please use the Contact Us page to email us with the batch number, expiry date and product name from the barcode label and the reason you are dissatisfied.  
Any returns due to quality issues must be contact us within 2 weeks of receiving your order.  
Unfortunately we do not accept product returns if you have changed your mind or don't like the scent.  
We may request you to return unused product before processing a refund or replacement. (Please note, if you made your purchase from a retail stockist, you will need to return it to that stockist - and their store policies apply in terms of refund or replacement.)