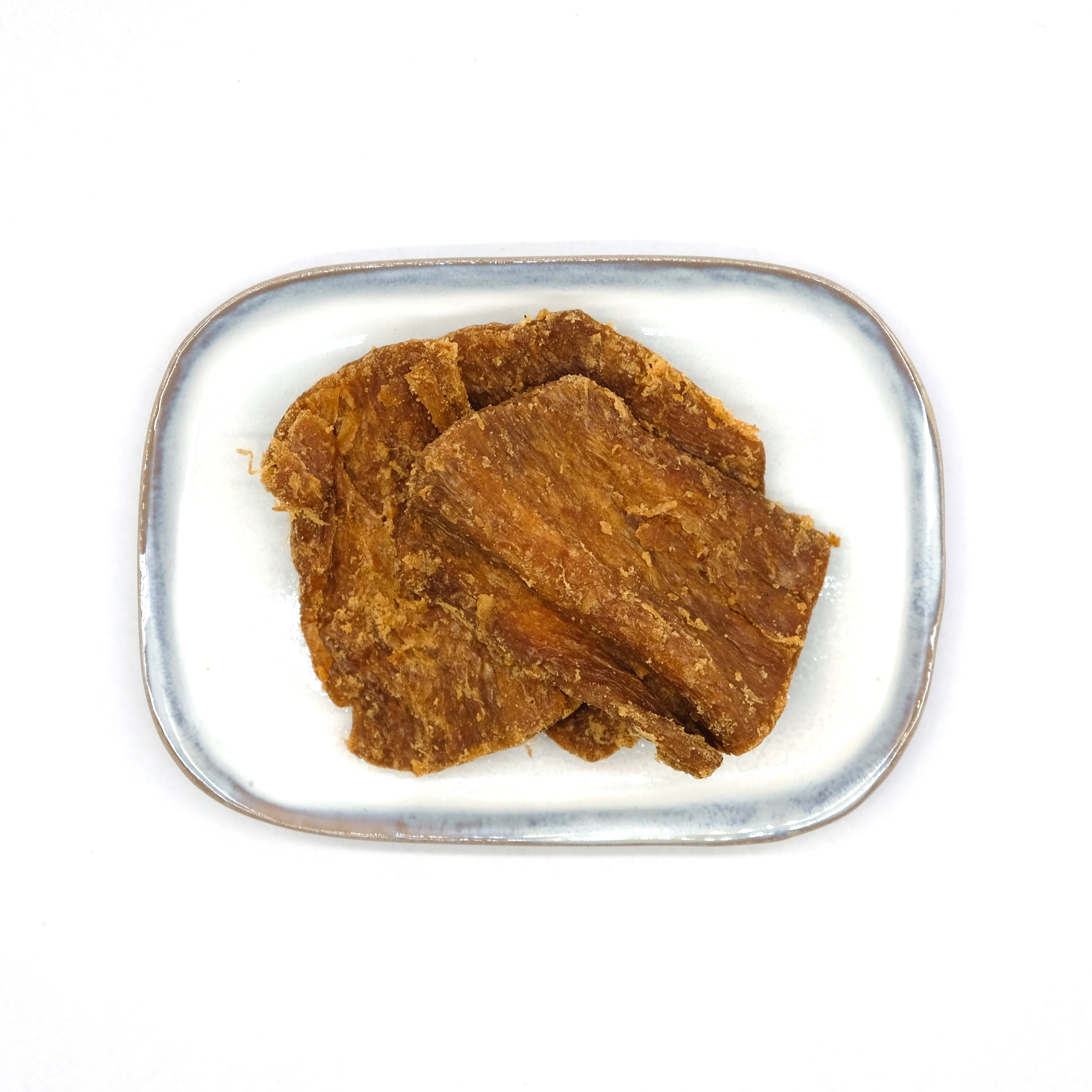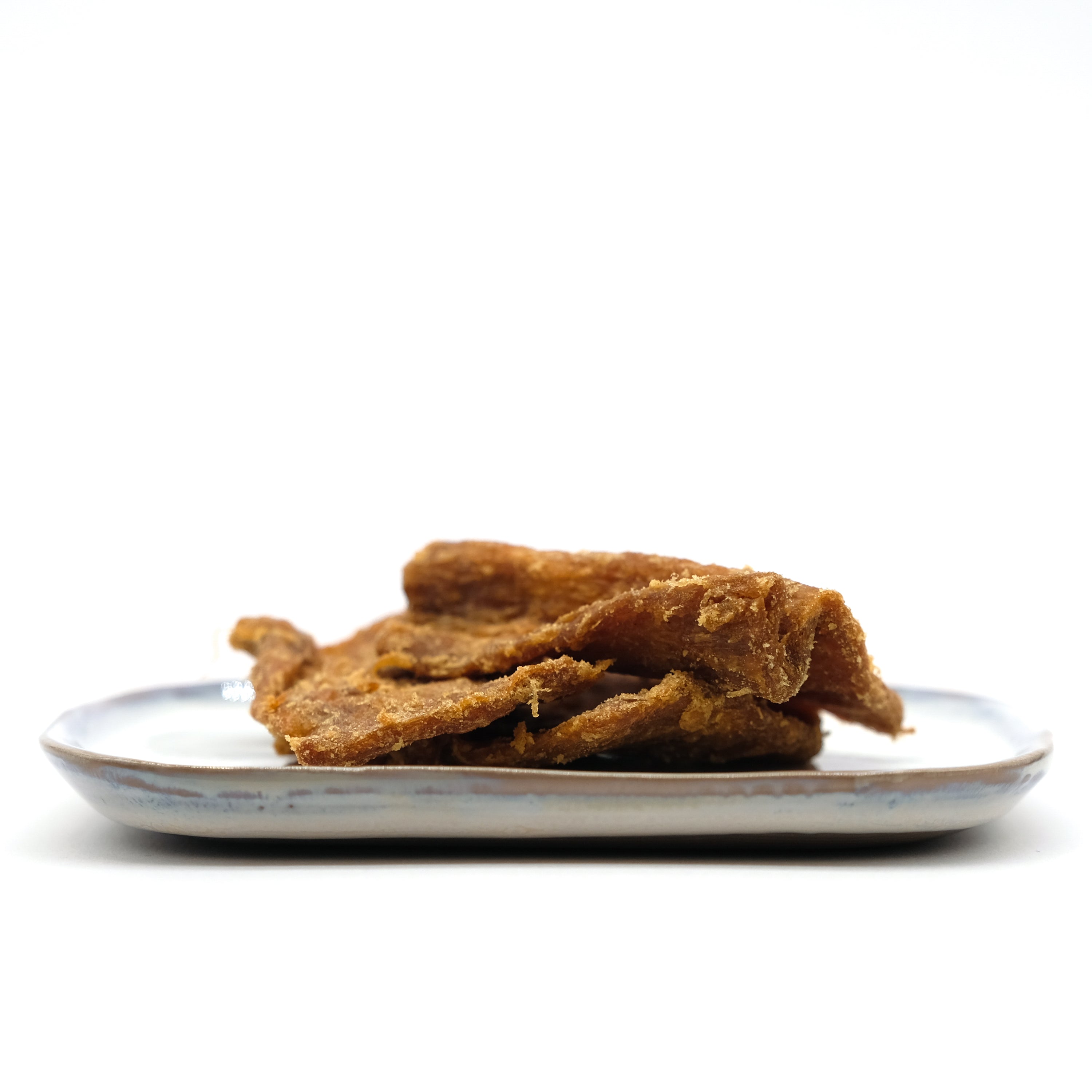 E22 Roasted Jerky Bbq Flavour - Vegan
Minimum of purchase 100g (最少選擇數量10=100g)
Roasted Jerky Bbq Flavour
100% VEGAN with no Allium & Alcohol
Made from non-GMO soy fiber, MSG-free, cholesterol-free, natural choice
Enjoy a cup of tea with a group of friends while chatting.
A famous brand of vegetarian jerky from Hong Yang.
Country of origin: Taiwan
Ingredients: Organised vegetable protein (non-GM soy protein, non-GM defatted soy flour, wheat protein, corn starch), sugar, soy sauce, D-sorbate liquid 70% (sweetener), maltose, soy salad oil, pea flour, caramel colouring (colouring agent), salt, ground black pepper, ground cayenne pepper, yeast extract, liquorice powder, black pepper, potassium sorbate (preservative), paprika, citric acid (flavouring agent), white pepper, edible yellow No. 5 (colouring agent)
* Allergen information: This product contains soy and gluten.
Shelf life: 4 months (unopened)
Storage instructions: Keep out of direct sunlight, consume soon after opening or refrigerate.


純素豬肉乾 - 燒烤口味
100% VEGAN with no Allium & Alcohol 宗教級純素無五辛無酒

非基因改造大豆纖維製成,無味精、無膽固醇、自然好選擇

三五好友喝茶邊吃邊聊天,樂趣無窮

素肉乾知名老牌弘陽出品,一吃成主顧

原產地: 台灣

成份:組組織化植物蛋白(非基因改造黃豆蛋白, 非基因改造脫脂豆粉, 小麥蛋白, 玉米澱粉), 砂糖, 醬油, D-山梨醇液70%(甜味劑), 麥芽糖, 大豆沙拉油, 豌豆粉, 焦糖色素(著色劑), 食鹽, 黑胡椒粒, 辣椒粒, 酵母抽出物, 甘草粉, 黑胡椒粉, 山梨酸鉀(防腐劑), 辣椒粉, 檸檬酸(調味劑), 白胡椒粉, 食用黃色五號(著色劑)
* 過敏原信息:本品含大豆、麩質。

保質期:4個月(未開封)
保存說明:避免陽光直射,開封後請及早食用或冷藏。



每20公克 | Per 20g :
| | |
| --- | --- |
| 熱量 Calories | 72大卡 |
| 蛋白質 Protein | 4.4g |
| 脂肪 Total Fat | 1.8g |
| 飽和脂肪 Saturated Fat | 0.4g |
| 反式脂肪 Trans Fat | 0g |
| 碳水化合物 Total Carbohydrate | 9.6g |
| 糖 Sugars | 4.1g |
| 鈉 Sodium | 220mg |
E22 Roasted Jerky Bbq Flavour - Vegan
Orders & Shipping
Free Local Delivery Over HKD400
Your order will be processed within 5 working days of being placed and payment being received. If there are any longer delays due to stock or shipping problems you will be contacted and notified of such.  
We ship via PICKUPP to offer you the most economical shipping method. The delivery time is about 2-7 business days. The website will automatically calculate the shipping cost for each order.Please note extra delivery charge at remote area.
If you wish to place a large order or arrange international shipment, please contact us for a shipping quote.
Returns & Replacements 
Your satisfaction is important to us, if you have a concern about the quality of your product please use the Contact Us page to email us with the batch number, expiry date and product name from the barcode label and the reason you are dissatisfied.  
Any returns due to quality issues must be contact us within 2 weeks of receiving your order.  
Unfortunately we do not accept product returns if you have changed your mind or don't like the scent.  
We may request you to return unused product before processing a refund or replacement. (Please note, if you made your purchase from a retail stockist, you will need to return it to that stockist - and their store policies apply in terms of refund or replacement.)