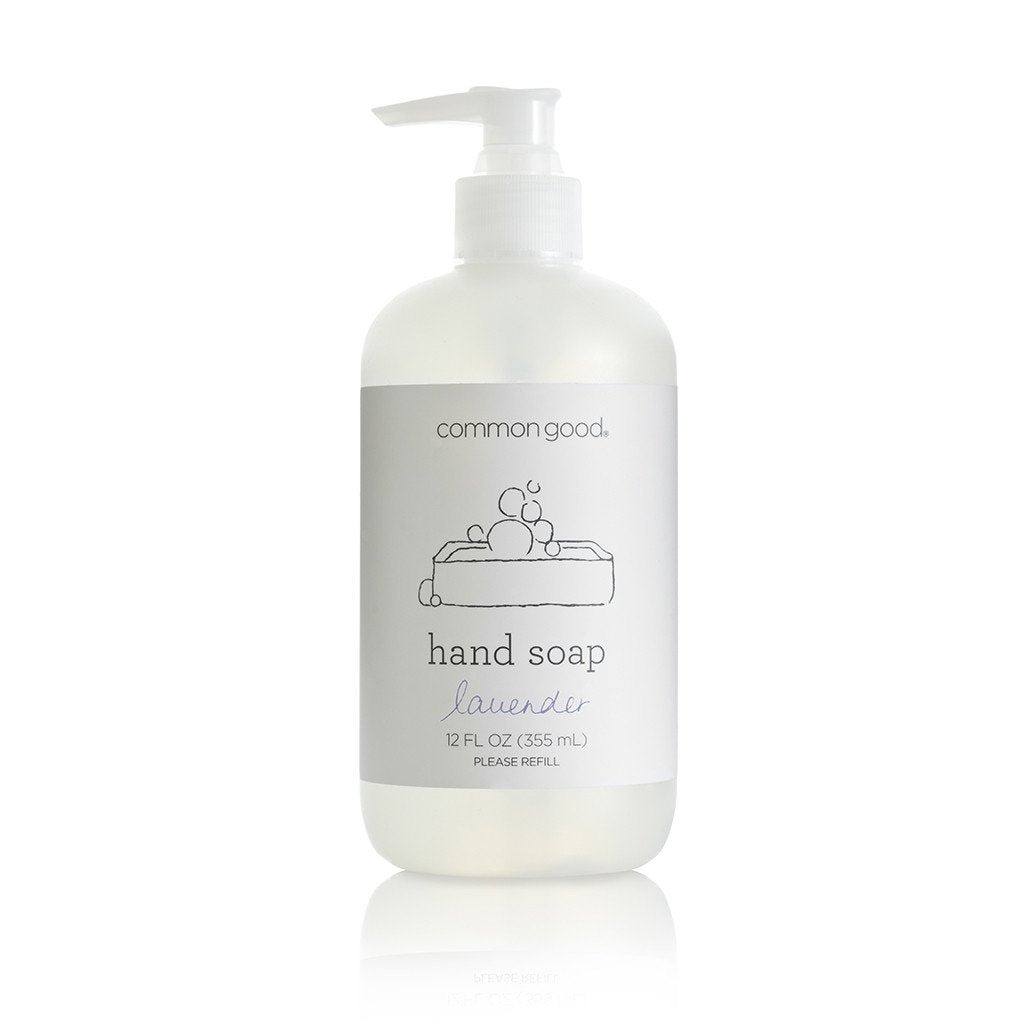 The best hand soap should fight bacteria as well as it moisturizes, right? Well, our everyday hand soap's all-natural formula keeps hands clean and soft without the use of harsh chemicals that lead to dry skin. Rest assured that our non-toxic cleaning products are formulated with gentle, plant-based ingredients which are Leaping Bunny Certified and safe for kids, pets and the environment. For all those eco-friendly sinks out there, our hand soap is readily biodegradable, meaning it naturally breaks down quickly without leaving any toxins in the environment! Don't forget to refill.
Made in the USA.
Quick Summary
12 oz bottle
cleans hands effectively without drying
safe for the whole family
kills germs without harsh chemicals
plant based biodegradable formula
no parabens or sulfates
free of synthetic fragrance, phthalates,optical brighteners, dye, chlorine bleach and ammonia
cruelty-free (Leaping Bunny certified)
100% pure essential oil scents
refillable
Essential Oil Spotlight
What makes our lavender hand soap so special? Lavender lends its dual anti-microbial and therapeutic properties to our soaps, making them naturally cleaner, gentler and more effective.
water, sodium methyl-2 sulfolaurate, disodium-2sulfolaurate sodium lauryl sulfoacetate, cetyl betaine,glycerin, phenoxyethanol, ethyhexylglycerin, (essential oil).
訂單及運送
購物滿 $400可享免費本地送貨服務
香港地區訂單
A. 訂單金額滿HK$400(以折實價計算),將提供免費送貨。
B. 訂單金額不足HK$400(以折實價計算),顧客需支付HK$50或以上(運費視乎訂單的重量及地區)
因應疫情持續嚴峻,一般訂單會於7-14個工作天送達。 客人亦可選擇附加HK$100加急即日送貨服務。
C. 訂單金額滿HK$1000 (以折實價計算),並於星期一至五中午2點前完成下單,可享即日免費送貨服務。
偏遠地區(離島丶東涌丶迪上尼丶機場丶赤柱丶石澳)需要另加附加$100運費。**即日送貨只提供訂單庫存充足的貨品,如有缺貨將延遲送貨日。
注意事項:
我們會選用Pickuup或順豐速運送貨服務,客人可以選擇送貨到 工商業或住宅地址。結帳時,客人須於頁面的「送貨地址」欄目中填寫正確的收件人信息,以便我們安排發貨,按時將貨品送到客人指定的地點。
換貨及退款/退貨
基於衛生考量本店只接受貨品質素及破損的退換
不接受因不喜歡氣味及顏色原因的退換貨
付款完成後貨品出現缺貨問題 將以store credit的方式全額退還