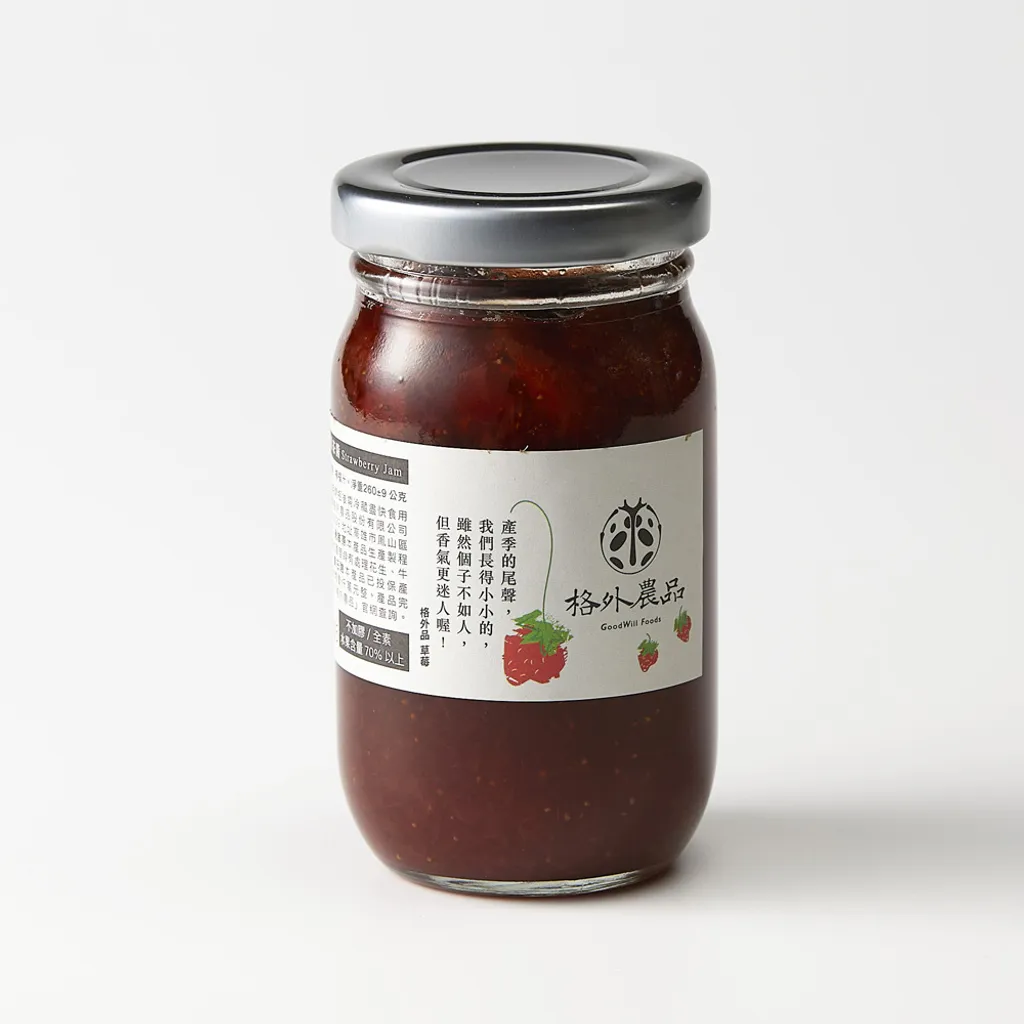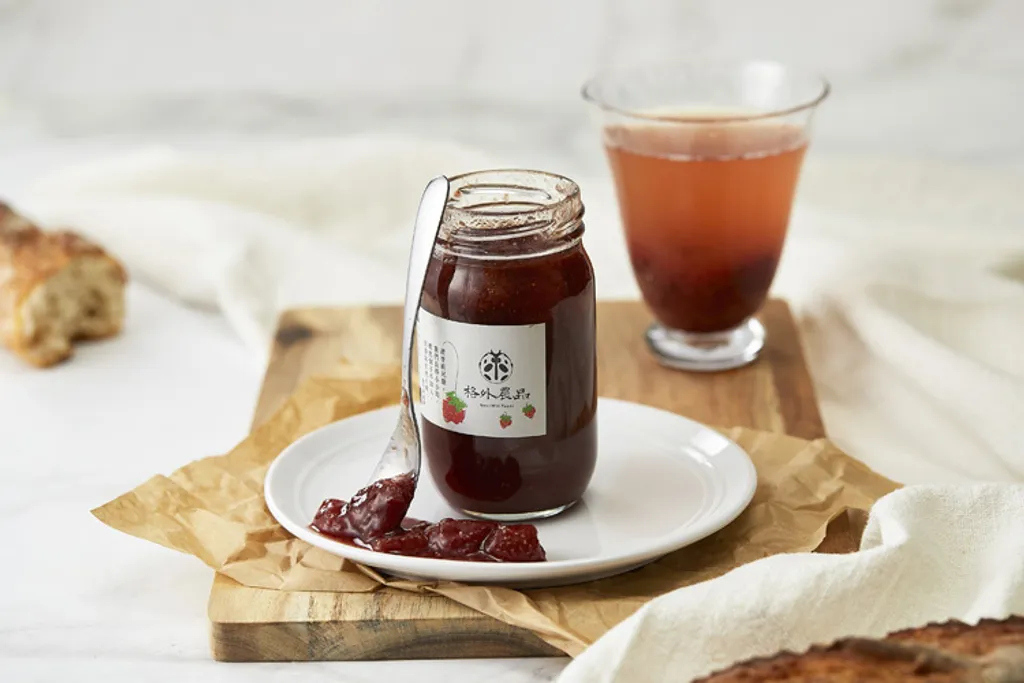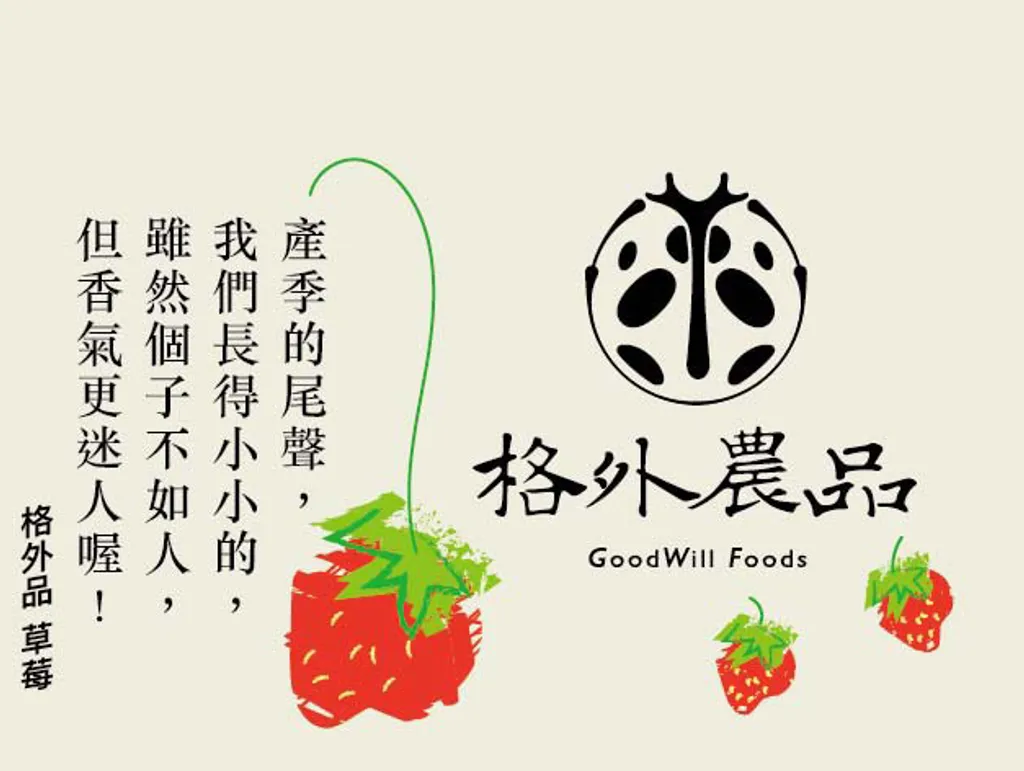 香水草莓果茶醬|迸發的濃郁香氣
果茶醬內容物只有香水草莓、砂糖、檸檬汁,不添加膠,100%無添加物。《格外農品》選用產季尾聲的草莓,因為氣候漸熱導致草莓小果數量增加,味道微酸但香氣逼人。草莓製成果茶醬後自然的酸度豐富了味道的層次,更部分保留整顆草莓讓你入口即化。草莓果茶醬使用方式多元,除了適合入茶、牛奶、無糖優格等,還能成為甜點的原料。
The ingredients include only strawberries, extra light sugar, lemon juice, and no added pectin. We select strawberries which are produced at the end of the growing season. The strawberries are a little sour but have strong aroma because the weather is getting hotter which makes the number of small strawberries increase. The cultivar of Feng-Xiang Strawberries originates in Japan. The flesh is smooth and it can melt in one's mouth and bring a little smell of milk. After making into jam, the strawberries have natural sourness which enriches the flavor. There are plenty of uses of strawberry jam. Besides being used with tea, milk, sugar-free yogurt, etc., it can be used as an ingredient of desserts.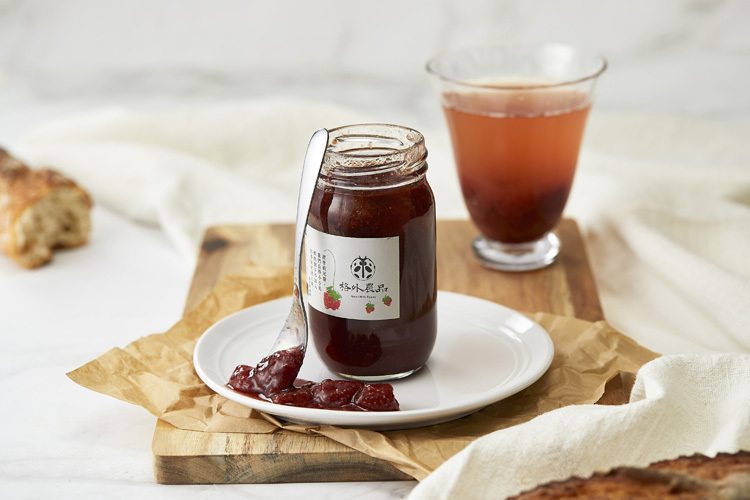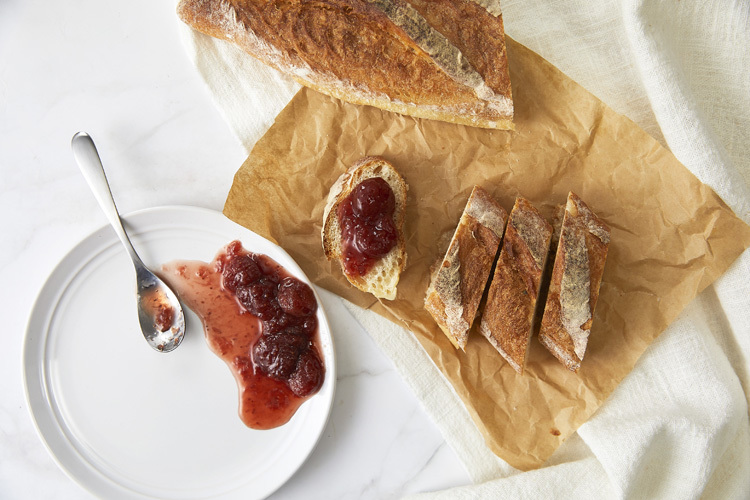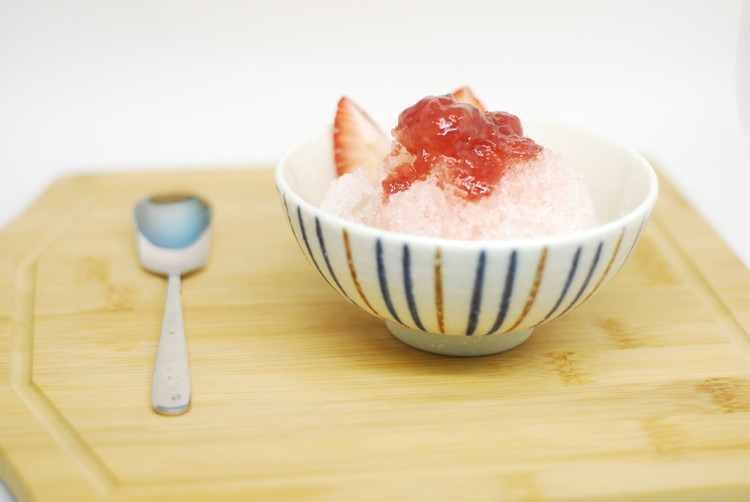 規格
淨重:260±9公克
保存期限:12個月,開瓶後需冷藏,請盡速食用完畢
Net weight:260±9g 
This product is vacuum packed. A jar of the unopened strawberry jam can be preserved for 12 months at room temperature. After opening it, please preserve it in a refrigerator and finish eating it as soon as possible.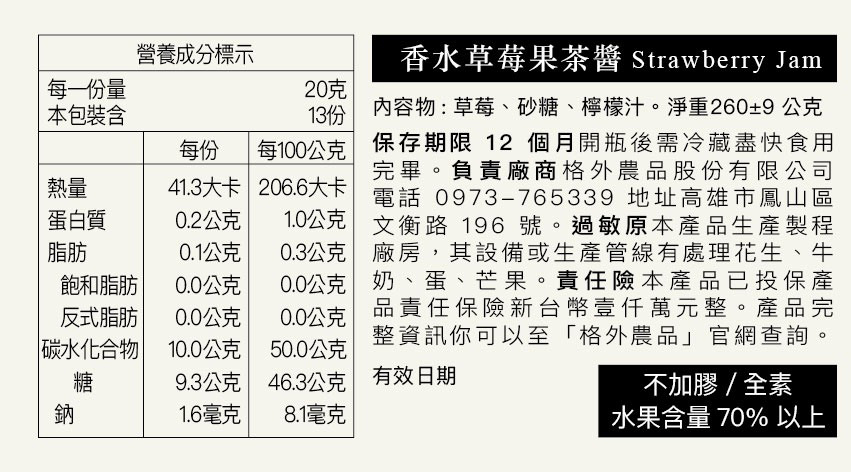 產地
草莓種植地位於苗栗縣公館鄉,種植者謝富羽是百大青農。七年級生的他在大學就讀園藝系期間就開始研究草莓種植,一開始採用傳統土耕,而後逐漸轉為高架式種植增加排水性、調整田間管理方式,加上網室減少病蟲害,讓僅四分的草莓田能產出八分地的坪效,堪稱「科技農民」。謝富羽的草莓取得產銷履歷驗證,並定期送驗確保農藥檢驗合格,良好的品質不僅是消費者安心的選擇,也是許多加工業者的配合對象。
Orders & Shipping
Free Local Delivery Over HKD400
Your order will be processed within 5 working days of being placed and payment being received. If there are any longer delays due to stock or shipping problems you will be contacted and notified of such.  
We ship via PICKUPP to offer you the most economical shipping method. The delivery time is about 2-7 business days. The website will automatically calculate the shipping cost for each order.Please note extra delivery charge at remote area.
If you wish to place a large order or arrange international shipment, please contact us for a shipping quote.
Returns & Replacements 
Your satisfaction is important to us, if you have a concern about the quality of your product please use the Contact Us page to email us with the batch number, expiry date and product name from the barcode label and the reason you are dissatisfied.  
Any returns due to quality issues must be contact us within 2 weeks of receiving your order.  
Unfortunately we do not accept product returns if you have changed your mind or don't like the scent.  
We may request you to return unused product before processing a refund or replacement. (Please note, if you made your purchase from a retail stockist, you will need to return it to that stockist - and their store policies apply in terms of refund or replacement.)