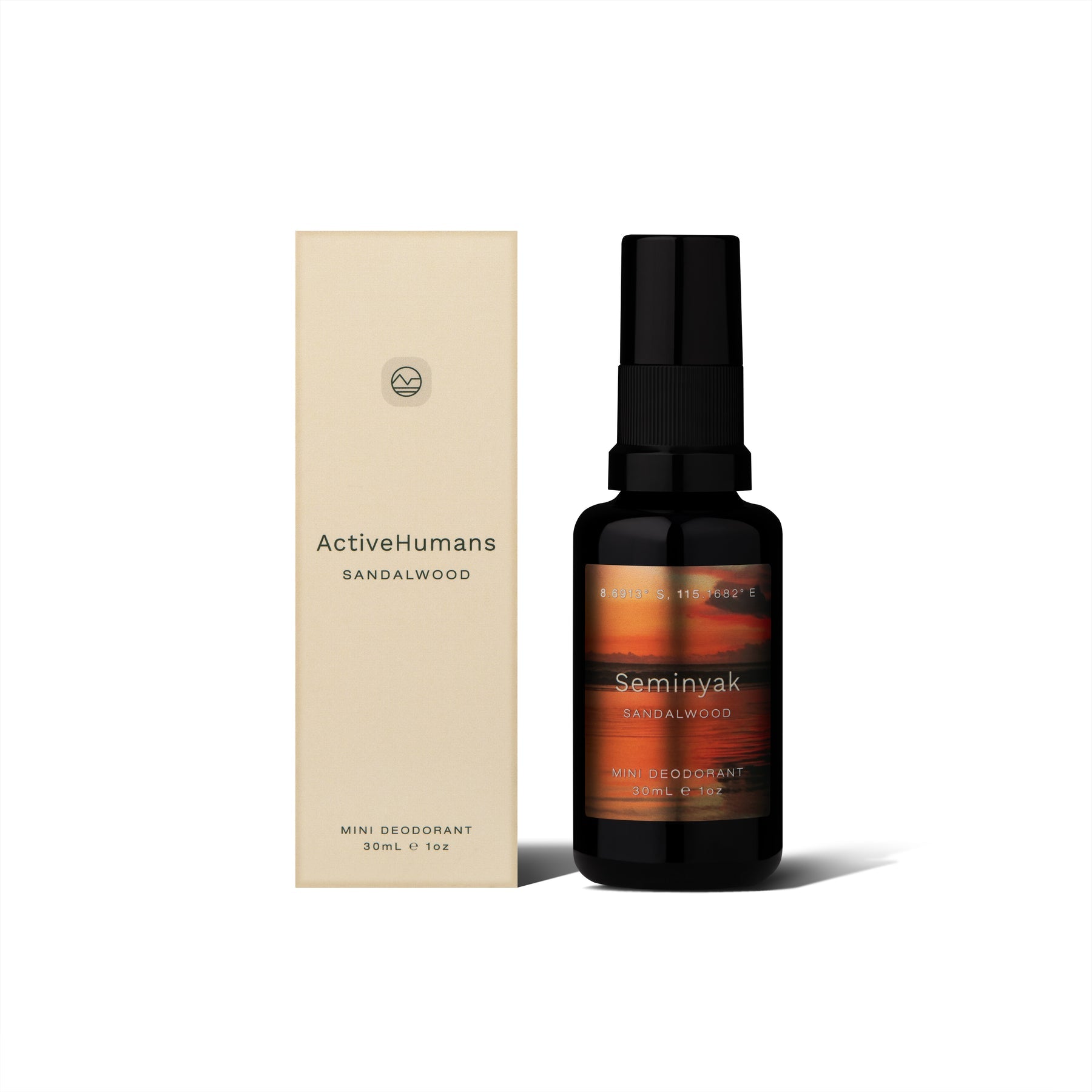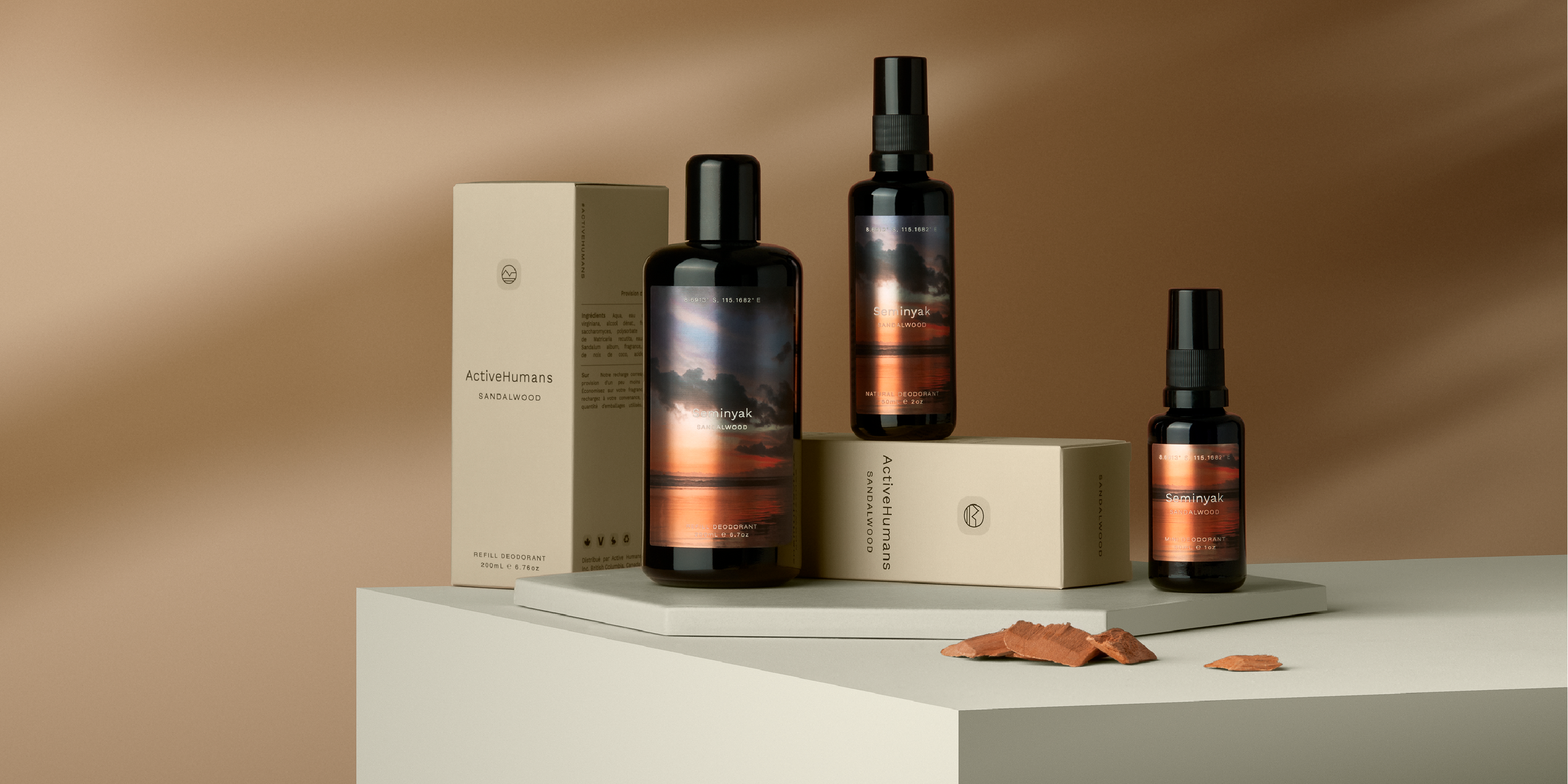 Mini Sandalwood deodorant 30ml
Plant based.
Animal friendly.
Glass packaging.
Made in Canada.

Origin | 8.6913° S, 115.1682° E
Seminyak, exotic sunsets, spiced cedar, sandalwood
Seminyak, Bali
In Bali every moment counts and gratitude is a fundamental way of life. To start our day, we woke with the sun and sipped jamu jamu, a traditional elixir that rejuvenates every cell in your body. To immerse yourself in this sacred culture is a privilege and the hospitality of the balinese is unmatched. Notes of sandalwood incense are nostalgic of evenings spent seaside with the most beautiful sunset on earth. This spiritual island brought meaning to our personal experience of a mind, body and soul connection.
Plant based ingredients
Our formulas are pH balanced to keep the underarm in good health. Each deodorant features a high concentration of witch hazel that absorbs excess moisture, unique vegetable enzymes that break down odorous bacteria and denatured alcohol that works as an natural antibacterial agent and preservative. Chamomile botanical extract soothes sensitive skin while coco glucoside keeps bacteria from building.
Sandalwood scent profile is created using a blend of essential oils and phthalate free isolates. All formulations are free from aluminium, baking soda, sulfates and parabens.

Ingredients :
Aqua, Hamamelis Virginiana Water, Alcohol Denat., Saccharomyces Ferment, Polysorbate 20, Matricaria Recutita Extract, Sandalum Album Floral Water, Fragrance, Coco Glucoside, Citric Acid.

____
How can I transition to natural deodorant?
If this is your first time using a natural deodorant we recommend packing a mini for the first few days. For some humans it can take up to 2 weeks to transition to a natural deodorant. The "detox phase" can be influenced by lifestyle habits, stress, nutrition and previous personal care products. Hang in there - try exfoliating your underarms, eat a fibre rich diet and keep a mini deodorant close! It's worth it on the other side.
How long does the deodorant last?
Apply 2-3 sprays evenly to a dry underarm as needed. To enhance the effectiveness, apply directly after a shower. Best used after cleansing or exfoliating the underarm. 
Can I use it on other parts of my body?
Go beyond the underarm. Try our scents as a body spray, perfume or on your nether regions. This product can also multi-task as a room refresher in your home and favourite spaces.
Mini Sandalwood deodorant 30ml
Orders & Shipping
Free Local Delivery Over HKD400
Your order will be processed within 5 working days of being placed and payment being received. If there are any longer delays due to stock or shipping problems you will be contacted and notified of such.  
We ship via PICKUPP to offer you the most economical shipping method. The delivery time is about 2-7 business days. The website will automatically calculate the shipping cost for each order.Please note extra delivery charge at remote area.
If you wish to place a large order or arrange international shipment, please contact us for a shipping quote.
Returns & Replacements 
Your satisfaction is important to us, if you have a concern about the quality of your product please use the Contact Us page to email us with the batch number, expiry date and product name from the barcode label and the reason you are dissatisfied.  
Any returns due to quality issues must be contact us within 2 weeks of receiving your order.  
Unfortunately we do not accept product returns if you have changed your mind or don't like the scent.  
We may request you to return unused product before processing a refund or replacement. (Please note, if you made your purchase from a retail stockist, you will need to return it to that stockist - and their store policies apply in terms of refund or replacement.)