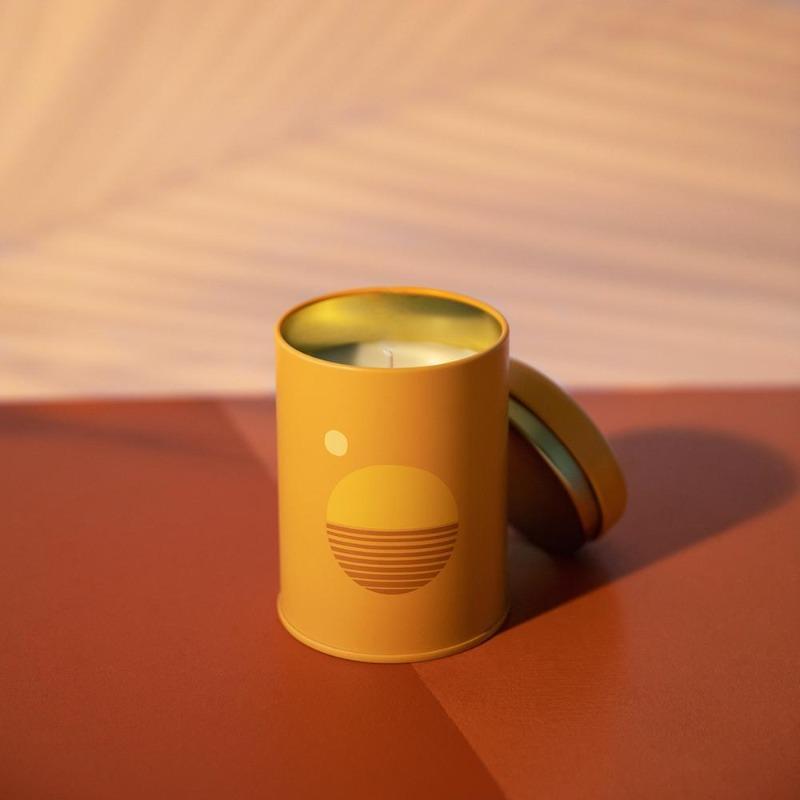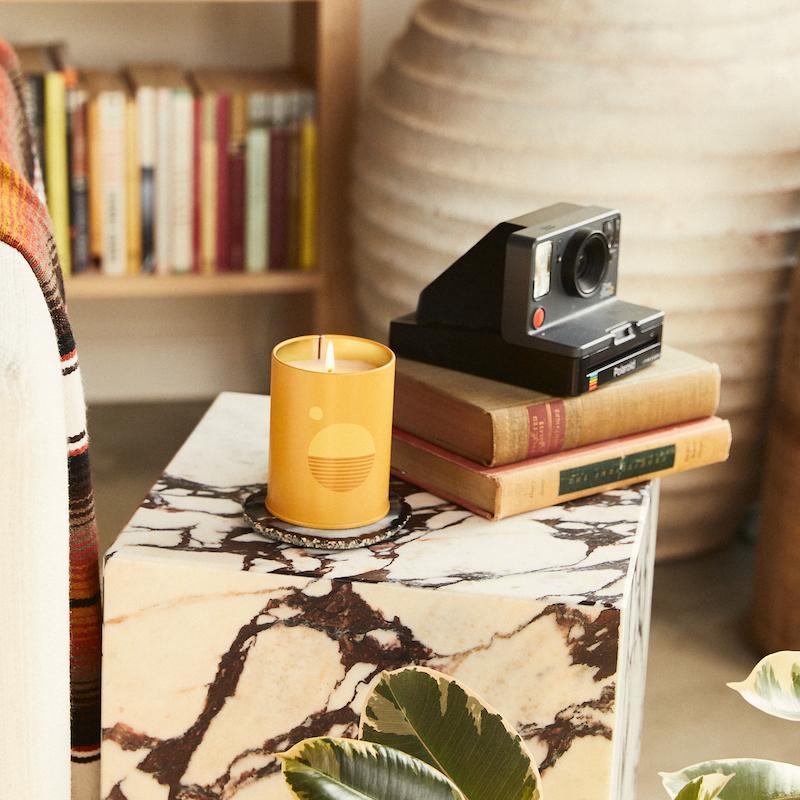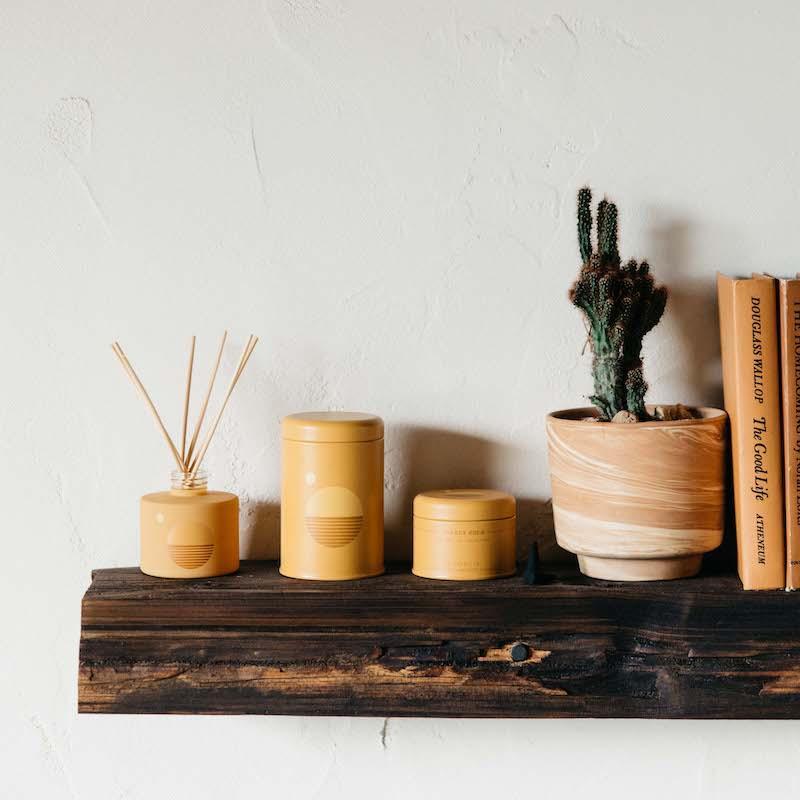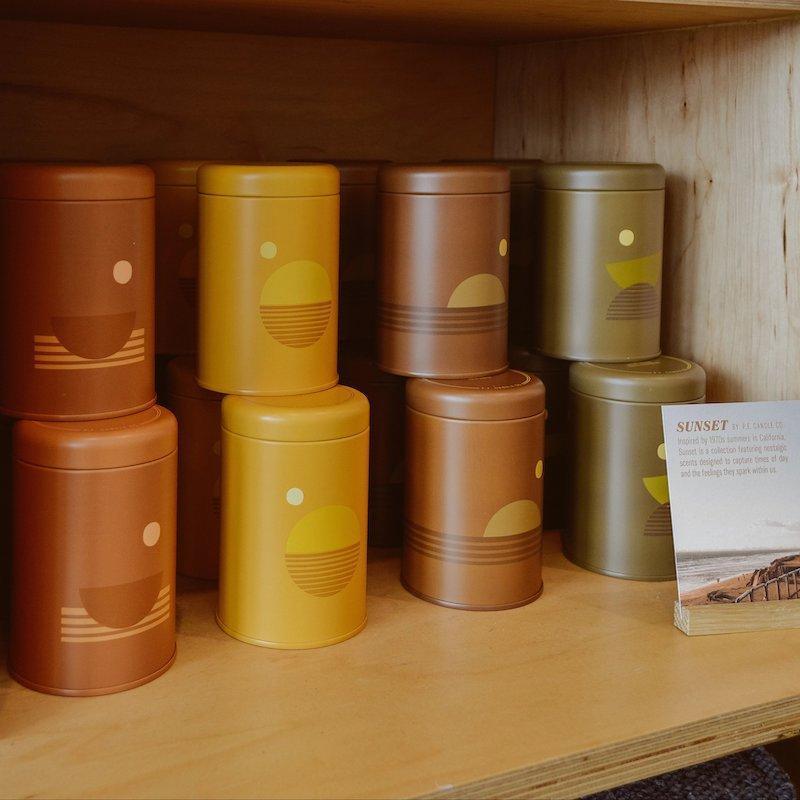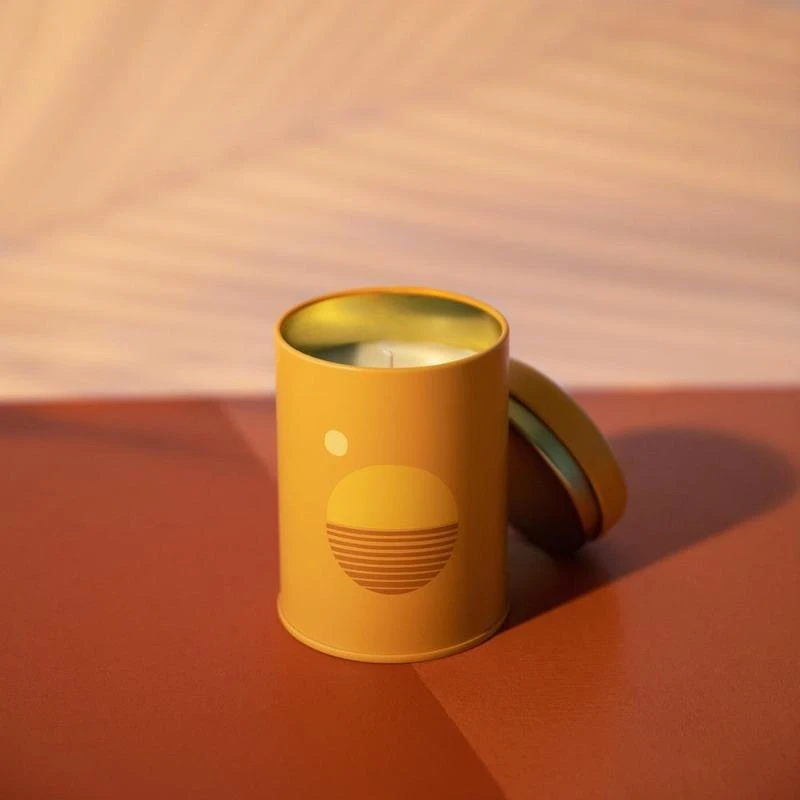 Golden Hour Sunset Candle
10 oz Sunset Candle
For dens, bedrooms, and coffee tables.

SCENT DESCRIPTION
5pm. Rustling grasses, baked earth, sun rays split between trees. Mellow, dry, tranquil. Bergamot, hay, and golden poppy.
Meet Sunset, a home fragrance collection of candles, reed diffusers, and incense cones in four scents inspired by California scenery.
Featuring four nostalgic scents meant to represent times of day and the feelings they spark within us – Swell, Golden Hour, Dusk, and Moonrise – Sunset is packaged in custom-printed glass and tin vessels donned with sun shapes, horizon lines, and earth tones inspired by California scenery
Ingredients
100% natural soy wax, phthalate-free premium fragrance oil, cotton wick
Burn Time: 50-60 hours
Size: 10 oz, 4.375" tall, 3" diameter


How to use
Following Candle care helps to ensure product quality + longevity. We highly recommend following each of the following steps:
Trim your candle's wick to 1/4" before each lighting or once your candle has cooled.
Never attempt to trim a burning candle.
Discard the snipped portion in the trash; never leave wick trimmings in your candle jar.
The wick should always remain centered and away from the sides of the vessel.
Allow the wax to melt to the edges of the jar during each burn to prevent tunneling.
Once the candle's gone, we hope you'll re-use it. Clean it out and you've got a new planter or pencil holder – or whatever you want! 
 
Safety first - because candles burn and contain a small flame, so we encourage following these common sense rules of thumb:
Never leave a candle burning unattended, near a draft, or in reach of children or pets.
Don't burn your candle for more than 4 hours at a time.
Do not allow your wick to curl over, as this can create a larger than normal flame.
Stop burning your candle when only 1/4" of wax remains.
Do not pick up a burning candle or immediately after it's been blown out.
Protect the surface underneath the candle no matter the material.
Golden Hour Sunset Candle
Orders & Shipping
Free Local Delivery Over HKD400
Your order will be processed within 5 working days of being placed and payment being received. If there are any longer delays due to stock or shipping problems you will be contacted and notified of such.  
We ship via PICKUPP to offer you the most economical shipping method. The delivery time is about 2-7 business days. The website will automatically calculate the shipping cost for each order.Please note extra delivery charge at remote area.
If you wish to place a large order or arrange international shipment, please contact us for a shipping quote.
Returns & Replacements 
Your satisfaction is important to us, if you have a concern about the quality of your product please use the Contact Us page to email us with the batch number, expiry date and product name from the barcode label and the reason you are dissatisfied.  
Any returns due to quality issues must be contact us within 2 weeks of receiving your order.  
Unfortunately we do not accept product returns if you have changed your mind or don't like the scent.  
We may request you to return unused product before processing a refund or replacement. (Please note, if you made your purchase from a retail stockist, you will need to return it to that stockist - and their store policies apply in terms of refund or replacement.)