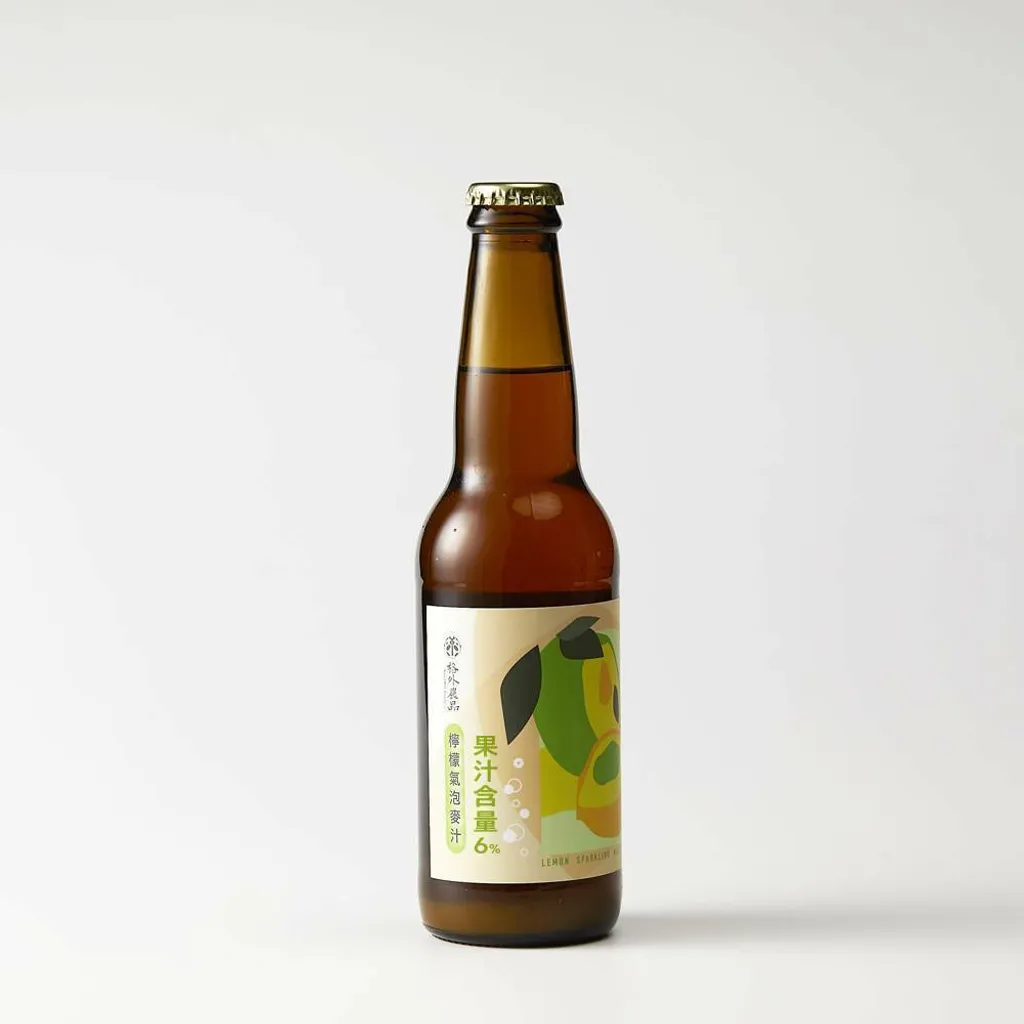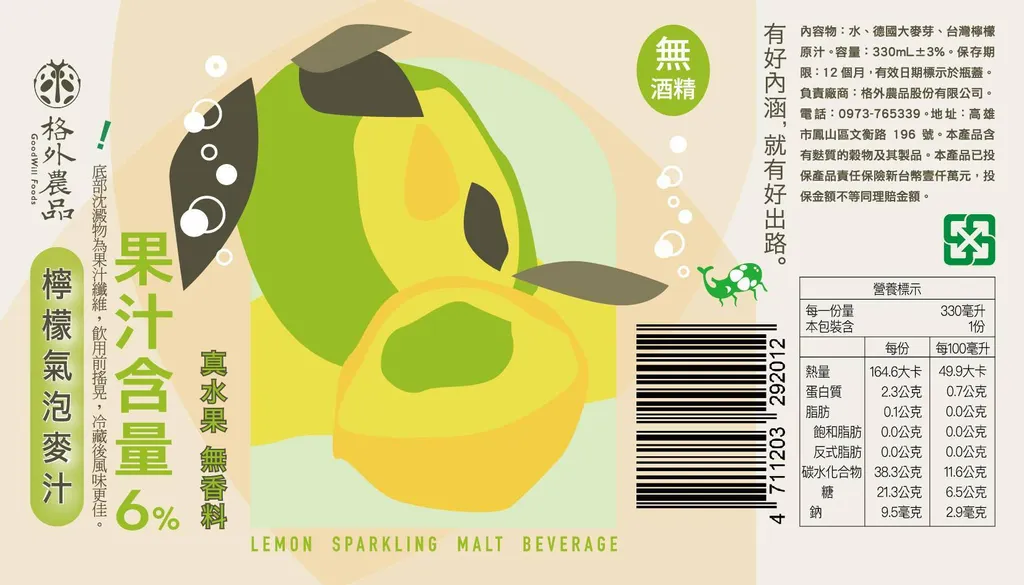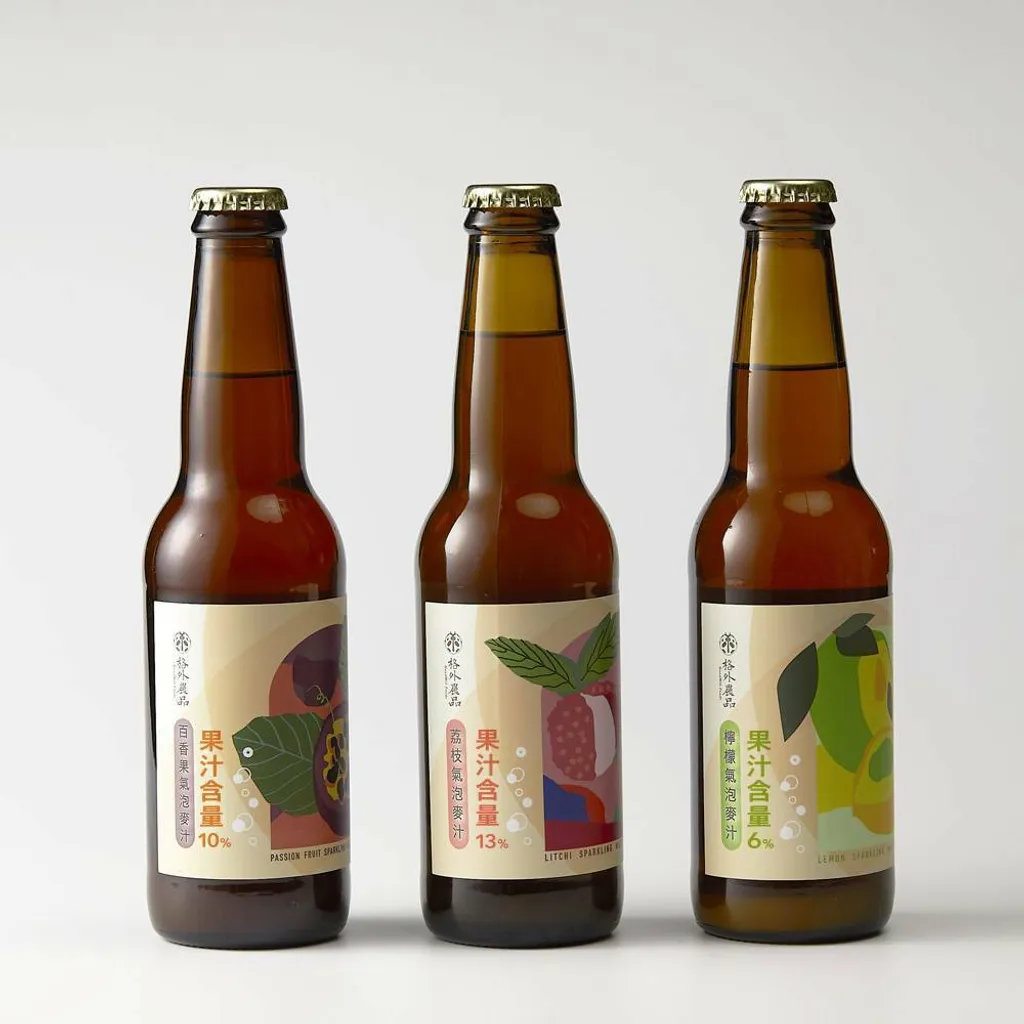 Lemon Fruit Sparkling Malt Beverage
台灣真水果氣泡麥汁系列:檸檬氣泡麥汁
選用台灣的代表性水果—檸檬,開瓶時果香撲鼻而來,入口後氣泡刺激味蕾帶來絕佳的清涼感,檸檬精油的微苦味與麥汁完美融合,為您帶來無酒精的暢快氣泡感,最適合親友相聚的闔家飲品! 
Lemon, the representative fruit of Taiwan, is used to create a fruity aroma when opening the bottle, and the sparkle stimulate the taste buds to bring an excellent refreshing sensation. Lemon essential oil's slight bitterness blends perfectly with the wort to give you a smooth, alcohol-free effervescence. It's the most suitable drink for family and friends to get together! 
遇到以下情況時......
擔任公司尾牙聚餐的指定駕駛、想送客戶別具意義的創新產品、聚會場合不擅喝酒但想與大家同樂、為全家人買好喝又沒有添加物的飲品
你會需要「台灣真水果氣泡麥汁」
100%使用台灣在地水果原汁
無香料、非濃縮汁、100%無添加物
氣泡與德國大麥的香醇,讓您享用啤酒的暢快感卻無酒精成分
適合全家享用的安心飲品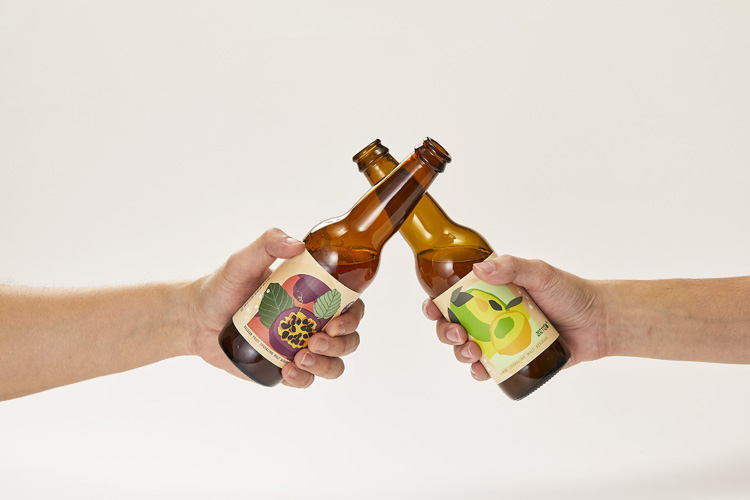 【原料介紹】
檸檬原汁:產地屏東、產銷履歷驗證、2019年美國加州電商KUDO盲測評比冠軍
德國大麥:釀製過程完全不使用其他副原料,釀造後停止發酵,將澱粉轉換為單醣,所以沒有酒精成份,卻保留了啤酒的香味。
➢Introduction of raw materials
Lemon juice: origin in Pingtung, TAP verification, 2019 California E-commerce KUDO Blind Test Winner.
German barley: No other by-products are used in the brewing process. After brewing, fermentation is stopped and the starch is converted into simple sugars, so there is no alcohol content, but the aroma of the beer is retained.
➢Features
Specification: 330ml/bottle
Ingredients: Water, German malted barley, Taiwan lemon juice
Calorie: 164.6 calories/330ml
Name of supplier: GoodWillFoods Agricultural Products Co.
Supplier's phone number: 0973-765339
Supplier's address: No. 196, Wenheng Road, Fengshan District, Kaohsiung City, Taiwan
Place of origin (country): Taiwan
Food business registration number: E-124986035-00000-9
Storage method: room temperature
Shelf life: 1 year
小叮嚀:
1.本商品底部會有些微沉澱物為果汁纖維,屬正常現象,建議飲用前先搖晃,即可安心食用。
2.建議飲用前先冷藏、或飲用時加入冰塊,風味更佳。
Lemon Fruit Sparkling Malt Beverage
Orders & Shipping
Free Local Delivery Over HKD400
Your order will be processed within 5 working days of being placed and payment being received. If there are any longer delays due to stock or shipping problems you will be contacted and notified of such.  
We ship via PICKUPP to offer you the most economical shipping method. The delivery time is about 2-7 business days. The website will automatically calculate the shipping cost for each order.Please note extra delivery charge at remote area.
If you wish to place a large order or arrange international shipment, please contact us for a shipping quote.
Returns & Replacements 
Your satisfaction is important to us, if you have a concern about the quality of your product please use the Contact Us page to email us with the batch number, expiry date and product name from the barcode label and the reason you are dissatisfied.  
Any returns due to quality issues must be contact us within 2 weeks of receiving your order.  
Unfortunately we do not accept product returns if you have changed your mind or don't like the scent.  
We may request you to return unused product before processing a refund or replacement. (Please note, if you made your purchase from a retail stockist, you will need to return it to that stockist - and their store policies apply in terms of refund or replacement.)