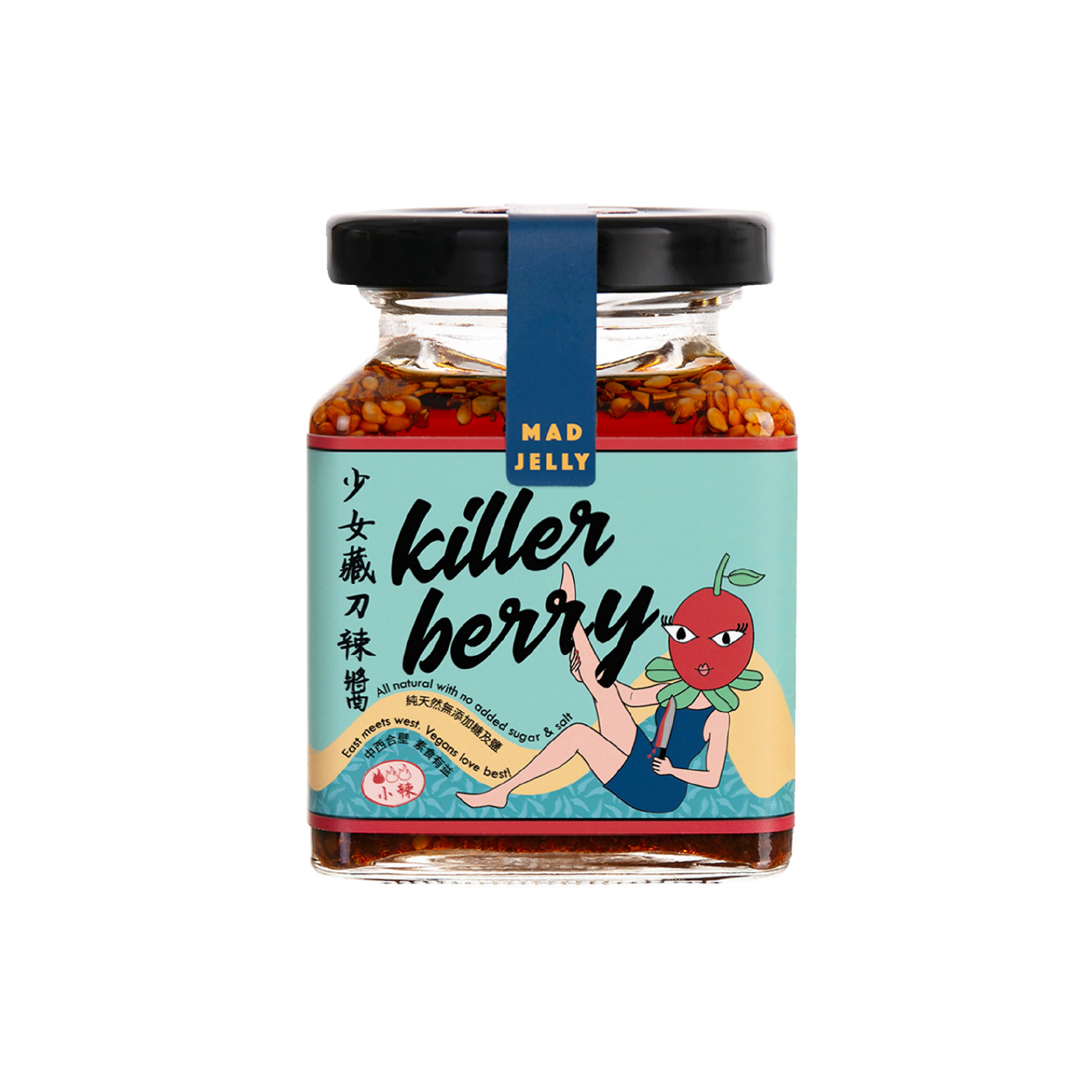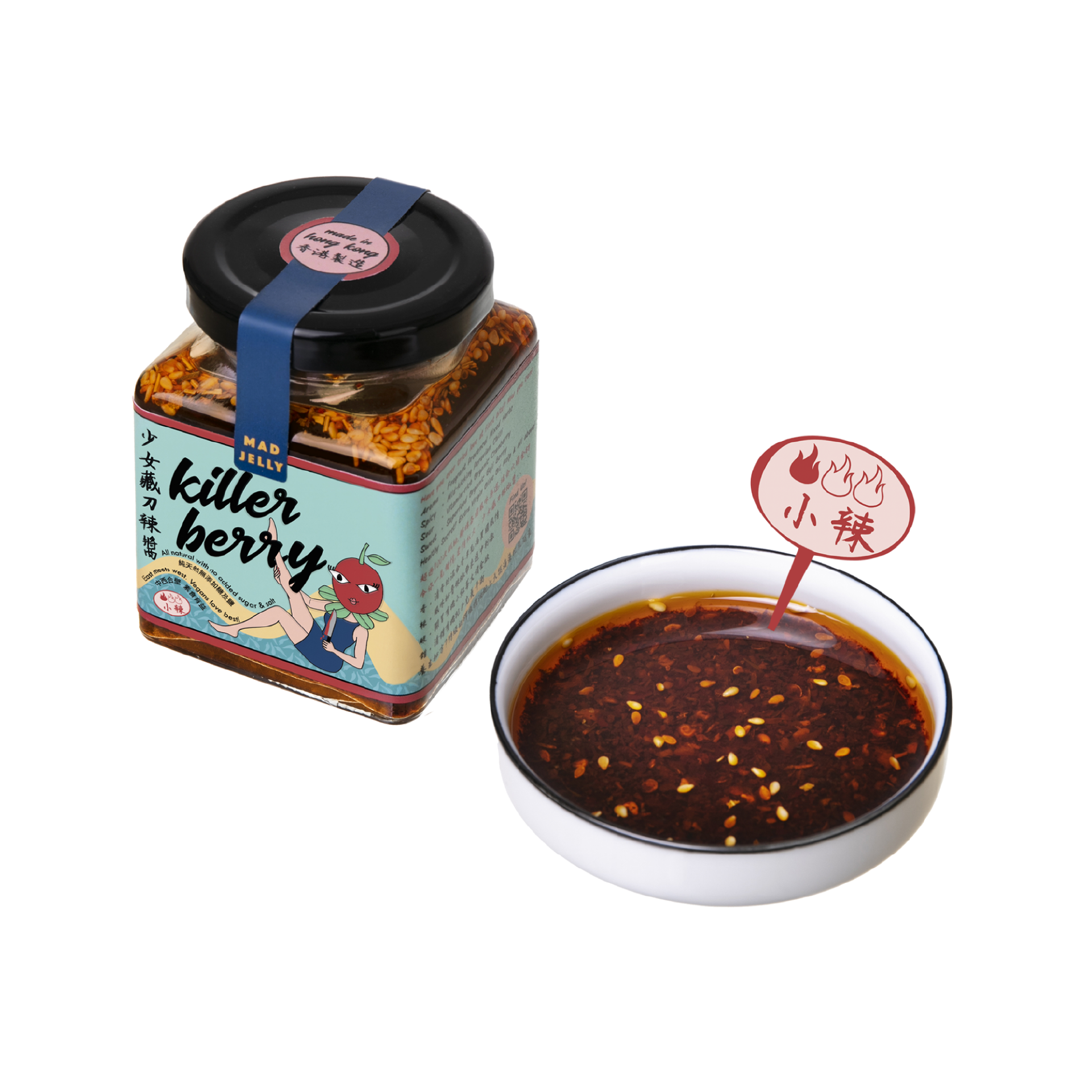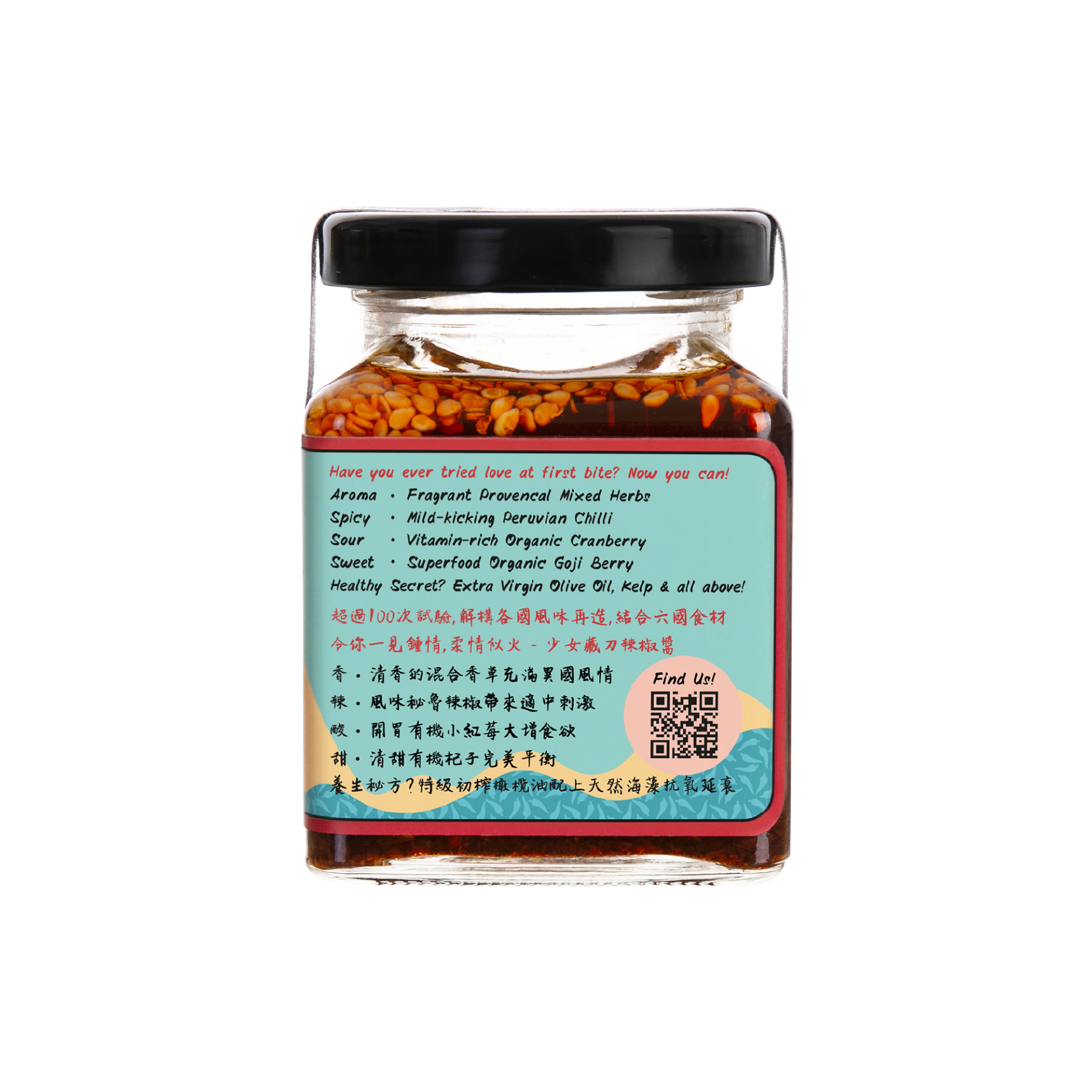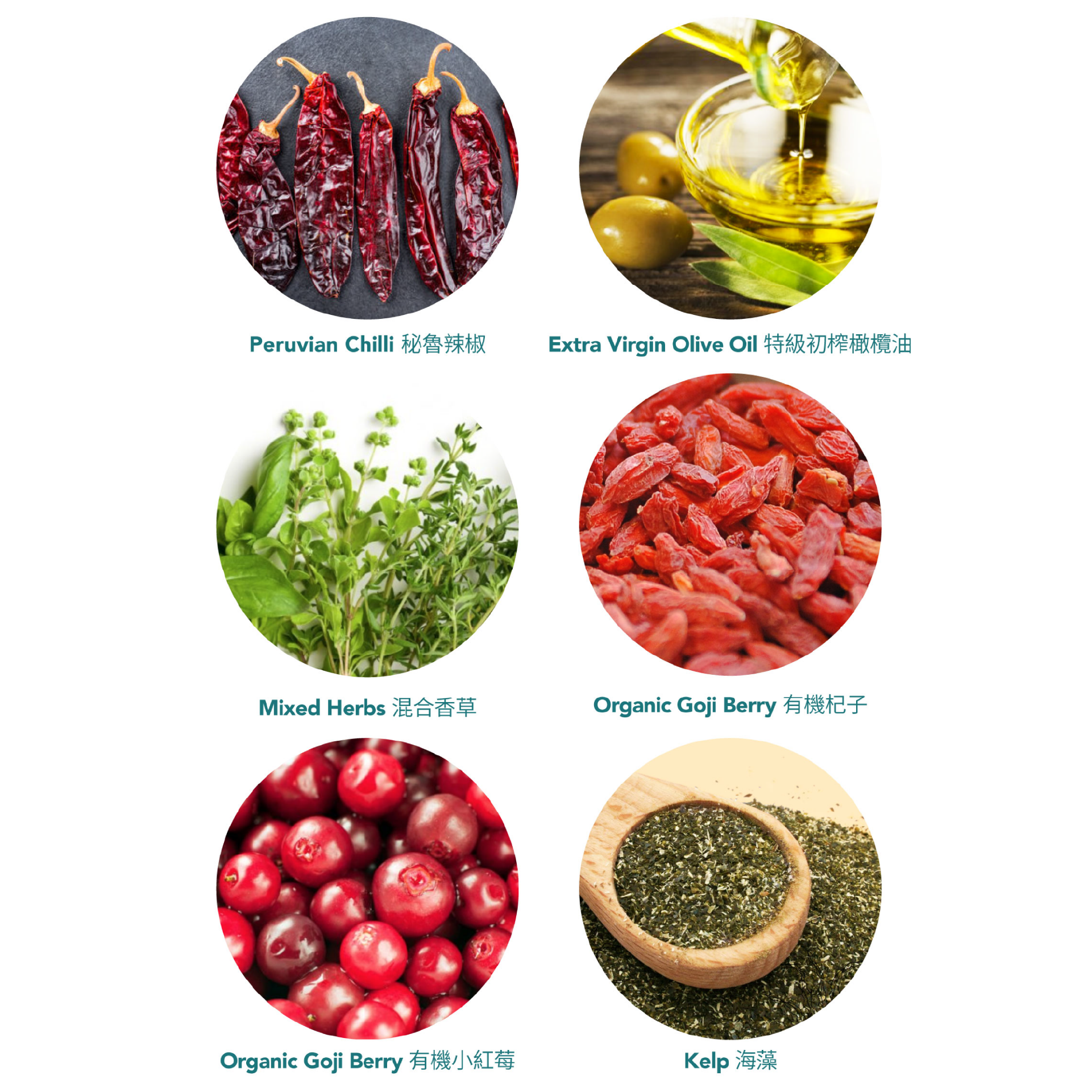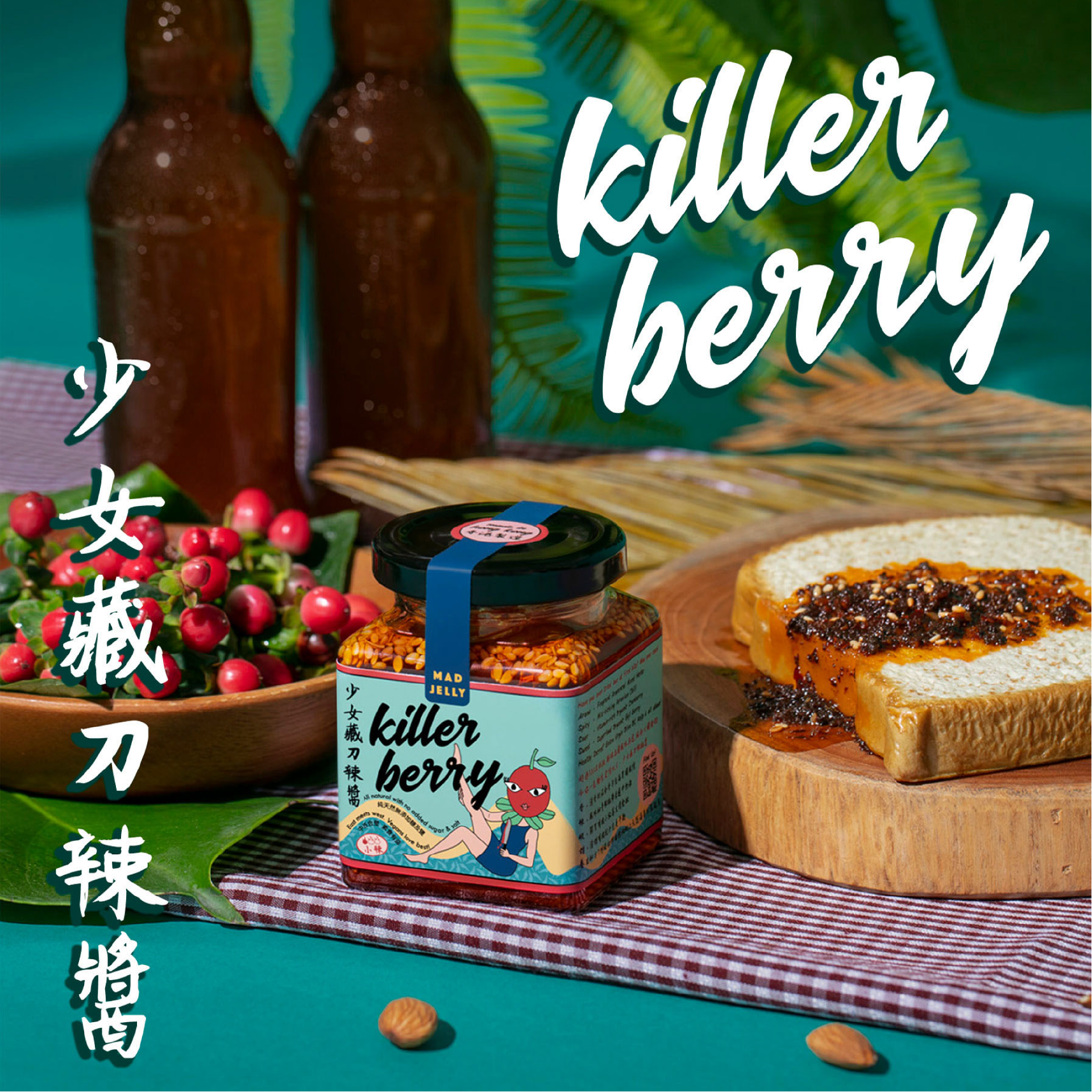 Killer Berry Chiili Sauce
Killer Berry Chiili Sauce 少女藏刀辣醬

| Mild Spicy 小辣 |


This aromatic Killer Berry is mild yet still gives you the right kick in the tongue. Peppery Peruvian chillies, provencal herbs, umami kelp, vitamin-filled cranberry and organic goji berries all together bring you a herbal explosion with a small burn. Inspired by world-loved cuisines, be ready to get lost in the forbidden forest. ​

| Herbal Sweet & Sour 香草酸甜 |

清香的混香草充滿異國風情,
風味秘魯辣椒帶來適中刺激,
開胃有機小紅莓大增食欲,
清甜有機杞子完美平衡 ,
令你全身沉醉於各國意想不到的風情與激情。
| Our Feel Good Ingredients 精選養生食材 |
All natural & wholesome recipe, no added sugar & salt
純天然養生配方, 絕無添加糖及鹽

Ingredients 成份
Extra Virgin Olive Oil, Peruvian Chilli, Lemon Juice, Garlic, Organic Goji Berry, Organic Cranberry, Mixed Herbs, Kelp, Shallot, Sesame, Sichuan Chilli, Sichuan Peppercorn ​

特級初榨橄欖油, 秘魯辣椒, 檸檬汁, 蒜, 有機杞子, 有機小紅莓, 混合香草, 海藻, 乾蔥, 芝麻,  四川辣椒,  川麻椒
Killer Berry Chiili Sauce
Orders & Shipping
Free Local Delivery Over HKD400
Your order will be processed within 5 working days of being placed and payment being received. If there are any longer delays due to stock or shipping problems you will be contacted and notified of such.  
We ship via PICKUPP to offer you the most economical shipping method. The delivery time is about 2-7 business days. The website will automatically calculate the shipping cost for each order.Please note extra delivery charge at remote area.
If you wish to place a large order or arrange international shipment, please contact us for a shipping quote.
Returns & Replacements 
Your satisfaction is important to us, if you have a concern about the quality of your product please use the Contact Us page to email us with the batch number, expiry date and product name from the barcode label and the reason you are dissatisfied.  
Any returns due to quality issues must be contact us within 2 weeks of receiving your order.  
Unfortunately we do not accept product returns if you have changed your mind or don't like the scent.  
We may request you to return unused product before processing a refund or replacement. (Please note, if you made your purchase from a retail stockist, you will need to return it to that stockist - and their store policies apply in terms of refund or replacement.)