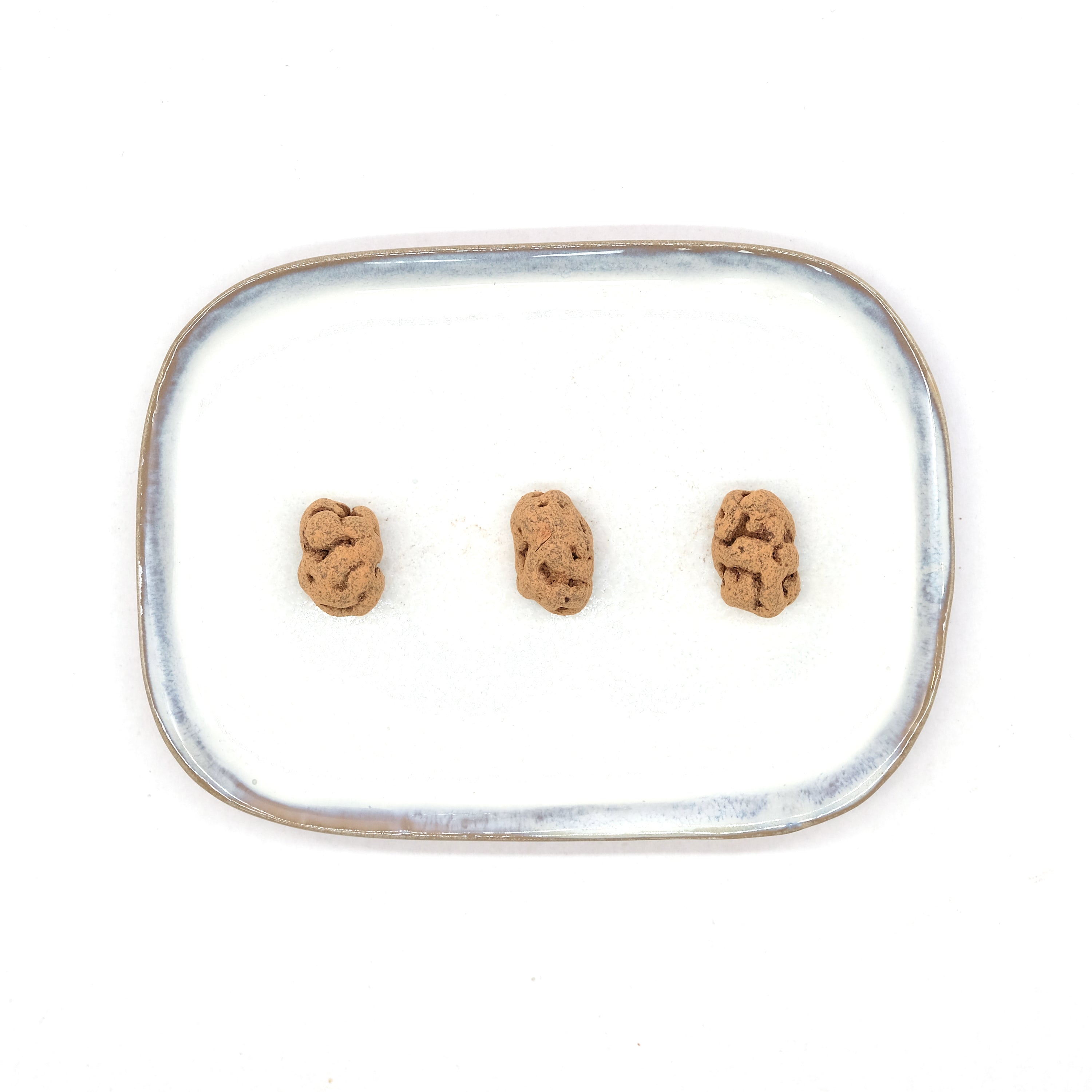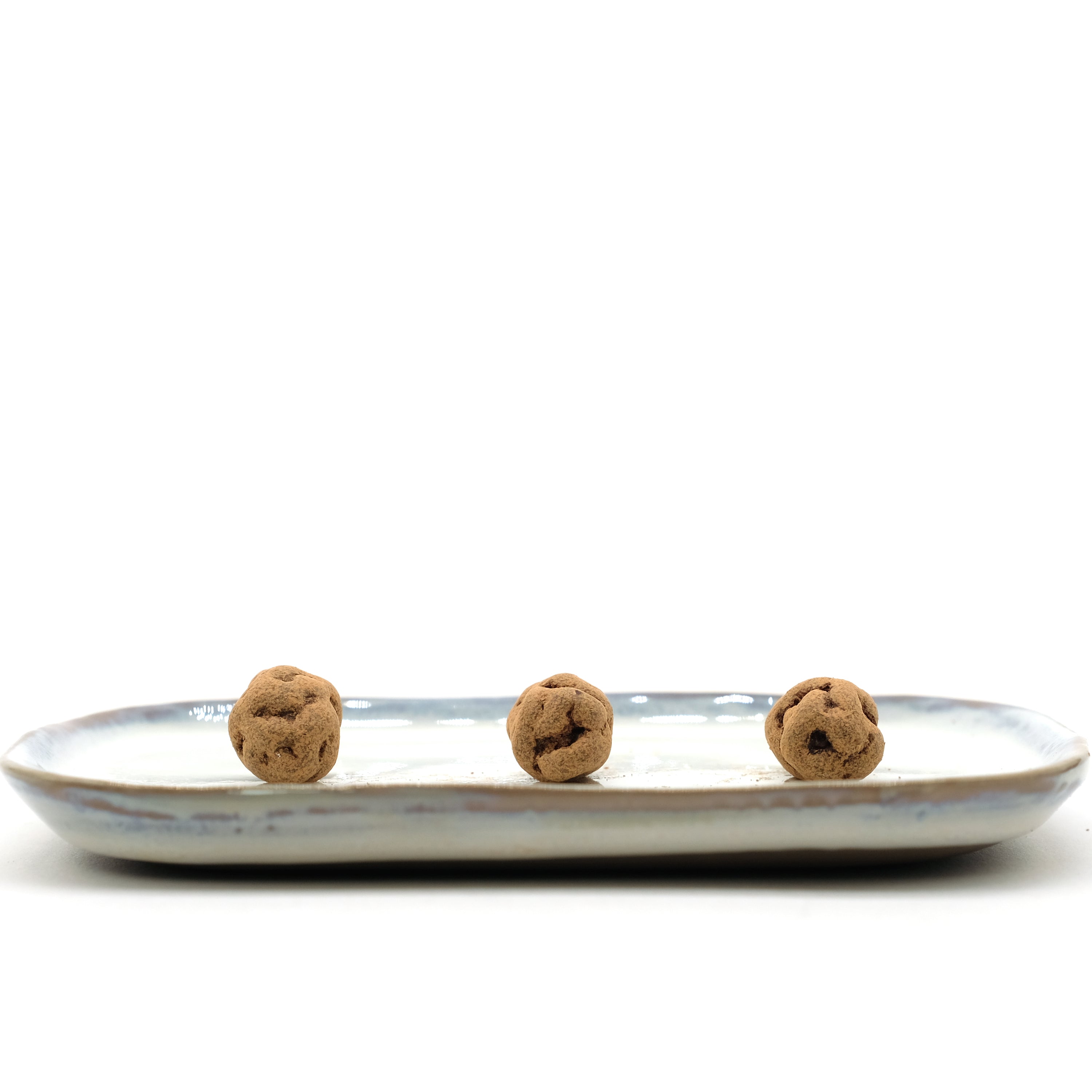 Ch07 Raw Chocolate Mulberries (Sold Per 10G)
Minimum of purchase 100g (最少選擇數量10=100g)
關於產品
有機的
素食主義者
不含麩質
耐嚼可口
Moreish點心時間首選
描述
奶油般柔滑的不含乳製品的 Vanoffee 覆蓋在有機土耳其白桑葚上,營造出夢幻、美味、頹廢的愉悅。耐嚼、焦糖味的土耳其白桑葚精緻地包裹在我們美妙的 Vanoffee 中。來自土耳其的有機白桑葚具有令人愉悅的耐嚼、太妃糖焦糖味。
對健康的益處
鐵、維生素C的良好來源
降低膽固醇、血糖和癌症風險
建議用法
非常適合將其視為具有酸甜口味的小吃時間。可作為冰淇淋和蛋糕的配料添加。對任何人來說都是更美味和令人滿意的款待。
貯存
存放在陰涼處,避免陽光直射,推薦冰箱保存。
過敏信息
原料
生桑椹 (44%)、生可可塊、椰子花糖、可可脂、可可粉。
可可固體:72% *最低。
營養信息(每100g)
能量大卡-------------- 461大卡
能量 kj ----------------- 1,946 kj
脂肪 ------------------------ 24.5 克
其中飽和 ------ 15.2 g
碳水化合物 ----------- 53.6 克
其中醣類 ---------- 30.4 克
纖維 - - - - - - - - - - - /
蛋白質 -------------------- 6.8 克
鹽 ------------------------ 0.6 克
ABOUT THE PRODUCT
Organic
Vegan
Gluten-free
Chewy and tasty
Moreish snack time treat
Description
Creamy, silky dairy free Vanoffee draped over organic Turkish white mulberries making a dreamy, delicious, decadent delight. Chewy, caramelly Turkish white mulberries delicately draped in our fabulous Vanoffee. Organic white mulberries come from Turkey thathave a delightful chewy, toffee caramel flavour.
Health Benefits
Good source of iron, vitamin C
Lower cholesterol, blood sugar, and cancer risk
USES
Suggested Usage
Perfect to treat it as a snack time bite with sweet and sour taste. Can be added as a topping of ice cream and cakes. Moreish and satisfying treat for anyone.
Storage
Store in cool place, away from direct sunlight.
Refrigerator is recommended.
Allergy information
Made in a facility that handles nuts
Possible cross-contamination
FACTS
Ingredients
Raw mulberries (44%), raw cacao mass, coconut blossom sugar, cacao butter, cacao powder.
Cacao solids: 72% *Minimum.
Nutritional Information (per 100g)
Energy kcal -------------- 461 kcal
Energy kj ----------------- 1,946 kj
Fat ------------------------ 24.5 g
of which Saturates ------ 15.2 g
Carbohydrates ----------- 53.6 g
of which sugars ---------- 30.4 g
Fibre ---------------------- /
Protein -------------------- 6.8 g
Salt ------------------------ 0.6 g
Ch07 Raw Chocolate Mulberries (Sold Per 10G)
Orders & Shipping
Free Local Delivery Over HKD400
Your order will be processed within 5 working days of being placed and payment being received. If there are any longer delays due to stock or shipping problems you will be contacted and notified of such.  
We ship via PICKUPP to offer you the most economical shipping method. The delivery time is about 2-7 business days. The website will automatically calculate the shipping cost for each order.Please note extra delivery charge at remote area.
If you wish to place a large order or arrange international shipment, please contact us for a shipping quote.
Returns & Replacements 
Your satisfaction is important to us, if you have a concern about the quality of your product please use the Contact Us page to email us with the batch number, expiry date and product name from the barcode label and the reason you are dissatisfied.  
Any returns due to quality issues must be contact us within 2 weeks of receiving your order.  
Unfortunately we do not accept product returns if you have changed your mind or don't like the scent.  
We may request you to return unused product before processing a refund or replacement. (Please note, if you made your purchase from a retail stockist, you will need to return it to that stockist - and their store policies apply in terms of refund or replacement.)