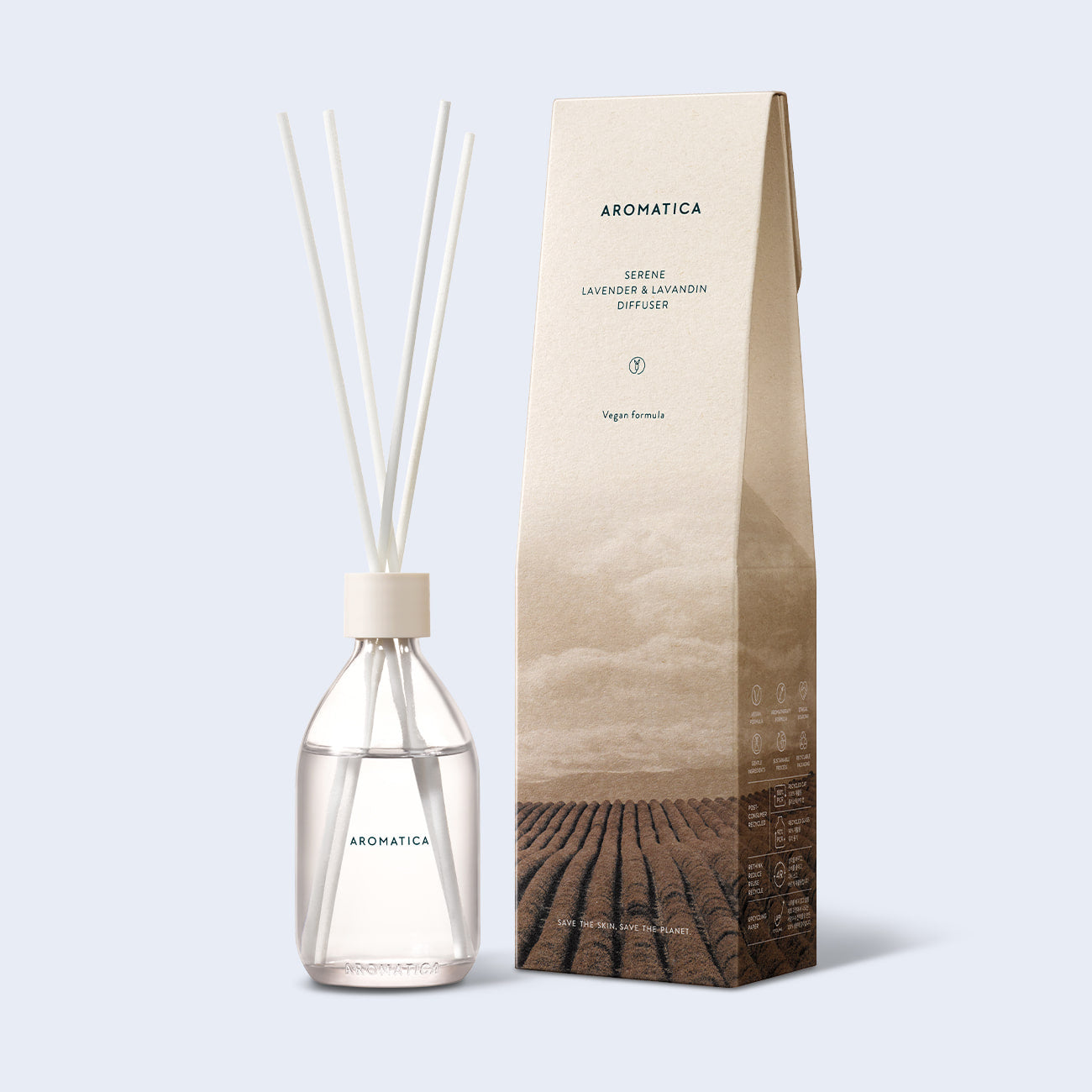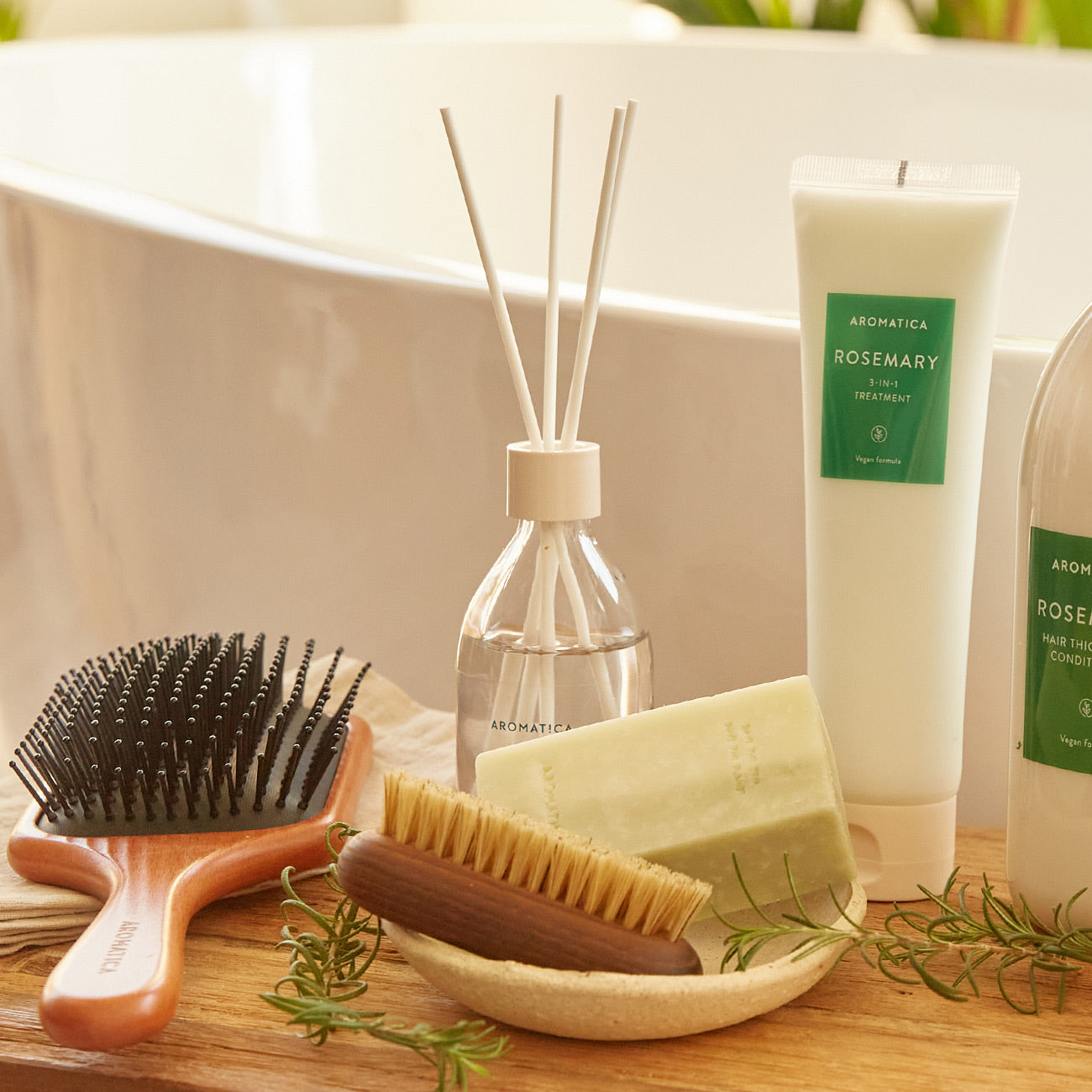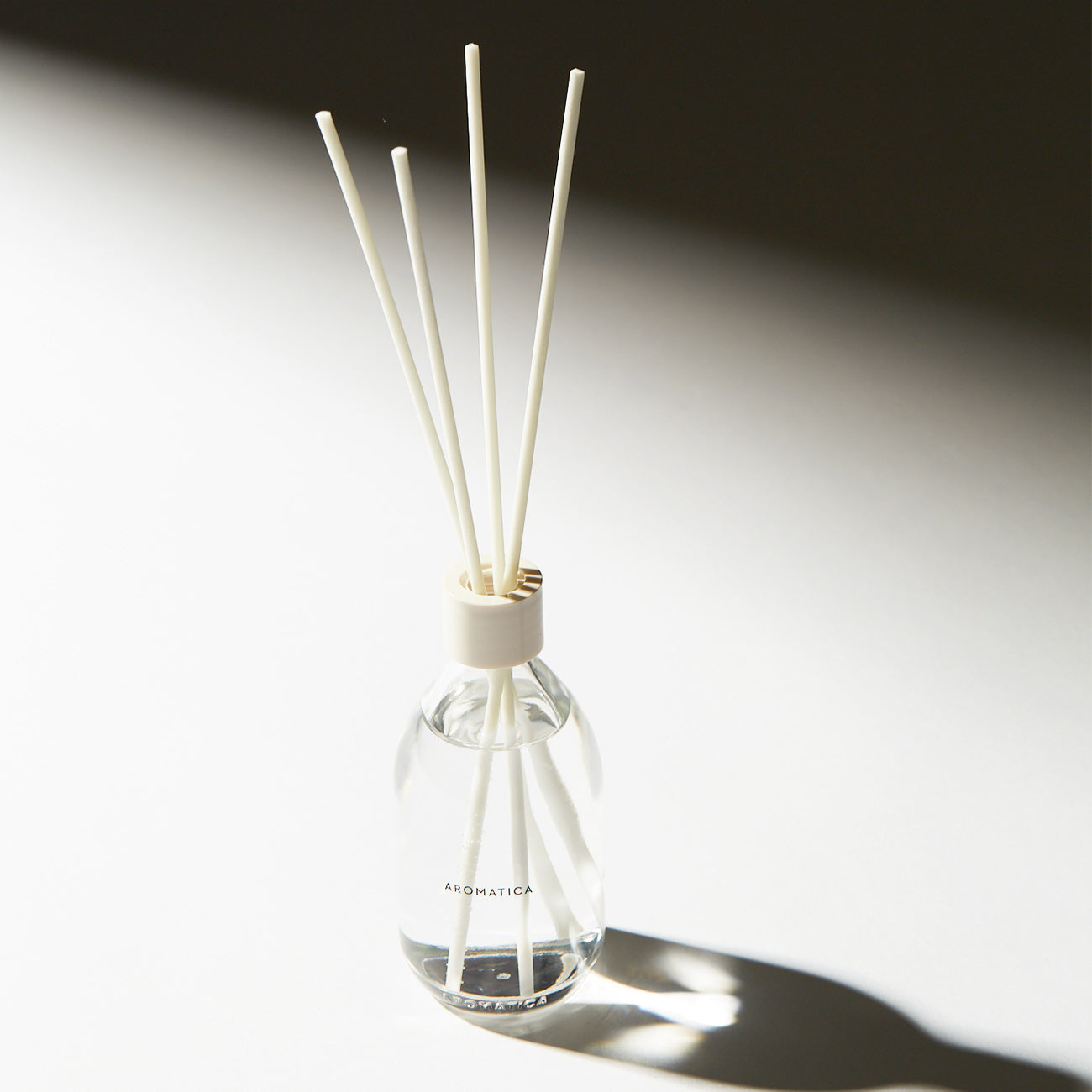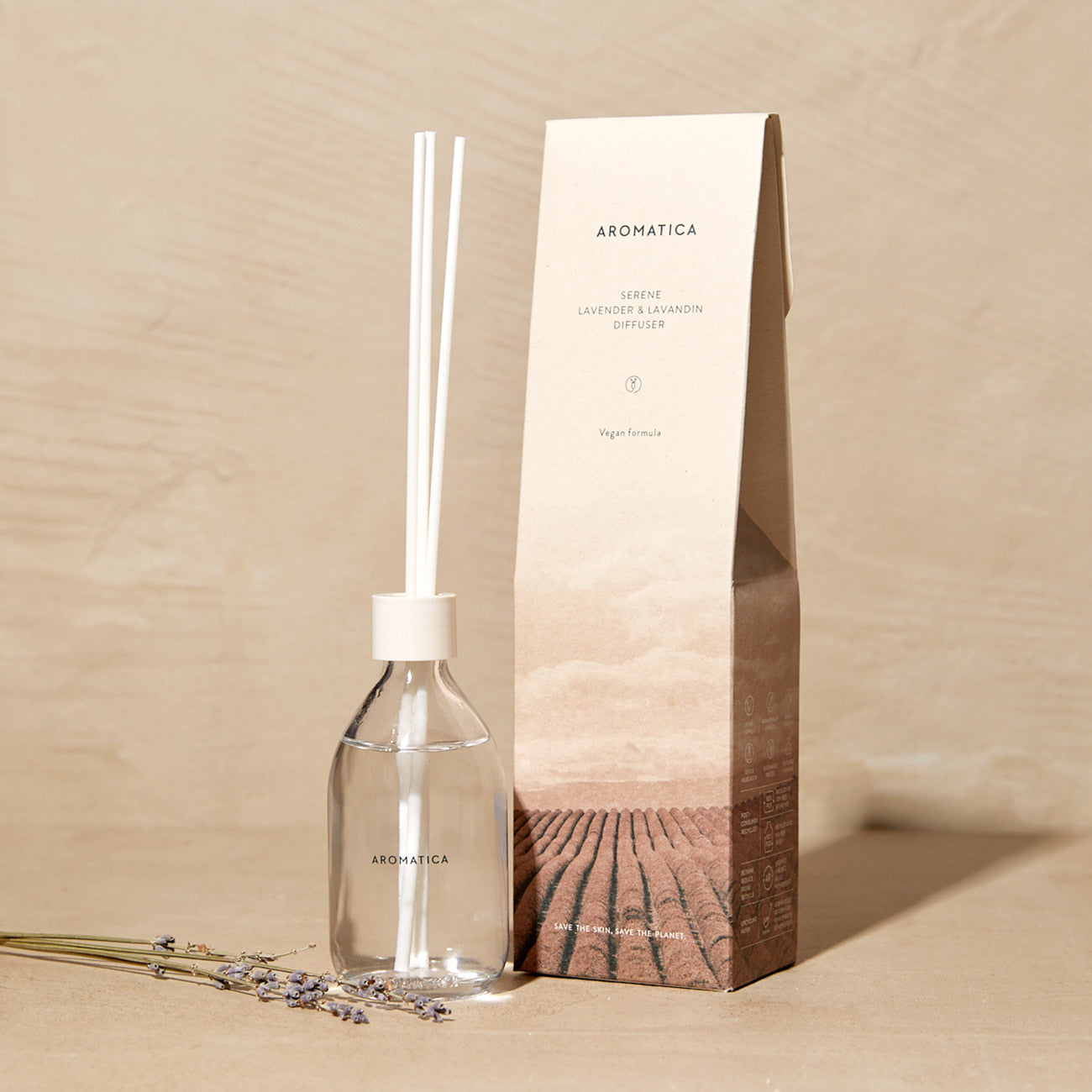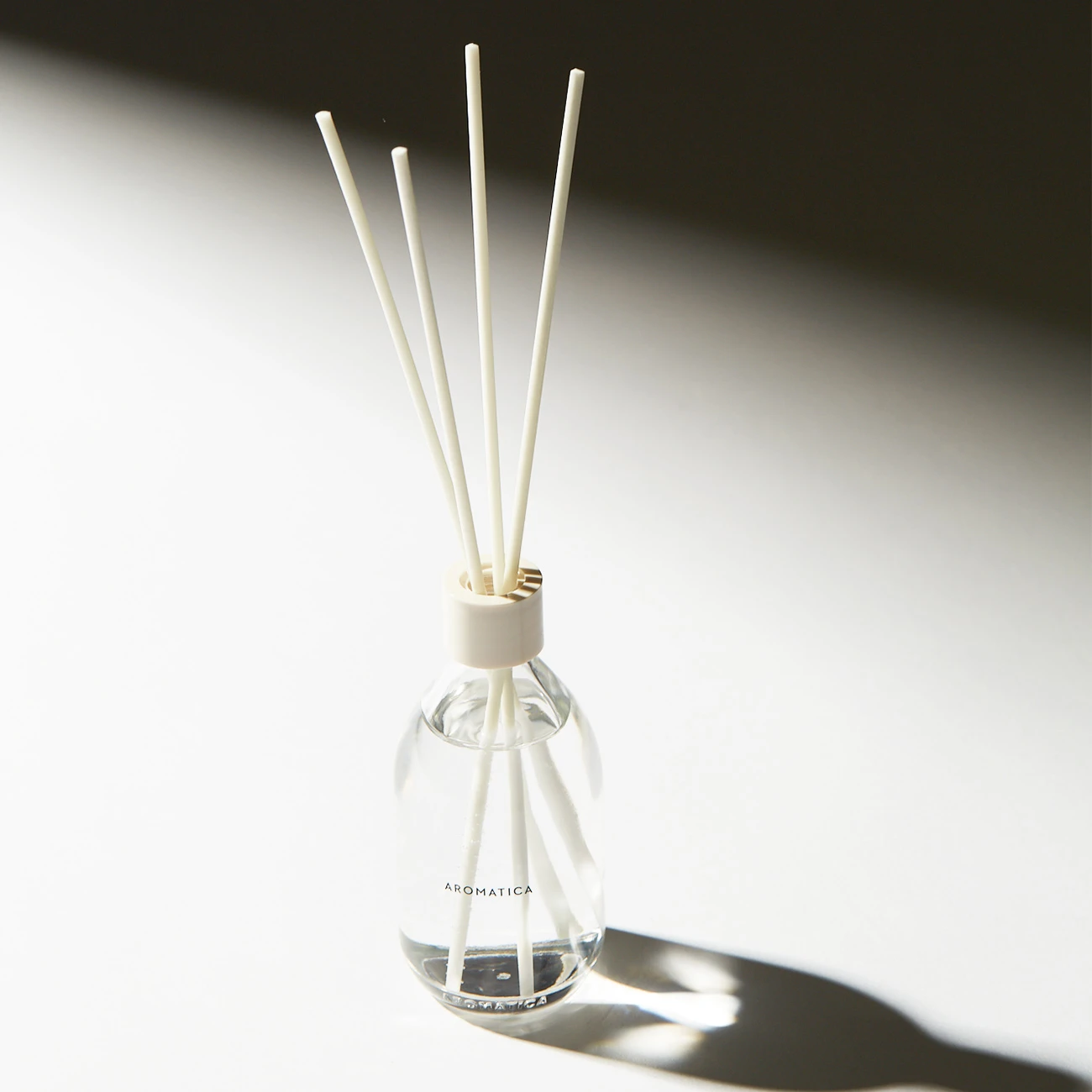 Serene Diffuser Lavender & Lavandin
Lavender & Lavandin diffuser for a comforting mood daily.?100ml.
Vegan ?x Cruelty free
Soft lavender fragrance blowing with the winds soothes the mind like a sweet nap. The harmony of refreshing early-summer lavender and vibrant Lavandin spreads comforting energy in the air. Lavender offers comfortable rest and peace of mind when you feel psychologically or physically confined in your life. Harmonious soft lavender & Lavandin fragrance provides comforting space daily.

*Lavender essential oil?Lavender leads you to a deep meditative state with its quieting, stabilizing property and relaxes you by gently embracing mind and body. Lavender is called the mother of herbs that soothes all pains.

*Lavandin Essential Oil?Lavandin oil rich in Cineole promotes comfortable breathing and provides a confident feeling in life with hopeful energy.

*The description above is limited to the ingredients.

Sustainable ingredient, lavender

Lavender grown on deep valleys under Mediterranean sunlight in Provence, France boasts of high quality and deep scent. Oil extracted from lavender cultivated in Provence, France since 1898 is organic. The method of cultivating lavender is very unique. Carbon footsteps are reduced by continuously decreasing the greenhouse gas that can be produced while cultivating lavender. While cultivating lavender, agroforestry is promoted to prevent bare land, and 100% renewable energy is used when distilling lavender with oil. In addition, herbal residue obtained after extraction is turned into compost and used to strengthen land. AROMATICAs lavender products use only carefully selected fresh, organic lavender, so they provide pleasant fragrance and serene vitality as well as good effects.
Extraction method
STEAM DISTILLATION :?This extraction method was first developed by "Avichena" in the 10th century. It extracts essential oil and floral water (Hydrosol) from flowers and herbs by using steam. Floral water (Hydrosol) containing water-soluble aroma substance provides skin balance care by delivering the plants unique fragrance and energy.
Ingredients
*Lavandula angustifolia oil, *Lavandula Hybrida Oil
Natural ingredients 100%: Alcohol(Grain fermentation alcohol), *Lavandula Hybrida Oil, Triethyl Citrate(Emollient), *Linalool(Ingredient in Lavandula Hybrida Oil), *Lavandula Angustifolia Oil, Aqua, *Limonene(Ingredient in Lavandula Hybrida Oil), *Geraniol(Ingredient in Lavandula Hybrida Oil), *Coumarin(Ingredient in Lavandula Hybrida Oil)
Enjoy aromatherapy conveniently with Serene Diffuser
STEP 1. After removing the all-in-one cap, replace with the enclosed holder cap.
STEP 2. Depending on the size of the space, insert the appropriate number of sticks by arranging the fiber sticks. When using the diffuser for the first time, immerse the fiber sticks into the diffuser for one minute and insert upside down to emit fragrance better.
STEP 3. Enjoy deeper aromatherapy provided by lavender & Lavandin by increasing the number of sticks.
Sustainable beauty
100% RECYCLABLE paper
The packaging box of this product is made of 100% upcycled sugarcane byproduct without cutting down trees in order to protect natural resources with a sustainable method. Biodegradable Tree-free eco-friendly paper is used to protect nature.
Paper is printed with soybean ink to make recycling paper easy in order to protect the environment and Earth.

Recycle it!
1. Diffuser holder cap (PP) plastic disposal
2. Overcap (PP) plastic disposal
3. Container (glass) glass disposal
4. Reed stick (fiber) general trash disposal
Serene Diffuser Lavender & Lavandin
Orders & Shipping
Free Local Delivery Over HKD400
Your order will be processed within 5 working days of being placed and payment being received. If there are any longer delays due to stock or shipping problems you will be contacted and notified of such.  
We ship via PICKUPP to offer you the most economical shipping method. The delivery time is about 2-7 business days. The website will automatically calculate the shipping cost for each order.Please note extra delivery charge at remote area.
If you wish to place a large order or arrange international shipment, please contact us for a shipping quote.
Returns & Replacements 
Your satisfaction is important to us, if you have a concern about the quality of your product please use the Contact Us page to email us with the batch number, expiry date and product name from the barcode label and the reason you are dissatisfied.  
Any returns due to quality issues must be contact us within 2 weeks of receiving your order.  
Unfortunately we do not accept product returns if you have changed your mind or don't like the scent.  
We may request you to return unused product before processing a refund or replacement. (Please note, if you made your purchase from a retail stockist, you will need to return it to that stockist - and their store policies apply in terms of refund or replacement.)